Mono Lake Area
Mono Lake State Natural Reserve
About 15 miles east of Yosemite's Tioga Pass East entrance is Mono Lake. One of North America's oldest lakes, Mono Lake is over a million years old and 2.5 times the ocean's salinity. The lake had grown in salinity as it has shrunken in volume, as its tributary streams got diverted to meet the demands of Los Angeles' growing water needs. Tufa – the rock that these towers are made of, are formed underwater, as underwater calcium-rich springs meet with the lake water rich in carbonates. Calcium carbonate precipitates out of the water forming tufa towers. Tufa towers grow underwater up to 30 feet high. We see so much of it today because of receding lake water levels. There is a short flat unshaded trail (about 1 mile) that meanders through these sculptures. It is a pretty neat trail, to be walking amongst these giant oddly shaped rocks. We had a quick lunch in the shade of one of these rocks.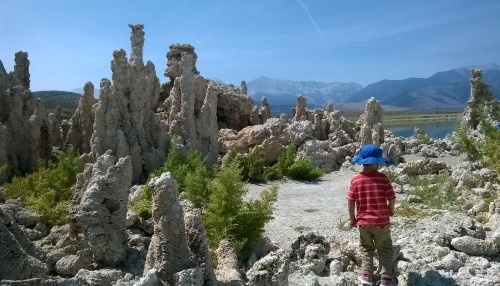 Walking amongst the giant Tufa towers in Mono Lake, California
Tufa Almost-Arch at Mono Lake, California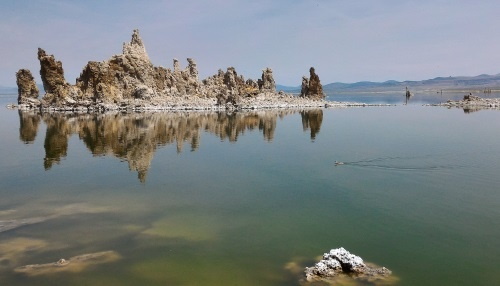 Tufa Island at Mono Lake, California
After lunch, we headed down the shore to Navy Beach and saw other tufa formations. The signs along the "beach" state that tufa formations are very fragile and are constantly changing due to winds and visitor handling. I had seen some amazing pictures of these Navy Beach tufa formations but on the day that we went, we did not encounter them. The ones we did see though were pretty cool to see. Mono lake is devoid of fish due to its high level of salinity. However it is home to brine shrimp, alkali flies and the California gulls that feed on them. It is the second largest nesting ground for the gulls, second only to the Great Salt Lake in Utah.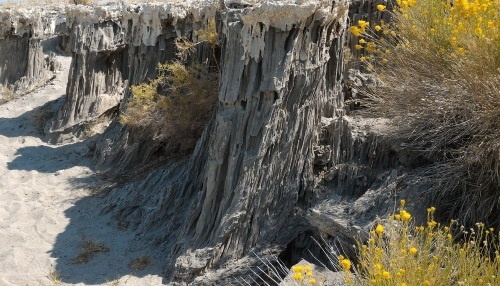 Different Tufa Formations at Navy Beach, Mono Lake, California
Conservation efforts have been underway at Mono Lake restoring previous water levels. Water levels are expected in increase 17 feet in the next 15-20 years. It is very possible that the trail amongst the tufa spires that is easily accessible now will be underwater in the future. So, if you are excited about seeing these natural wonders on foot, there is no better time than the present!
While exploring the area, we stayed at June Lake Campground. June Lake also boasts white sandy beaches. Our campsite along the lake was not the greatest. It came equipped with bear canisters, for good reason. We heard a bear in neighbouring campsites three times in the two nights we stayed there. Luckily the bear left us alone in our tents.
Practical Information (as of August 2015):

| | |
| --- | --- |
| Features: | Tufa Towers, Tufa Island in a lake saltier than ocean, Ancient Lake (over 1 million years old), Nesting ground for Seagulls |
| Our Hike: | South Tufa Trail: 1 mile loop, Mono Lake and Area Map |
| Fee: | $3 per adult, Free with Annual National Parks (Interagency Pass) |
| Directions: | Mono Lake State Natural Reserve |
Panum Crater
On the way to Mono Lake, we stopped at Panum Crater. Panum Crater is part of a chain of craters called the Mono-Inyo Craters. Panum Crater is the youngest of these craters that formed 600 to 40,000 years ago. There is a hike into the crater plug and around the crater on the rim. The trail into the crater has some loose rock. The boys found some obsidian rocks along the way. There is no shade on this hike, inside the crater and on the rim. The crater rim trail took us on a ridge, affording beautiful views of Mono Lake and the island that sits in its midst. Docent led hikes are available for these trails. There is a visitor center in the town of Lee Vining that gave us helpful information and a map of area attractions.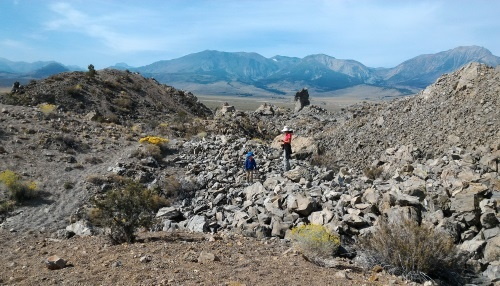 Walking into the crater of a Plug Volcano, Panum Crater, Mono Lake, California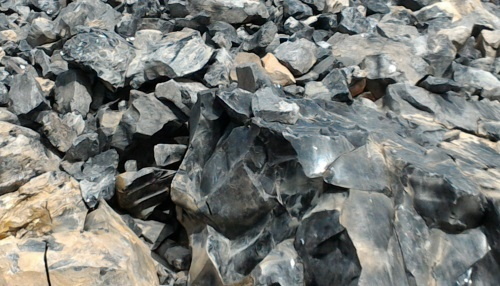 Obsidian found in the crater of Panum Crater, Mono Lake, California
Practical Information (as of August 2015):

| | |
| --- | --- |
| Features: | Walk into and on the rim of an active crater, Obsidian rocks, Views of Mono Lake |
| Our Hike: | About 1.5 miles -2.5 miles (depending on how much exploring you do in the crater) hot, unshaded, loose rocks and sandy trail |
| Fee: | Free |
| Directions: | Map of Mono Lake and area |
Other Awesome Hikes in the Area: Devil's Postpile NM and Long Valley Supervolcano
More California Travel Ideas More U.S.A. Travel Ideas More Worldwide Travel Ideas