Long Valley Caldera
Long Valley Caldera is a 20 by 10 mile caldera located in Eastern California, not too far from the town of Mammoth Lakes. The caldera is a result of a super eruption 760,000 years ago, estimated to be more than 2000 times the eruption by Mount St. Helen's in 1980. This eruption released more than 150 cubic miles of magma from a depth of 4 miles beneath the Earth's surface. The Earth's crust sank more than a mile after the magma was ejected, forming the large caldera. More information on Long Valley Caldera: Long Valley Caldera - USGS and Fact Sheet USGS
Crowley Columns
Our long weekend started at the southern boundary of Long Valley Caldera, at Crowley Lake. We started down a dirt road 2 miles away of Layton Springs Road (labeled 3S151A) in our low clearance 2WD sedan but quickly had to turn back as our car was bottoming out. We found a parking spot at the start of the dirt road and began our unshaded hike down the 4x4 road. We packed our packs and headed for the columns. Soon after we started, we turned right on a road labeled 3S151. We guessed on this turn since it had a sign explaining the fishing regulations at Crowley Lake.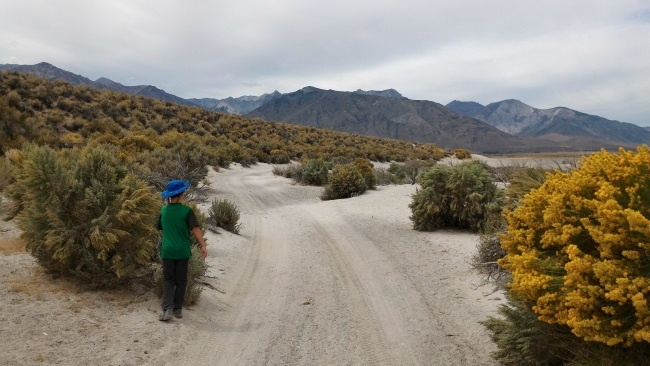 Trail to Crowley Lake columns
Walking along this road for 5 miles eventually took us to Crowley Lake's beach. We were passed by a Jeep who quickly made their way to the beach. They were the only other people we saw on this road. Several tall mountains stood in the horizon over the blue Crowley Lake which made up for the rather "boring" trail we were walking. Once at the beach, we turned left and walked along the shore for about a mile.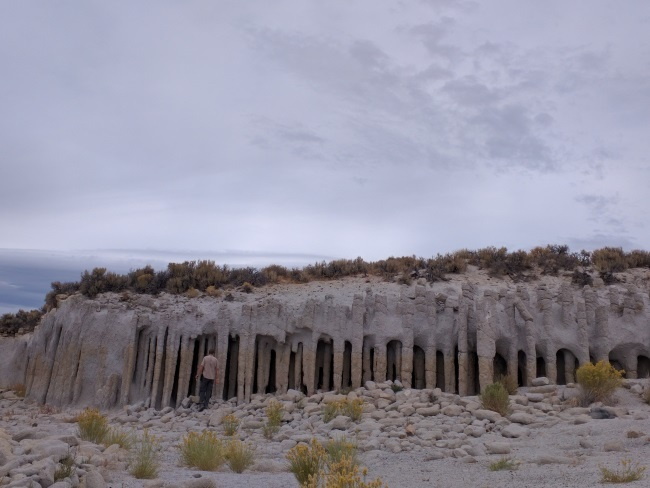 Short Columns at Crowley Lake, California - Note the tops of the columns sticking up above the sand
Short columns of rock stood before us at the first cove where we enjoyed our picnic lunches. Each column was segmented into smaller sections and separated by relatively even spacing from other columns. This was caused by melted snow boiling as it made contact with hot volcanic ash that was laid down after a super eruption 760,000 years ago. Erosion by the waters of Crowley Lake slowly exposed these columns, and drought made it accessible to the walking public. There are an estimated 5000 of these columns in a 2 to 3 square mile area, though not all of them are exposed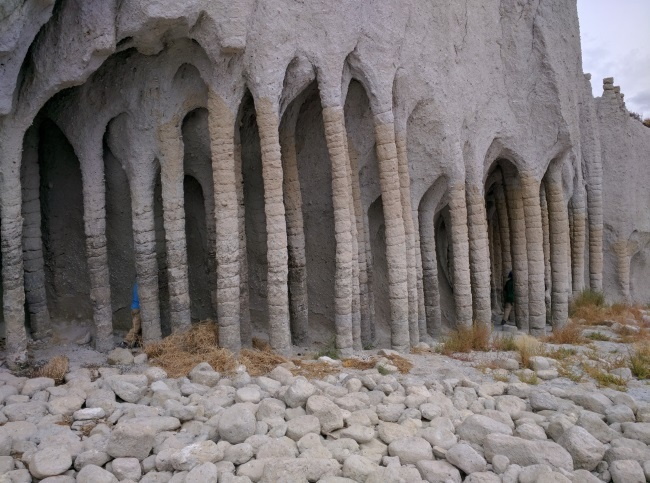 Playing peek-a-boo at the tall columns at Crowley Lake, California
Walking a couple of coves down the beach, we discovered an even taller set of columns. The exposed columns were only a few deep, but we were able to walk in, between them and be surrounded by them.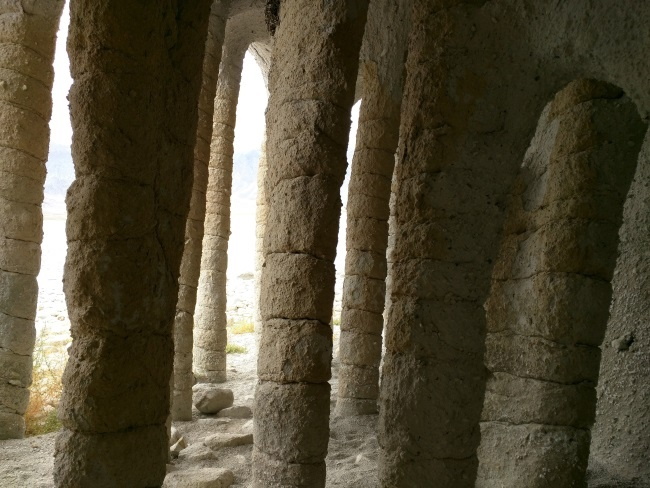 View from amongst the columns, Crowley Lake, California
There were many columns that still lay hidden in the ashes, some upright and some tilted at angles resembling fossils. We also explored a few shallow caves along the way, some with columns inside them.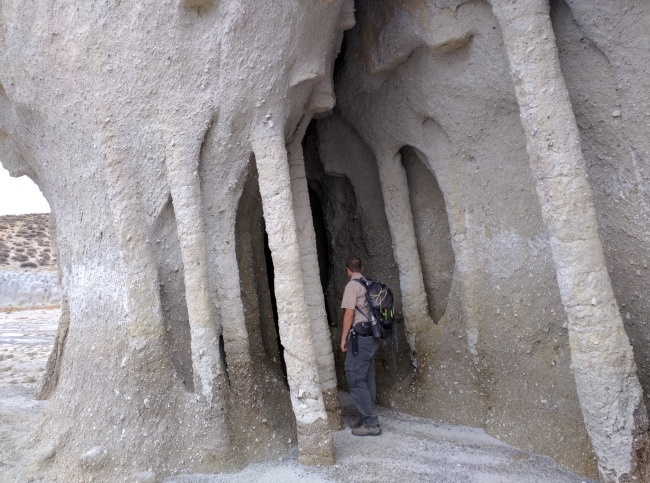 Shallow cave with columns inside, Crowley Lake, California
After about a mile's walk along the shore of Crowley Lake, we decided to head back. On our way back we noticed circular flat rocks lining the shore as if fallen from their columns. Some of the columns stick up at the top like metal rods. It's possible that there are other ways to get to these columns via other roads (ie. Owen Gorge Road or Layton Springs Road) We did not explore alternatives after our hike. It was a good hike, exploring these natural rock columns that have such similarity to man-made structures long hidden from the human eye.
Practical Information (as of September 2016):

| | |
| --- | --- |
| Features: | Tall rock columns and caves along the beach naturally made through volcanic activity, exposed by erosio |
| Our Hike: | 12 miles roundtrip from Benton Crossing Rd, 2 miles rt if you have a true 4x4 vehicle |
| Fee: | Free, limited roadside parking on Benton Crossing Rd. |
| Directions: | From Hwy 395, turn east onto Benton Crossing Rd. to Layton Springs Rd. Set odometer to zero when you hit Layton Springs Rd. 2 miles after Layton Springs Road is an unpaved road (dirt, sand) labeled 3S151A. (If you have a high clearance 4x4, you'll be able to drive further. Our low clearance 2WD didn't do very well, so we parked on the side of Benton Springs Rd and hiked in on the unpaved road). Take a right at the dirt/sand road labeled 3S151 (second right). This road will lead to Crowley Lake Beach, about 5 miles away. From the beach, a 1 mile walk will take you to see the columns and caves. |
Horseshoe Lake
Horseshoe Lake is known for its high level of carbon dioxide emitted from magma chambers below the surface. These high CO2 levels are released into the soil suffocating the root systems of trees in the area, thereby causing over 100 acres of kill zone near the lake.
Horseshoe Lake, near Mammoth Lakes, California - an area of hazardous levels of CO2
In areas where trees are being killed, CO2 concentrations are 20-95% of the gas content of soil, compared to the normal level of less than 1%. It seemed contradictory initially for me that plants are being killed by CO2; I had always understood that plants use CO2 to produce oxygen. Further clarification indicated that the leaves of plants use CO2, but the root systems require direct oxygen absorption. CO2 is heavier than air and accumulates in cabins, tents, depressions, snowbanks and anywhere with poor ventilation whether above or below ground. Breathing in air with more than 7% CO2 may cause unconsciousness and death. In 2006, three members of a ski patrol team died on Mammoth Mountain as they fell into a snow pit.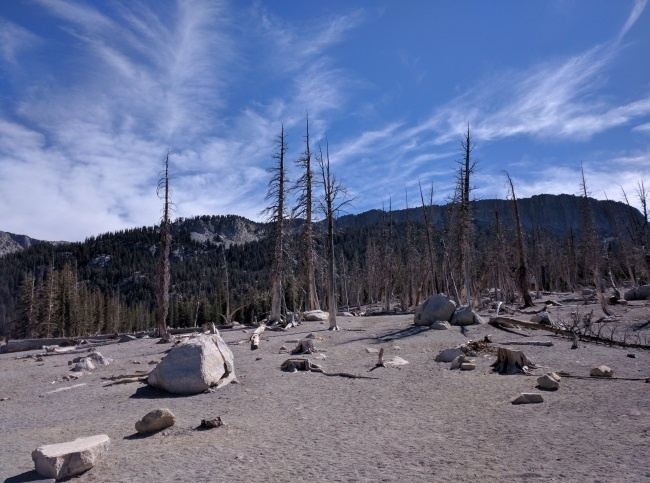 Over 100 acres of tree kill zone caused by high CO2 levels emitted by the magma chamber below, Horseshoe Lake, CA
In the summer, Horseshoe Lake shrinks in size, exposing a sizeable sandy shore, though there are many signs advising against sitting, picnicking or sunbathing on the beach, due to the high CO2 levels. Caution signs also advise against bringing kids and pets onto the beach or any depressions, though we saw many dogs playing on the beach seemingly unharmed. We decided to play it safe and stay on higher ground as we walked the 1.7 mile loop trail around the lake, making sure the little ones don't stop to dig during our short hike. Most of the trail affords a view of the blue lake. We walked past a couple of free standing fireplaces along our trail, probably the remnants of homes of the past. We had to yield many times to families on bikes. It looked like a nice path for bikers, fairly flat and shaded. More information on biking trails at the Lakes Basin Area here.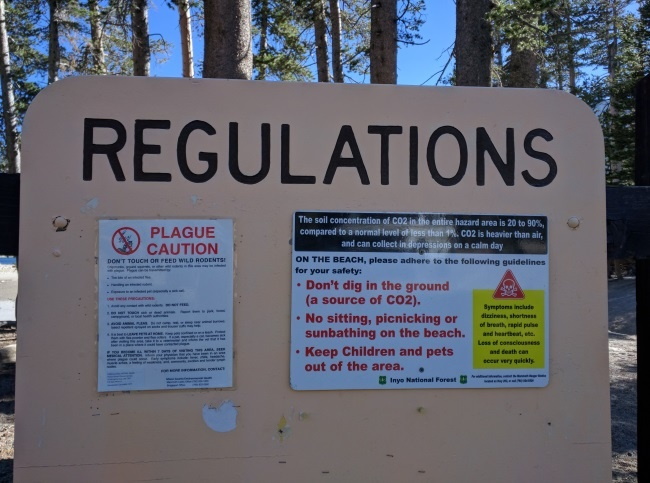 Cautionary signs warning of CO2 Hazards at Horseshoe Lake, near Mammoth Lakes, California
Practical Information (as of September 2016):

| | |
| --- | --- |
| Features: | Explore an area killed by high carbon dioxide levels emitted by magma chambers below ground, Keep your head above ground. |
| Our Hike: | 1.7 mile flat loop trail around the lake |
| Fee: | Free |
| Directions: | From the town of Mammoth Lakes, continue westward on hwy 203 as it turns into Lake Mary Road. Lake Mary road ends at Horseshoe Lake. (GPS per USGS: 37°36.771' N 119° 01.279' W) |
| Amenities: | Many bathroom buildings, but only one was open during our visit, others were closed and posted signs of "High CO2 Hazard Zone" |
| Website: | Horseshoe Lake |
Hot Creek Geologic Site
Hot Creek is a place where the bubbling blue pools and boiling fountains flow alongside lush tall green grasses. The short hike ( about a mile) took us alongside this interesting Creek where we saw many people stripping down to their bathing suits to go for a dip. Many signs recommended against swimming in this hot Creek because temperatures can rise over 100F in a matter of seconds.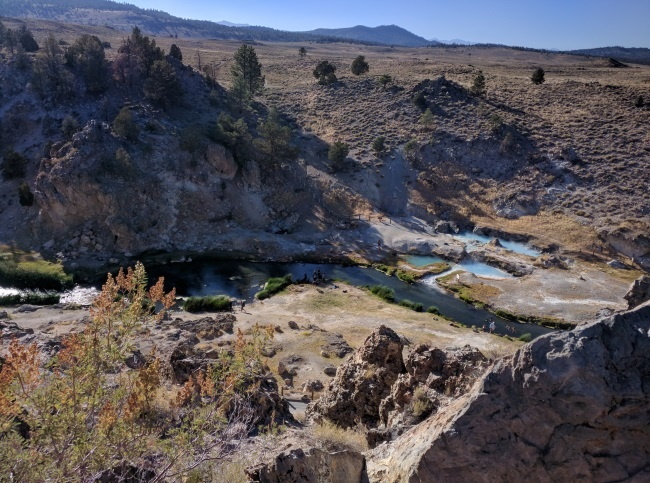 Blue bubbling pools at Hot Creek Geologic Site, near Mammoth Lakes, California
While we were there, we noticed fences that were swallowed in a pool of boiling water, a testament to the changes in geothermal activity. Look out for mineral formations of previous bubbling pools that have since dried out. Yet another indication of the dynamic environment of this region.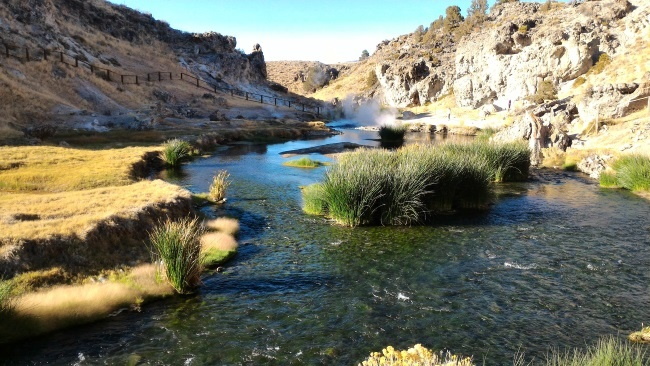 Lush green vegetation at Hot Creek Geologic Site, near Mammoth Lakes, California
Practical Information (as of September 2016):

| | |
| --- | --- |
| Features: | Bubbling pools of blue water and boiling springs flowing alongside lush green grasses |
| Our Hike: | Less than a mile to the site of the broken fence, downhill towards the creek, uphill back to the parking lot |
| Fee: | Free |
| Directions: | From Hwy 395 take the Hot Creek Hatchery Road, located 15 mins South of Mammoth Lakes. Proceed 2 miles on paved road then 3 miles on gravel road. Hot Creek is located on the left hand side. (GPS per USGS: 37°39.620' N, 118°49.661' W) |
| Website: | Hot Creek Geologic Site |
Inyo Craters
The Inyo Craters are a chain of three volcanic craters that are on the summit and south slope of Deer Mountain. The two southernmost craters are about 200 feet deep and over 600 feet in diameter. Both these craters have water within them. The northernmost crater on Deer Mountain summit is the smallest and dry. All were formed within hours or days of each other in the 14th century by steam explosion. Rising magma encountered water and burst into steam. The explosions occurred from north to south in succession. In combination with the Mono craters to the north, the Mono-Inyo Chain are a 18 mile chain of craters, lava domes and lava flows. It is in this volcanic complex that volcanologist predict that the next eruption will be within this region. The most recent eruption also occurred in this chain of craters about 300 years ago, at Paoha Island, at the north end of the Mono-Inyo Chain-of-Craters complex.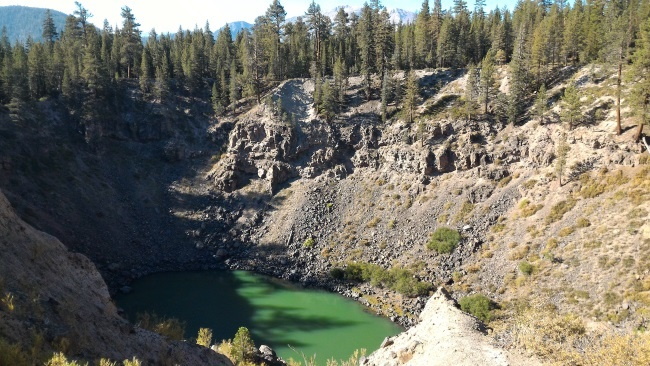 One of the Inyo Craters - southernmost - near Mammoth Lakes, California
This hike was a short 1 mile return hike to the two southernmost craters. The drive in was on unpaved road of packed sand and gravel with several large potholes, but we made it safely with our low clearance 2WD sedan with a fairly experienced dirt road driver in charge of the wheel. The hike was a gentle uphill to the first two craters. We started towards the third crater on fairly loose sand but bushes, roots and rocks helped with our footing. We were pretty close to the top when one of my kids got swarmed by yellow jackets. With 6 bites on his head and neck, we decided to call it a day and head back to the car in case of an allergic reaction (and for pain medication). Amazingly, his hive-like reaction dissipated within an hour of the bites, and so did the pain. Ironically, the one bite on my finger, swelled to cover half my hand which lasted for 2 days. Better me than him.
Practical Information (as of September 2016):

| | |
| --- | --- |
| Features: | Discover two to three steam craters, two filled with water, one with turquoise blue water |
| Our Hike: | Gentle uphill about 1 mile roundtrip to the two southernmost craters |
| Fee: | Free |
| Directions: | From the town of Mammoth Lakes take hwy 203/Minaret road west towards Mammoth Ski Mountain. Make a right onto the Mammoth scenic loop. Turn left on Dry Creek Spur Road. Follow signs for Inyo craters a few miles up. Road is packed gravel and sand - our low clearance 2WD made it alright with some skillful maneuvering around some large potholes. (GPS per USGS: 37° 41.278' N, 119° 00.347' W- parking) |
| Website: | Inyo Craters |
Obsidian Dome
Our last stop of our long weekend was at Obsidian Dome. Obsidian Dome is an almost 1-mile long, and 400 foot high dome of lava cooled to obsidian of different textures. Some obsidian have more gas bubbles than others, though chemically similar in composition compared to its counterparts. Obsidian with more gas bubbles in them would not make good arrowheads.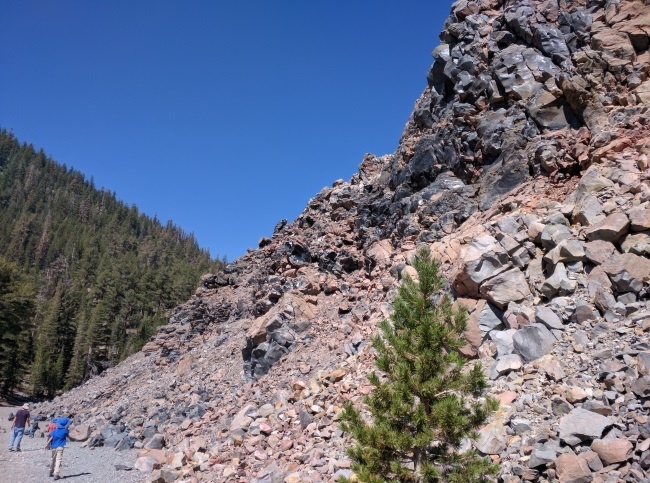 Obsidian Dome, near Mammoth Lakes, California
Half a mile walk got us inside the dome, surrounded by many magnificent shapes and angles of rocks of different colors. Here the trail continued in different directions. Walk as much or as little as you'd like. The trail we chose seemed to keep going a fair ways. We walked about a mile more roundtrip amongst these moon-like rocks before we called it a day. Bonus if you have kids who play Minecraft - tell them you're going obsidian mining. You'll have to figure out what to say when they actually want to mine obsidian.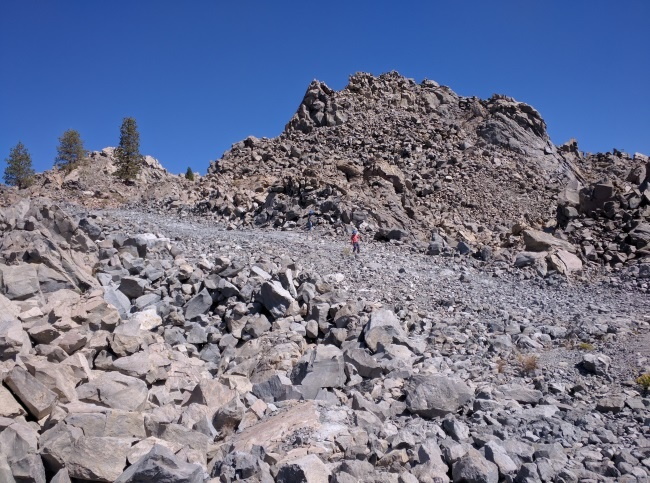 Moon-like environment of the Obsidian Dome, near Mammoth Lakes, California
Practical Information (as of September 2016):

| | |
| --- | --- |
| Features: | Hike a real obsidian dome in a moon-like surrounding, Feel and touch real obsidian |
| Our Hike: | 1/2 mile or more hike round-trip (based on your preference), gentle elevation changes |
| Fee: | Free |
| Directions: | (GPS per USGS: about 37°44.810' N, 119°01.305' W) From Hwy 395, heading north from Mammoth Lakes, turn left onto Obsidian Dome road. Continue onto Glass Flow Road. Continue left onto Obsidian Dome Road at Obsidian Flow and Hartley Springs Campground turnoff. From here you will drive around the dome to its south side. Slight left at 2S10. Continue onto Glass Creek Rd. At the fork in the road, stay to the left to park near Obsidian Flow among the large Jeffrey pines (about 37°44.990' N, 119°01.292' W). Walk up Obsidian trail.) |
| Website: | Obsidian Dome |
Other Awesome Hikes in the Area: Mono Lake Area and Devil's Postpile NM
More California Travel Ideas More U.S.A. Travel Ideas More Worldwide Travel Ideas