Devils Postpile NM
The Postpiles
Our day started early for a hike in Devil's Postpile National Monument. We had breakfast in the park and began our hike. The hike to the postpiles was short about 1 mile roundtrip. The postpiles look like tall tree trunks stacked high and upright against each other, measuring 40-60 feet (12 to 18 meters) high. These Postpiles were formed as a product of the slow cooling of a hot basalt lava lake. The lava lake was 400 feet deep and existed between 80,000 to 100,000 years ago. As the lava lake cooled, cracks (called joints by geologists) formed to release the tension that lay within. Cracks extended from the outside in, forming these hexagonal columns. These hexagonal columns were later exposed by many forces, one of them being glacial excavation. You can see the glacial striations on the rock at the top of the columns on the hexagonal "tiles". Though very much man-made in appearance, these hexagonal shapes are common in nature - example bee hive honeycomb, packed bubbles, eyes of flies. For more information on the geology of these postpiles, see Geology of Devil's Postpile.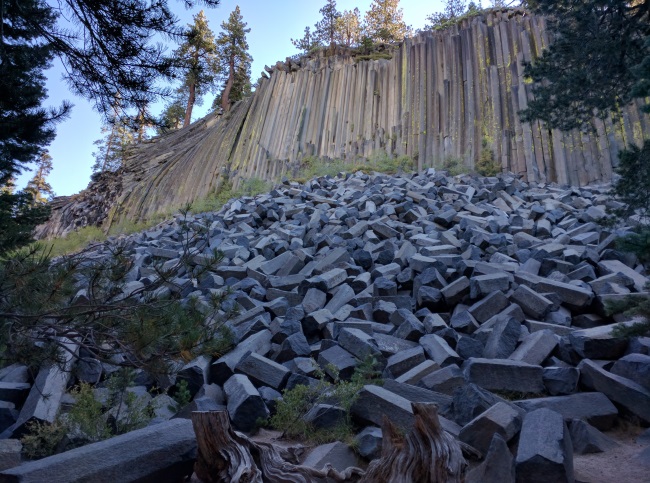 40 to 60 foot high Devil's Postpile from below, California
Be sure to take the short 15 minute uphill loop to the top of the postpiles where you will see the hexagonal tile work that are the tops of the columns you saw down below. Hold on to your kids though, the cliff is pretty steep! The diameters of the hexagon "tiles" are 10-30 inches.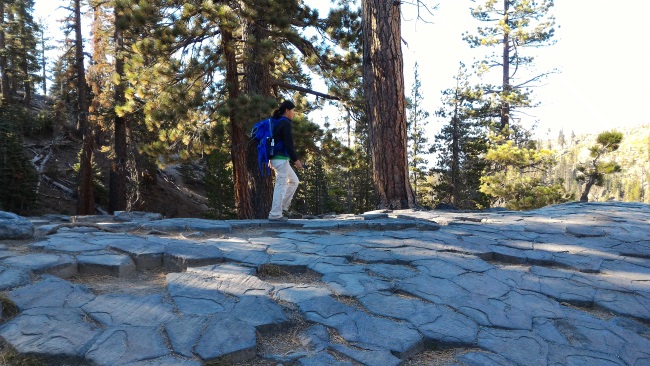 Tile-like hexagons at the top of the postpiles, Devil's Postpile National Monument, California
On your way up (or down depending on direction of your loop), you'll see postpiles formed at almost horizontal angles, looking very much like logs stacked on their sides.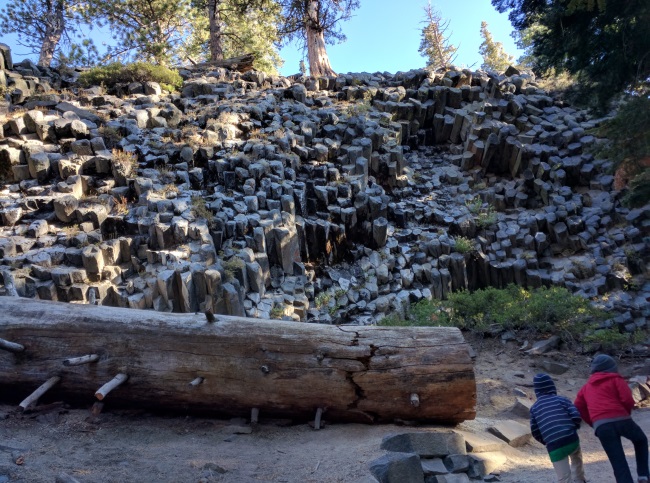 Postpiles formed almost horizontally, Devil's Postpile National Monument, California
Across the trail from the bottom of the postpile, there is picnic area. Have lunch there then go down to the river below to check out river banks made of short postpile columns.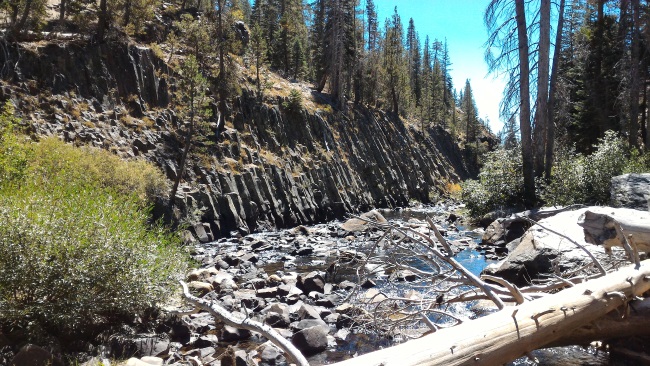 Postpiles lining the river banks, Devil's Postpile National Monument, California
Rainbow Falls
About 2 miles (one-way) from Devil's Postpile, you'll find Rainbow Falls. Rainbow Falls is a waterfall that often create rainbows as the San Joaquin River plunges over 100 ft high lava rocks. On your walk out, keep an eye out for more postpiles in the distance, some more than one level.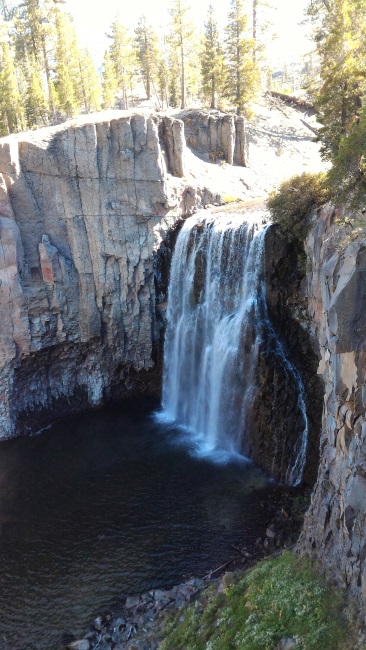 Rainbow Falls, Devil's Postpile NM, CA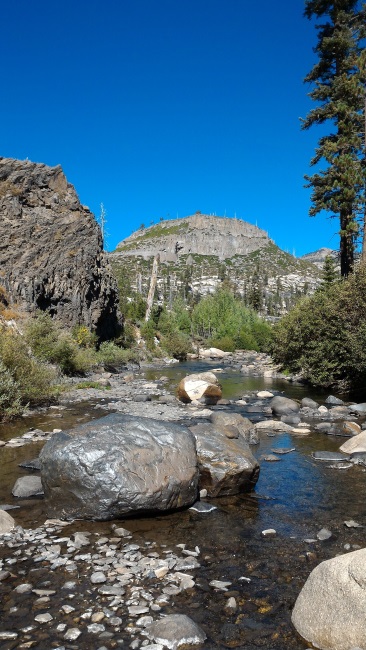 Postpiles in a distance?
Lower Rainbow Falls is about 1.5 miles (one-way) beyond Rainbow Falls. It's a nice walk to the bottom to experience more of the flora and geology of this area. The hike after Devil's Postpile is mostly unshaded, so it's a good idea to bring plenty of water, hats and sunscreen.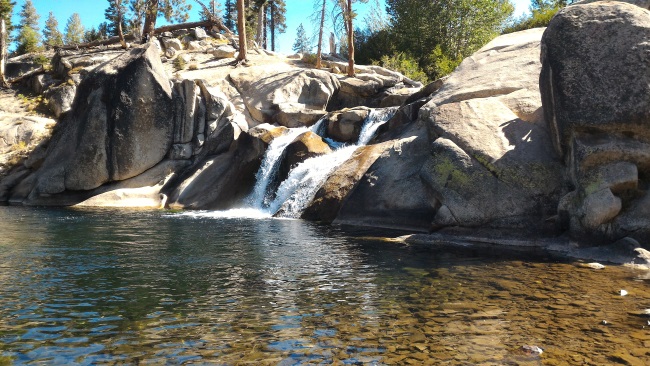 Lower Rainbow Falls, Devil's Postpile National Monument, California
Practical Information (as of September 2016): Devils Postpiles

| | |
| --- | --- |
| Features: | Discover tall hexagonal columns from below, above and sideways. Walk to a waterfall or two formed by the San Joaquin River plunging over rock cliffs. Look out for more multi-leveled postpiles in the distance |
| Our Hike: | 1 mile rt to Devil's Postpile from Ranger Station, 5 mile rt to Rainbow Falls from Ranger Station, 8 mile rt to Lower Rainbow Falls from Ranger Station Shorter distances available from other shuttle stops. Check out Devil's Postpile Map |
| Park Fees: | $10/car for park entry outside shuttle hours (Free with Intraagency Annual Pass), otherwise shuttle fees apply, see below |
| Directions: | From U.S. Highway 395, drive 10 miles west on S.R. 203 to Minaret Vista and then another 8 miles on a paved, steep mountain road. Road is single lane for about 3 miles. For shuttle stop directions, see below. (Minaret Road is closed in winter) |
| Other: | Shuttle mandatory in the summer until the Wednesday after Labor Day long weekend during the hours of 7am and 7pm. Some exceptions to mandatory shuttle use apply. Tickets $7/adult, $4/child over 3 y.o. Tickets may be purchased at the Mammoth Mountain Adventure Center. Tickets are usually purchased on the same day. For shuttle more info: Devil's Postpile Shuttle |
Other Awesome Hikes in the Area: Mono Lake Area and Long Valley Supervolcano
More California Travel Ideas More U.S.A. Travel Ideas More Worldwide Travel Ideas