Natural Bridges National Monument
Natural Bridges National Monument is about an hour from Blanding, Utah and consists of 2 bridges and 1 arch. I learned during this trip that the differentiating factor between a bridge and an arch is whether the stream that carved the bridge/arch still flows under it.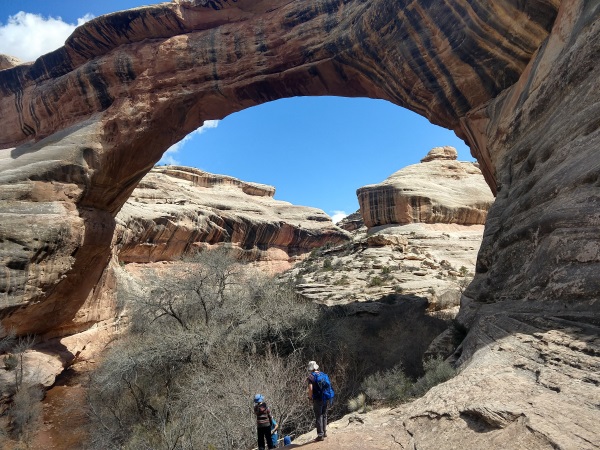 Descending one of three ladders to the base of Sipapu Bridge, Natural Bridges NM, Utah
Our hike consisted of about 8.5 miles rt, starting at the rim, hiking down to Sipapu Bridge to Kachina Bridge and back to Sipapu Bridge and back up to the rim. There were 3 ladders to climb down to Sipapu Bridge, the tallest being about 14ft. For me, going down is harder than up. Having to turn around at the top makes me nervous but we all made it down, then up, without incident. A longer hike is available, at about 12 miles rt (per NPS signs, probably more like 14.5 miles rt) which covers the two bridges (Sipapu and Kachina) and Owachomo Bridge (really an arch since the stream flowing underneath it has dried up).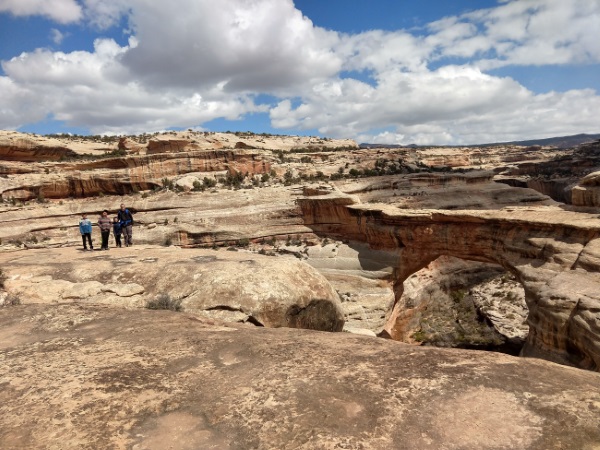 Sipapu Bridge hiding in plain sight, Natural Bridges NM, Utah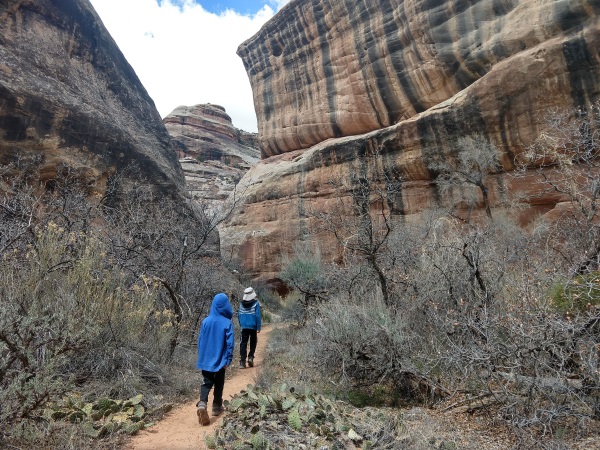 Walking between the canyon walls from Sipapu Bridge to Kachina Bridge, Natural Bridges NM, Utah
The natural bridges were majestic! Looking over the rim, it became obvious how big the natural bridges were, even if the they were somewhat camouflaged by color. Going underneath the bridges gave us an idea of small we really were! The hike led us on sandy washes between gigantic walls of rock of varying colors and over the streams several times. I was glad it hadn't rained since flash flooding might be a concern. We only hiked between 2 bridges this time as we were running out of time but did stop at the third natural bridge, Owachomo Bridge, to view it from the overlook.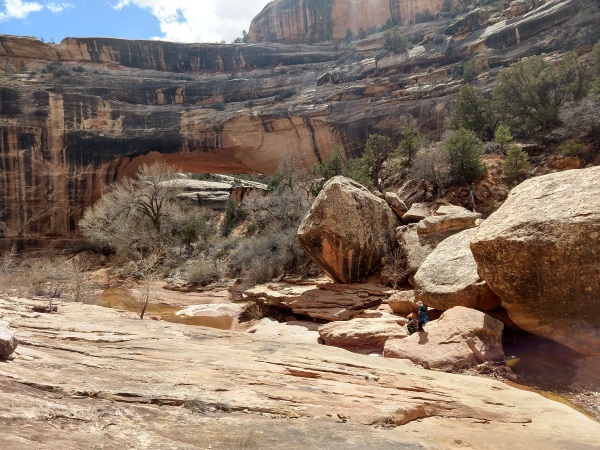 Approaching Kachina Bridge, Natural Bridges NM, Utah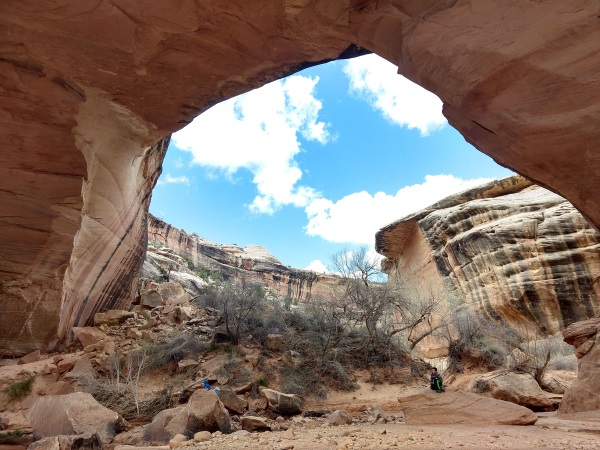 The view from under Kachina Bridge, Natural Bridges NM, Utah
All natural bridges (and arch) had overlooks from the Loop Drive, if that is all you are looking for. All bridges had a quick hike down to go to the base of the bridge and back up. Sipapu Bridge has 3 ladders, the main reason I chose to hike it - keeping my boys entertained during hikes is a major consideration. I get less resistance from the boys in challenging hikes than easy, flat hikes. As someone who is fearful of heights, the ladders were pretty manageable.
We did this drive/hike as part of our tour of the Four Corners Area.
Practical Information (as of April 2019):

| | |
| --- | --- |
| Features: | Walk down 3 ladders to the base of a majestic natural bridge (Sipapu Bridge) past a ruin, into a canyon lined by gigantic walls of rocks, cross the stream that carved the bridges many times to a second bridge (Kachina Bridge) |
| Fee: | $20 per private vehicle, Free with National Parks Pass |
| Directions: | 45 minutes drive from Blanding, UT. From Blanding, drive south on US 191 to UT 95. Turn west at UT 95 (right) and drive 35 miles west to UT 275. The entrance to Natural Bridges is at the end of UT-275. We visited this park as part of our visit to the Four Corners Area. |
| Website: | Natural Bridges National Monument |
| Other: | When hiking in deserts and canyons, pay attention to the weather forecast for Heat or Rain. Rain in any surrounding area may cause dangerous flashfloods. |
More Four Corners Travel Ideas More Utah Travel Ideas More New Mexico Travel Ideas More U.S.A. Travel Ideas More Worldwide Travel Ideas