Aztec Ruins National Monument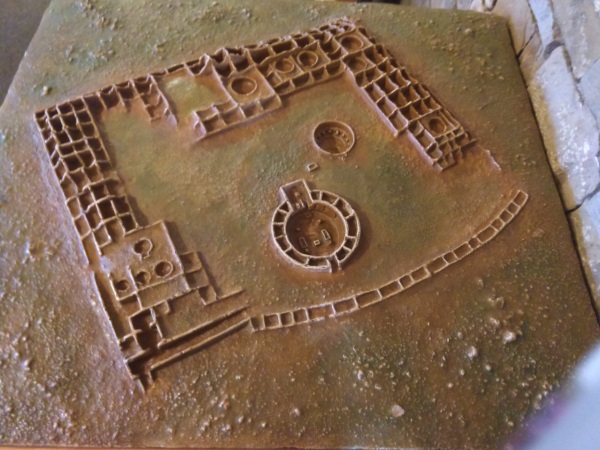 Schematic of community at Aztec Ruins NM, New Mexico
Aztec Ruins National Monument started to gain prominence in the 1100s, overlapping 100 years with the decline of the Chaco settlement not too far away. These ruins are not actually Aztec but ancestral Puebloans. The original discoverers of these ruins initially thought it to be Aztec, hence the misnomer. It consisted of a great kiva (reconstructed) and ruins of a mesa top 400-room dwelling. The half mile self-guided trail led us into and through the small rooms of the great building. In its day, about 900 years ago, this great building was at least 2 floors high. The great kiva, though reconstructed, was a sight to see.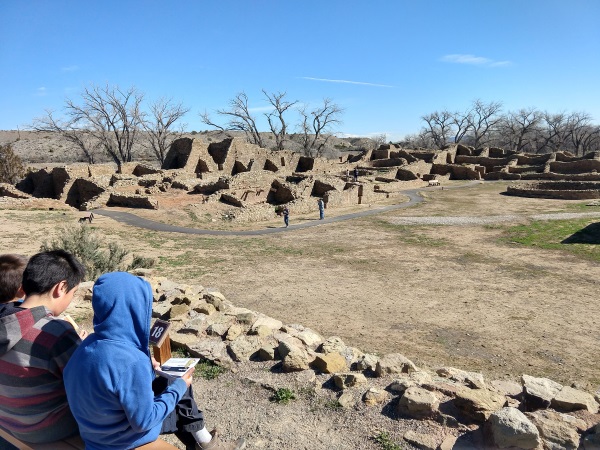 Overlooking the ruins of a Mesa-top community in Aztec Ruins National Monument, Aztec, NM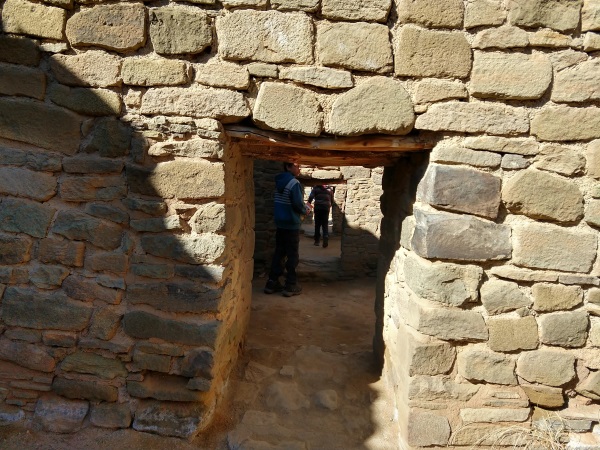 Walking through the small rooms of Aztec Ruins National Monument, Aztec, NM
We did this drive/hike as part of our tour of the Four Corners Area.
Practical Information (as of April 2019):

| | |
| --- | --- |
| Features: | Wander through a 900-year-old Native American community |
| Fee: | Free, free parking |
| Directions: | 725 Ruins Road, Aztec, NM 87410 |
| Website: | Aztec Ruins National Monument |
| Hours: | varies according to season, check website |
Chaco Culture National Historic Park was an important ceremonial, economic and administrative gathering place for Native Americans of the San Juan Basin from 850-1250 A.D. It has ruins of many great houses and stone buildings of multiple storeys containing hundreds of rooms. Starting in the 1100s, Chaco started to lose prominence as a center, as people started moving north to places like Aztec and Mesa Verde. We wanted to visit Chaco on this trip, but the weather did not cooperate. Chaco is definitely on my list next time visit that area.
Website: Chaco Cultural National Historic Park
More Four Corners Travel Ideas More Utah Travel Ideas More New Mexico Travel Ideas More U.S.A. Travel Ideas More Worldwide Travel Ideas