Canyon of the Ancients National Monument
Just a short skip away from Mesa Verde, Canyon of the Ancients has many different dwelling ruins from 800-1500 years ago. We only had time to visit two. One ruin was a short walk from the Visitor Center in Cortez.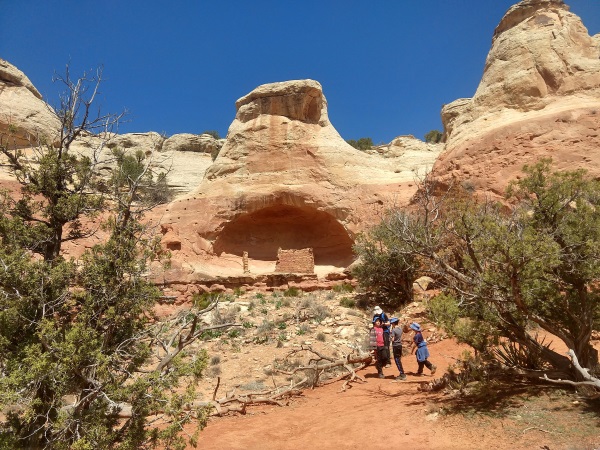 Dwelling Ruins within a 'chimney' rock formation, Canyon of the Ancients NM, CO
The second set of ruins were found along Sand Canyon Trail. Sand Canyon Trail is a 13-14 mile out-and-back trail that connects a Lower Trailhead to the once cliff-side village of 225-500 people Sand Canyon Pueblo near the mesa top, complete with a wall on its topside. It was a 420-room 'village occupied in the mid 1200s. Unfortunately, after the Pueblo was studied by archaeologists, it was reburied to better preserve it. The information boards tell us in its heyday, these cliff dwellings would have been double the size of Cliff Palace in Mesa Verde. The walls were not tall, so it's purpose was probably more for water diversion than defensive. There were a network of connecting kivas and towers along the wall. There were 100 kivas and 14 towers in this community. With a lot of imagination, we are told to notice the D-shaped buildings used for public events. Oh what an amazing sight it would have been, had it not all been reburied. For more information on the findings at Sand Canyon Pueblo, click here.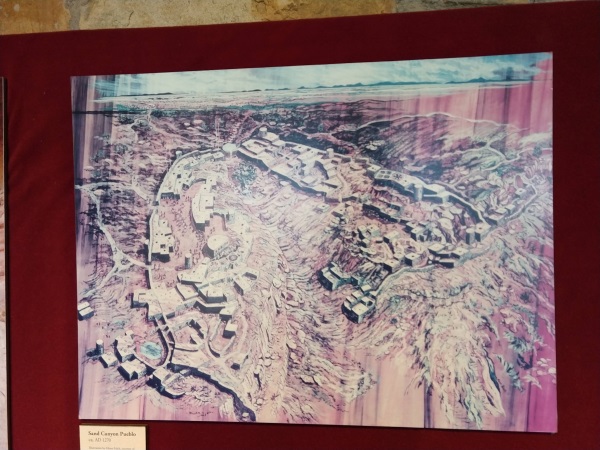 Sand Canyon Pueblo - schematic of what it would have looked like, Canyon of the Ancients, CO
Sand Canyon Pueblo may be reached by car (County Road N) if one would prefer to avoid walking the 14 mile uphill hike on mostly sandy trail. We started our hike at the Lower Trailhead on County Road G. Parking is limited, so arrive early. We got the last spot when we arrived at noon, having been intrigued by the museum in Cortez for longer than we anticipated. Our hike gained 2200 ft in elevation, but 1800 ft of that elevation was gained in one direction (going towards the Pueblo), the remaining 400 ft elev gain on our way back to the trailhead. There was a steep section of switchbacks that gained more than 700 ft in ½ mile, (our threshold for difficulty is 500 ft elevation gain in ½ mile. Less steep than that seems easy but more than 500 ft in ½ mile feels challenging).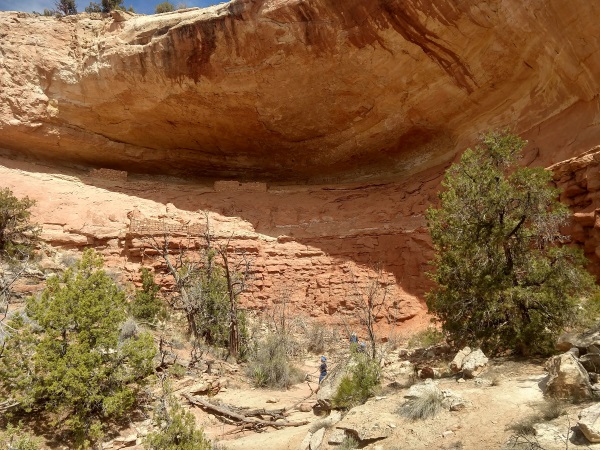 Multi-level Dwelling Ruins within an Alcove, Canyon of the Ancients NM, CO
Luckily, all of the one or two house ruins in alcoves occurred along the first 3-4 miles of trail from lower trailhead. There were about 5 or 6 such ruins high in alcoves that were viewable from the trail. Along the way, there were also multi-colored rock formations. Some resembled large chimneys (even with ruins in it), others large teapots in the cliffs. Having started our hike at noon, ours was a hot hike with minimal shade and no water along the trail. Bring hats, water and wear sunscreen. Watch for weather forecast for rain and inquire at the Visitor Center for trail safety. As with any hike in the desert, flash flooding can be an issue if there is rain in any surrounding area. Keep kids close as mountain lions call this area home.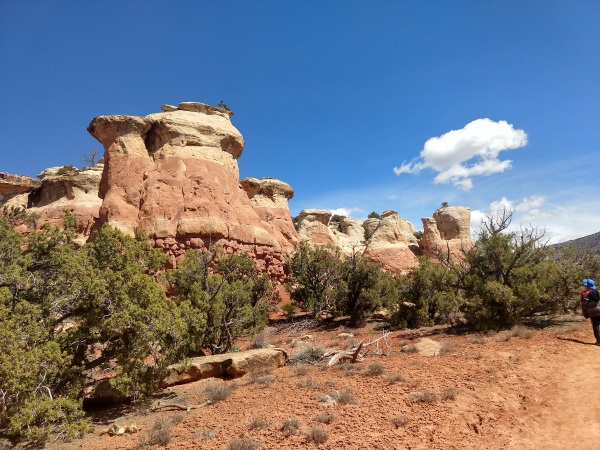 Giant 'Teapot' rock formations along Sand Canyon Trail, Canyon of the Ancients NM, CO
If you're looking to reduce hike distance/elevation, you could walk 3-4 miles one way (6-8 miles rt) from the Lower Trailhead, to see the half-dozen cliff dwelling ruins and rock formations. Then drive to Sand Canyon Pueblo (on County Road N) to see the remains of the 420-room Pueblo.
We did this drive/hike as part of our tour of the Four Corners Area.
Practical Information (as of April 2019):

| | |
| --- | --- |
| Features: | One of the prettiest hikes we've done this trip, combining history (cliff dwelling ruins) with nature (red/white rock formations of giant chimneys, teapots etc) |
| Our hike: | 14 mile rt, 2200 ft elev gain hot hike on a sandy trail, 700 ft elevation gain in ½ mile switchbacks when closing in on Sand Canyon Pueblo near Mesa top. To reduce hike distance/elevation, one can do 3-4 miles one-way(6-8 miles rt) to see the cliff dwelling ruins and rock formations in the canyon and drive up to Sand Canyon Pueblo on County Road N. |
| Fee: | $3/adult or free with Annual National Parks Pass |
| Directions: | Lower trailhead is on County Road G, a road going west from US 160 when going south from Cortez. Sand Canyon Pueblo Ruins parking lot is on County Road N. Map available at Visitor Center. |
| Website: | Canyon of the Ancients National Monument |
| Other: | When hiking in deserts and canyons, pay attention to the weather forecast for Heat or Rain. Rain in any surrounding area may cause dangerous flashfloods. |
More Four Corners Travel Ideas More Utah Travel Ideas More New Mexico Travel Ideas More U.S.A. Travel Ideas More Worldwide Travel Ideas