Family Budget Travel Tips
In order to travel often, we try to keep costs as low as possible while trying not to miss out on worthwhile experiences. We travel on weeklong holidays as a family about 3 to 4 times a year. Our typical trip nowadays usually involves a destination within United States for a week totaling $1000 or less for accommodations, flights and car rental for our family of five. Here are some methods we use to achieve a low cost but awesome travel experience.
Accommodations
When traveling, we tend to stay in budget friendly accommodations. I have found that there are many places to stay that tend to be more economical than the traditional hotel. Cabins, apartments, yurts and even campsites make for unique and fun lodging. Of course, we do stay in traditional hotels as well when they are the best option. Locally, I have found Hotels.com to be my favored site thus far, both for its reasonable prices and reward program (Stay 10 nights, Get 1 Free). I, like many travelers, rely heavily on reviews provided by previous guests to decide on whether or not an accommodation will be a good fit for my family. Don't forget to check for weekly or monthly rates if staying for a longer period in one location.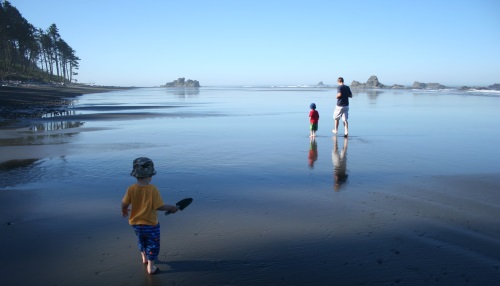 Exploring the tide pools in Ruby Beach, Washington
Food
When on vacation, we tend to have breakfast at home, usually by purchasing a local specialty item at the grocery store or bakery the night before (yogurts, breads, pastry) or choose a hotel that provides a complimentary breakfast included in its economical price. For lunch, we usually eat out, usually at a spot that has been well reviewed for price and taste. For dinner, we may eat in or out, depending on whether we have a kitchen to use. If we eat in, I usually purchase local specialty items at the grocery store, such as local specialty sauces, fruits and vegetables to use in our cooking. We want to be economical, but we also don't want to miss out on what our vacation destination has to offer. We have found that even the most luxurious food item in the grocery store will be less expensive than eating out, especially when feeding a family. So go ahead, buy that expensive Taro Loaf for breakfast!
Car Rental
When making car rental reservations, I tend to use sites that do not ask for a deposit when making reservations. Handy, in case of a change in travel plans. Costco.com is one such site. I have found that their prices are usually less than other sites, and they provide one free additional driver. Also nice, since their prices sometimes go down, and if so, you can book with the better price and easily cancel the previous reservation.
Airline Tickets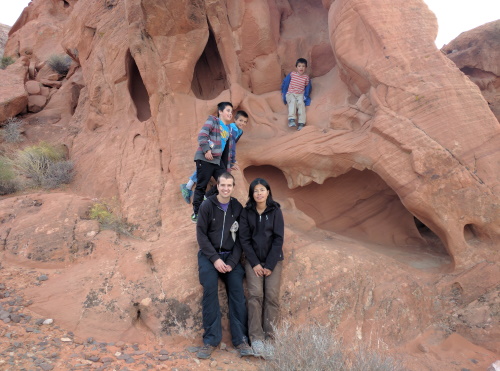 Exploring some red rocks at Redstone, Lake Mead, NV
Airline tickets can be costly, especially when there are many tickets to purchase. We are avid users of airline reward programs. Many airlines offer bonus miles for signing up for their credit cards. Southwest Airlines often offers 50,000 points for signing up for their credit card. If you have a business, they also offer a business credit card, often for a sign-up bonus of 50,000 points. Southwest Airlines offers a FREE companion pass for a year (and a bit) if you achieve 110,000 points per calendar year in your reward account. That comes in handy to reduce the cost of airline tickets, especially for small business owners. Southwest tends to offer a discount when using points vs. actually paying for the cost of an airline ticket, usually by about 30%-40%. In 2015, a return flight from Oakland, CA to Albuqueque, NM will cost you 20,000 points per person plus taxes of $11.20 on Southwest Airlines. With Companion Passes, a family of four can travel for $44.80. Two free bags per person, no cancellation or change fees help make Southwest Airlines our airline of choice for domestic travel within United States, despite its sometimes annoying method of seat assignment. Though, if seat selection is important to you, the cost of early-bird check-in is relatively inexpensive. Or if you have a child under 6 years of age, you will be able to board with family boarding. Hawaiian Airlines and Alaska Airlines also provide decent sign-up bonuses and discounted companion passes. Chase British Airways Avios credit card also provides decent sign-up bonuses (often 50k points initially, up to 100k points after certain spending requirements) and you can fly to Hawaii from the West Coast U.S.A. for 25k points round trip. Of course, if you are applying for credit cards, please do yourself a favor, use it responsibly. Don't go into debt with credit cards, not even for travel.
Attractions and Entertainment
It often pays to research ahead of time for coupons prior to your vacation. In Hawaii, for example, we found a 2 for 1 coupon in the Entertainment Guide for the Polynesian Cultural Center, a $50 savings. We also found a 2 for 1 coupon for shrimp plates in the same book. The book itself also can be purchased for less than full price, depending on the time of year. Don't forget to check your place of employment for ticket discounts. Some employers offer discounts for Disneyland tickets. Online purchases can also provide discounts as is the case with the Space Center Houston. If you are member of the military or a senior, there are also many discounts to be had.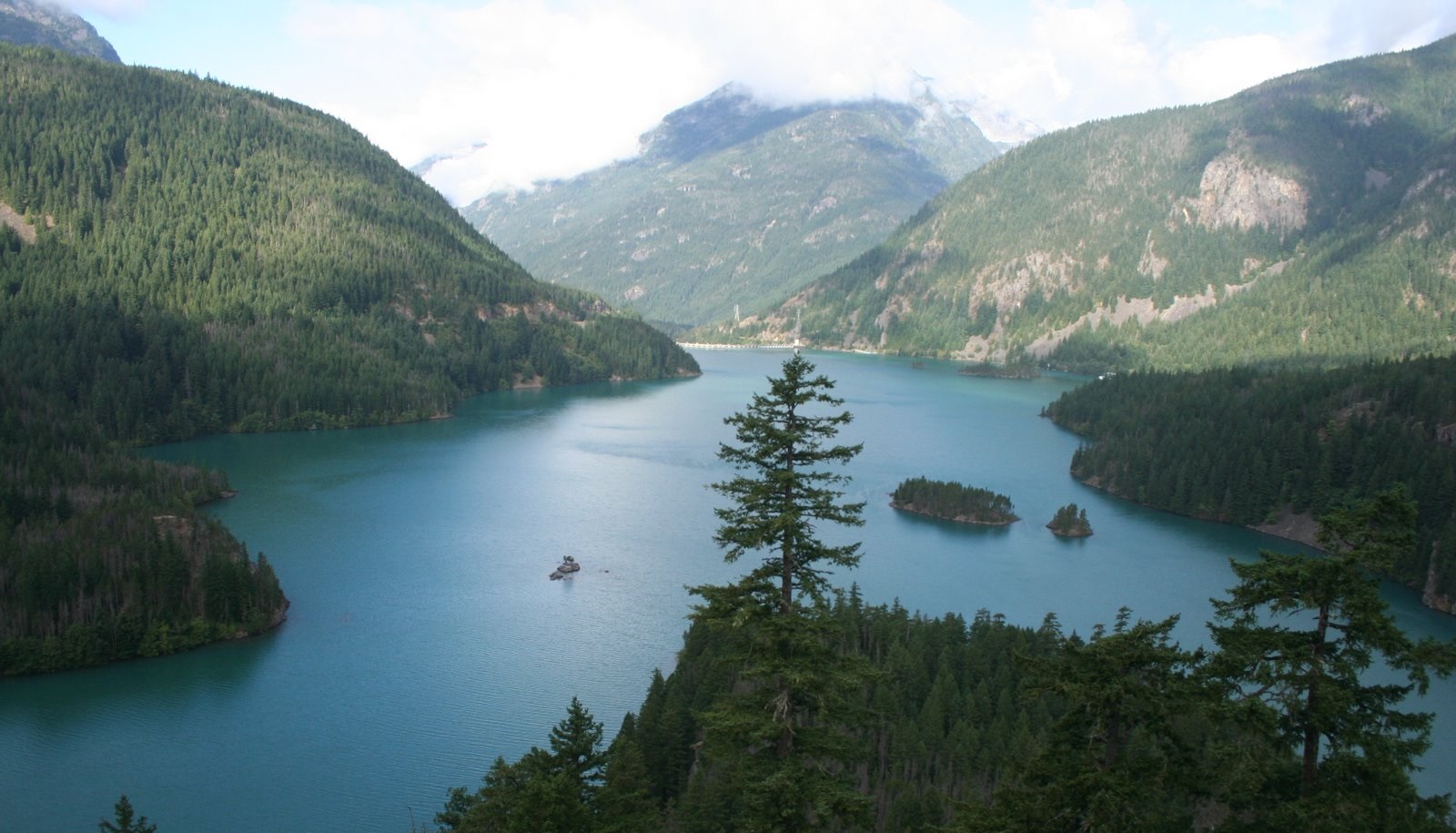 North Cascades National Park, Washington
The United States National Parks Service offers an annual pass for $80 for entry into all National Parks in the country for everyone that fits in your vehicle. If you go to 3 or 4 different National Parks in a year, you would break even. This year (2015), the National Parks are giving out free passes to families with Grade 4 students. If you are a family that frequents state parks, check out your state parks annual pass. In Washington, the yearly state parks pass costs $35, compared to $11.50 charge for each entry. I particularly enjoy the parks because it affords us a look into the natural (or historical) feature of the local area. It allows us to really get a sampling of what the local area has to offer.
Many museums and science centers offer reciprocity to members of other museums, at home and abroad. The Los Angeles Natural History Museum, for example, offers free admission through a reciprocity agreement to members of other ASTC museums that are at least 90 miles away. Sometimes the cost of tickets of a one-time entry to a faraway ASTC museum can justify the cost of a membership to a museum closer to home. The membership can also be used at other ASTC museums that are at least 90 miles from your home and your home museum. We used our local ASTC museum membership for free entry in New Mexico Museum of Natural History. Membership sometimes come with other perks, like free parking or discount at the gift shop or free IMAX movies. Look out for discounted memberships on sites like Groupon.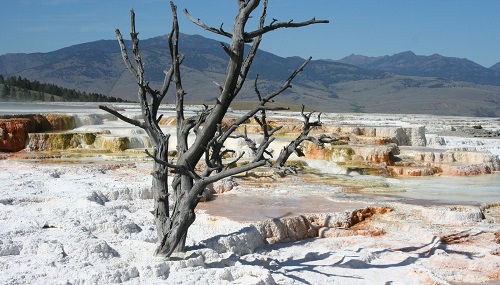 Terraced Travertine Formation, Mammoth Hot Springs, Yellowstone NP, WY
Don't forget the attractions close to home. Short flights to a nearby destination can teach you more about the country you currently call home or its neighbour. Driving distance attractions can save you the cost of flight and you can get to know your local area much better. Check out your local National Park or State Park. Oregon, for example, has many natural attractions such as John Day Fossil Beds, Lava River Cave and Crater Lake, just a few hours drive from Portland.
Don't forget the FREE stuff. Many public libraries offer free or discounted tickets to local attractions. For example, passes for the California Academy of Science in San Francisco (worth $120 for a family of 4), can be obtained free of charge at public libraries. The same can be said of Aquariums, Zoos, Historic Centers, or Children's Museums. Bank of America also offers its customers free museum visits to a list of museums nationwide on the first full weekend of each month through the Bank of America Museums on Us program.