Red Cliffs National Recreation Area
Located just outside of the city of St. George, Red Cliffs National Recreation Area, is an easy getaway from Las Vegas. The road in consists of going under a bridge on a single lane road, which warns against use by tall vehicles. We spent two nights camping at Red Cliff NRC.
The campground shared a common area with the day use area. Arriving on a Monday morning at the end of December, we managed to find a spot tucked in a court fairly easily. Despite the freezing overnight temperatures, all campsites were taken by nightfall. Campground #7 looked like it was on its own in the corner, until we noticed a family standing on the red cliff just above us. Later we realized our campsite was just below a dinosaur track exhibit. Overnight temperatures were in the 20F's and it felt like it. We were serenaded to sleep by the howls of winds for most of the hours of the second night. The winds were so strong that it broke one of our tent poles, and knocked over/broke our kettle handle off the picnic table. In the morning, the winds died down making it perfect for a stroll. The hikes in this park are on the short side, but nevertheless interesting.
Red Reef Nature Trail
Red Reef Nature Trail is the prettiest of the hikes we did at this park. This short less than 2-mile round trip took us into a canyon and past an almost-arch which seemed to have some petroglyph on the rock to its side. The last ¼ mile was in a wash between two towering red walls. As always I was concerned for flash floods, but luckily there was no issue with that. The end of the short hike is usually marked by a beautiful pool of water but on our visit, the pool was dried out. On the right side of the pool there was a rope to climb onto the side of the adjacent wall, but we did not go further than the dried pool bed. It was a pretty walk nevertheless.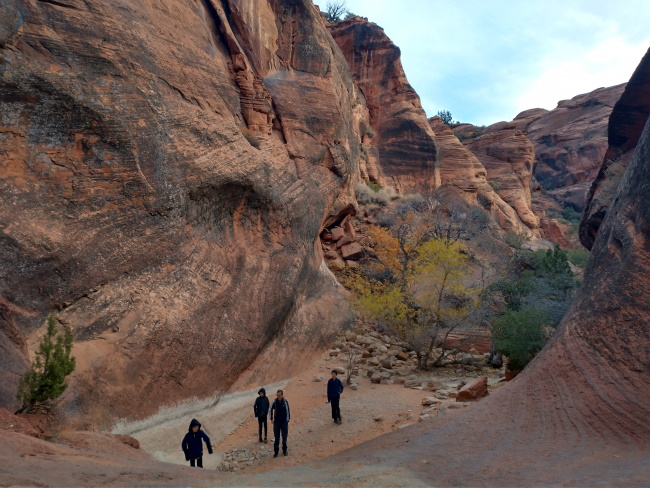 Hiking in the wash of Red Reef Trail, Red Cliffs, Utah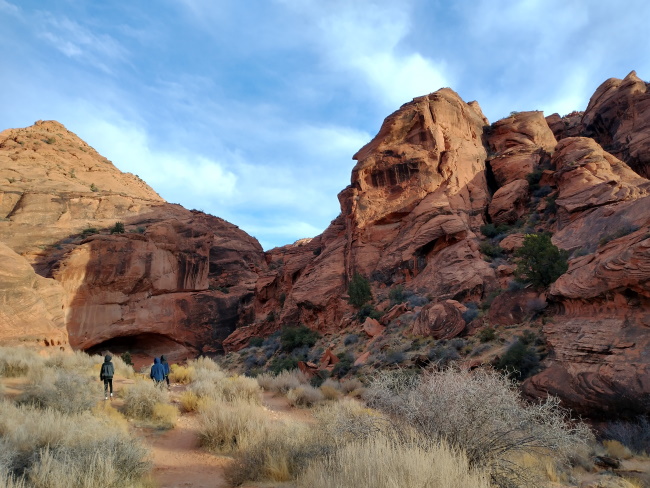 Almost-Arch in the horizon, Red Reef Trail, UT
Anasazi Trail
Anasazi Trail is a short trail (1-2 miles rt) which features the archaeological remains of a Native American home. It connects to Metate Trail where a set of dinosaur tracks are found. Look for a sign indicating the tracks then look just past the sign on a light stone slab lying on an almost horizontal slant on ground. Anasazi trailhead is found just around back corner of campsite #9.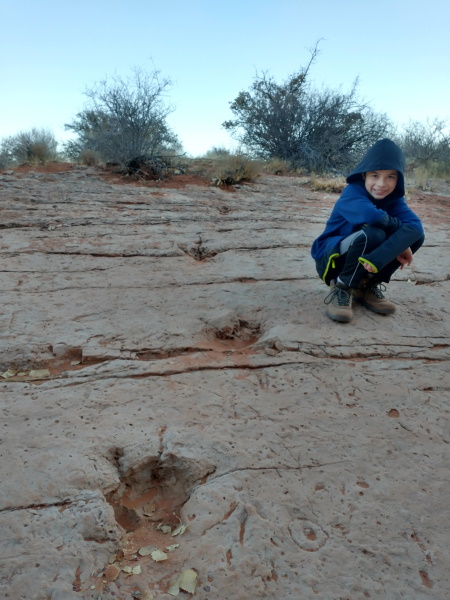 A series of dino tracks at Red Cliff NRC, Utah
Silver Reef Trail
Silver Reef Trail is the trail that went behind our campsite (campsite #7). There is a dinosaur track exhibit on the cliff above. It is a short hike, less than a mile long, and ends at a cliff with somewhat of an overlook of the flatter lands below.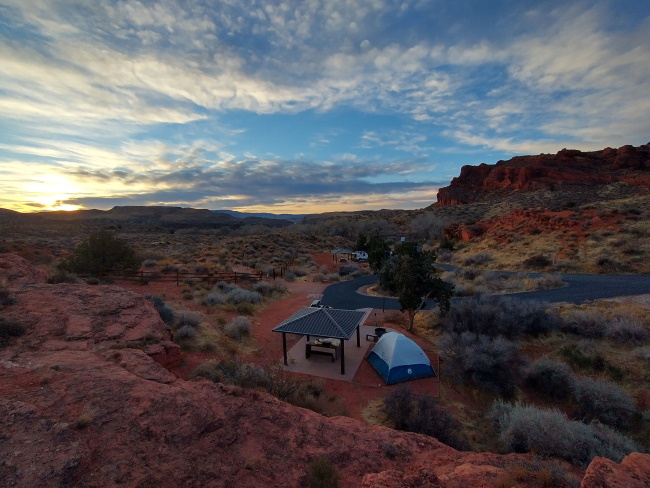 Our campsite (#7) from Silver Reef Trail, Red Cliffs NRC, UT
Practical Information (as of December 2020):

| | |
| --- | --- |
| Features: | Hike amongst red rock walls and domes to find dinosaur tracks and archaeological remains of a Native American home. |
| Entrance Fees: | $5/vehicle, National Parks Annual Passes honored |
| Camping: | $15/campsite, first come first served, small campsite (less than a dozen sites), limited to 14 days stay |
| Directions: | Take Interstate 15 north to Exit 22. At the end of the off-ramp,turn right onto Old Highway 91. Travel south 2 miles and turnright. Continue under two freeway tunnels (tunnels restrict vehicle size to less than 12 feet in height and width) and follow the paved road for 1.3 miles into the campground. |
| Website: | For updated information, check Red Cliffs NRC |
More Utah Travel Ideas More U.S.A. Travel Ideas More Worldwide Travel Ideas