Little Wildhorse Canyon
The complete lollipop loop of Little Wildhorse to Bell Canyon is 8 miles return. If you prefer to only go to Little Wildhorse as an out-and-back trail, then the hike can be 6 miles return. Being one who is constantly looking for new places to explore, we had planned to do the entire 8 mile loop on that Sunday morning. The hike started in a wash. We came to our first small section of slot about ½ mile in. That part required hopping into a large (maybe 4 foot deep) pothole (that was dry) and climbing out. Beyond this little obstacle, we walked into a very short ascending slot, which was a taste of things to come. After this short slot, we realized we were in a lowered part of the trail. Hopping out earlier meant a short 1-2 foot climb out of the depression. Waiting until the end meant having to hop out of a 5-6 foot depression. We hopped out earlier on.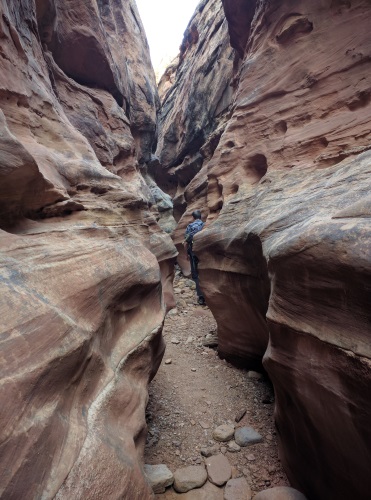 Slot Canyon, LIttle Wildhorse Canyon, UT
Just beyond this section, there was a fork. There is a sign indicating Bell Canyon to the left. Little Wild Horse Canyon is to the right. There was no sign indicating direction for Little Wildhorse Canyon that I saw. On the day we went, there were many many families hiking Little Wildhorse Canyon, who happily showed us the way. I love Utah families. They hike in big groups with many kids and are always so friendly and helpful.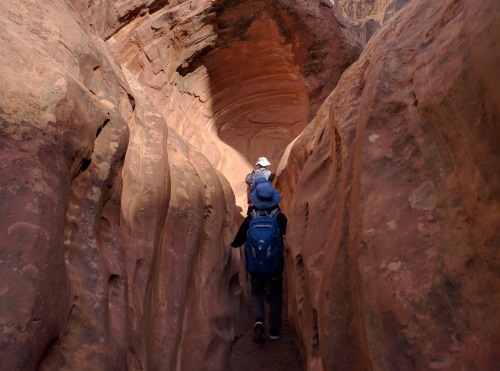 A slot canyon at Little Wildhorse Canyon, Utah
Here the slots began. Curves and colors made slots that were wide and small. Some slots we had to go through sideways. Others there was an alcove to fit five people to allow traffic from the opposite direction to pass. The slot canyons were broken into sections. We would hit some slots, then a wide section then another section of slots. We enjoyed about three or four sections of slots before we hit water. The first water section we encountered had rocks lining the bottom, so we graciously hopped our way along. We enjoyed some more curving sections before we hit our next water section.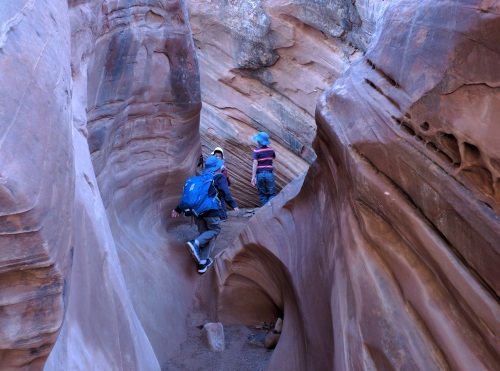 Slightly wider slot, Little Wildhorse Canyon, Utah
This next water section, we had to turn around. It was ankle deep on my husband. My husband removed his shoes and socks to explore further to see if it was passable. It was passable for him, but he was stepping on the surrounding wall rock. He didn't think the kids could make it. The family behind us also turned around. They spoke to an opposite direction hiker who said the water was much deeper further on, at waist deep on an adult. We had walked about 1.25 miles on the trail by that point. On our way back we found a cozy lunch spot in an alcove overlooking a slot entrance.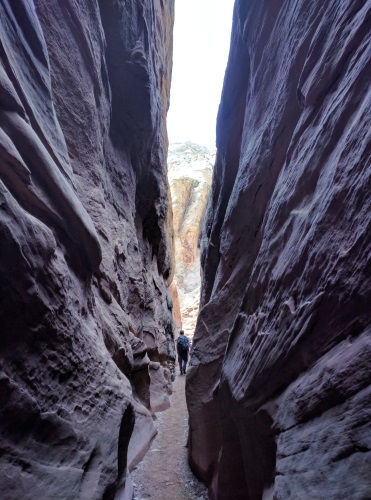 Narrow Slot, Little Wildhorse Canyon, Utah
During our hike, we encountered 3 areas where we needed to climb 4 to 6 feet of rocks but it was manageable. We turned around where the water was about ankle deep, since we didn't want our only shoes of the trip to be wet at the beginning of our hiking week and weren't willing to go shoeless in muddy waters. We tried to enter Bell Canyon afterwards but quickly had to turn around due to water issues as well. The trailhead for Little Wildhorse Canyon is located on our drive between Capitol Reef NP and Moab, and is a short drive (less than 30 minute) from the entrance of Goblin Valley.
Practical Information (as of April 2017):

| | |
| --- | --- |
| Features: | Beautiful curving slot canyons to explore, both wide and small |
| Our Hike: | 2.5 miles rt due to water, usual loop Hike is 8 miles for entire Little Wildhorse to Bell Canyon loop |
| Fee: | Fees: No Charge |
| Amenities: | Vault toilet, small parking lot but large dirt overflow parking |
| Directions: | From Hwy 24, follow directions to Goblin Valley entrance, then follow directions for Little Wildhorse Canyon (LWHC), LWHC trailhead is about 20 minute drive from Goblin entrance |
| Other: | When hiking in deserts and canyons, pay attention to the weather forecast for Heat or Rain. Rain in any surrounding area may cause dangerous flashfloods. |
More Utah Travel Ideas More U.S.A. Travel Ideas More Worldwide Travel Ideas