Goblin Valley State Park
The kids loved The Valley of the Goblins. They described it as a natural playground. There were miles and miles of rocks shaped like mushroom-shaped rocks called goblins and goblin homes for the kids to explore.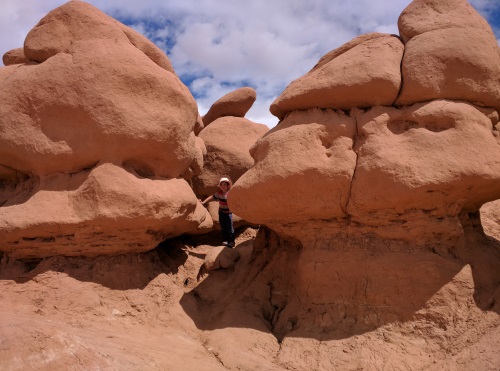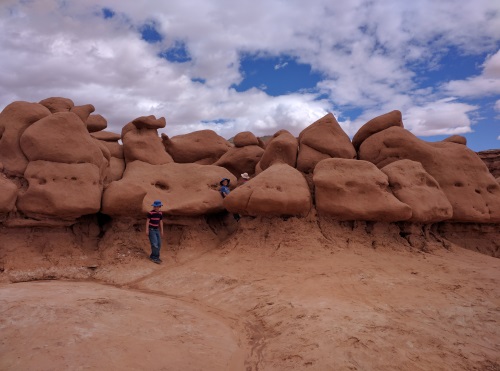 Exploring the goblins, Goblin Valley SP, UT
Near the edges of the park, there are towering rocks surrounding the rock goblins. The tall rocks are younger rocks than the goblin-sized rocks, since erosion has not had as much time to sculpt them. These tall rocks made me a little more nervous than the short goblin rocks. There were caves within the tall rocks that go straight down or directly up, which meant that you could fall a good distance if you don't watch your step. Some rocks started falling as I stood underneath a cave, and I got myself out of there! There was a hike I wanted to do here called Goblin's Lair but we couldn't seem to find the trailhead, unfortunately. So we just explored the large field of goblin rocks and the towering rocks on the edge for a few hours.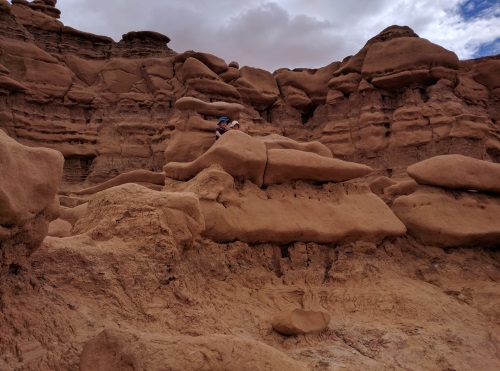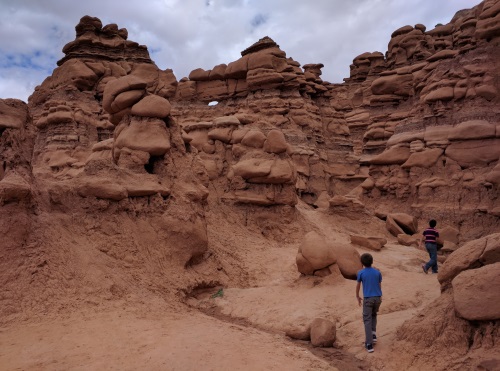 Taller (younger) goblins around the edge of the valley, Goblin Valley SP, Utah
Practical Information (as of April 2017):

| | |
| --- | --- |
| Features: | Goblin shaped rocks that go on for miles and miles, surrounded by a taller, towering soon-to-be goblin rocks |
| Fee: | $13 State Park Fees |
| Amenities: | Picnic tables, parking, vault toilet |
| Directions: | Approximately 216 miles southeast of Salt Lake City. 24 miles south of I-70 on Highway 24, turn at Temple Mountain junction, follow signs 12 miles to park. 20 miles north of the town of Hanksville on Highway 24, turn at Temple Mountain junction, follow signs 12 miles to park. |
| Website: | Goblin Valley State Park |
| Other: | When hiking in deserts and canyons, pay attention to the weather forecast for Heat or Rain. Rain in any surrounding area may cause dangerous flashfloods. |
More Utah Travel Ideas More U.S.A. Travel Ideas More Worldwide Travel Ideas