Dinosaurs in Utah
Dinosaur National Monument
Our first dinosaur encounter of our trip occurred on the Utah side of Dinosaur National Monument. We visited Quarry Visitor Center at 9am and were told the Dinosaur Quarry Exhibit Hall was to open at 9:30am. Normally, there would be shuttles or a caravan escort hourly, but on the day of our visit, the Ranger told us to drive to the Exhibit Hall at our leisure. There was a 1-mile trail connecting the Visitor Center to the Exhibit Hall, but unfortunately, for the most of this year, the Fossil Trail will be closed due to a recent landslide, (estimated opening September 2017). Fossil Trail is also a hike where one would most likely encounter fossils, according to a Ranger.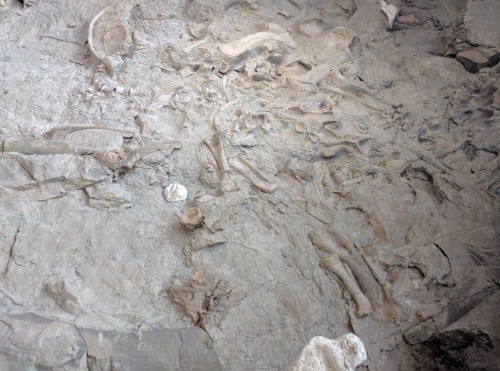 Wall of dinosaur fossils, Dinosaur NM, Utah
The drive to the Exhibit (also called Carnegie Dinosaur Quarry) was short. As we walked in, we were greeted by a wall of partially buried giant bones. The Ranger stated that the bones in the Quarry were real. "They simply placed a building around the bones, to protect them", he informed us. There were areas where we were allowed to touch these 149 million year old dinosaur fossils. Exhibits also included huge skull bones of allosaurus, and a complete juvenile skeleton of a camarasaurus. More than 1500 dinosaur bones are found in this Monument. This area used to be a river where these dinosaur remains flowed and settled to the bottom, being forever preserved for us to stare at in awe, some 149 million years later. Dinosaurs found in this Quarry are featured in museums worldwide. It's an amazing site to see!
After our awesome morning with the dinosaurs, we thought we would try our hand fossil searching on a trail. We hiked the Sound of silence and Desert Voices trail, for a total of about 5 miles. Muddy in some places, our trail went along very colorful hills and some slanted rocks. As we walked back, we noticed the sand beneath our feet change in color, from white, to red, to a greenish hue. I suppose that is what makes up the painted hills as well. We also saw porously textured rocks in a small section of a rock. We wondered if it was ancient form of sea sponge. Later in our trip, we saw something similar at the Natural History Museum of Utah in Salt Lake City. That particular item was labelled the skin of a large dinosaur called gryposaurus.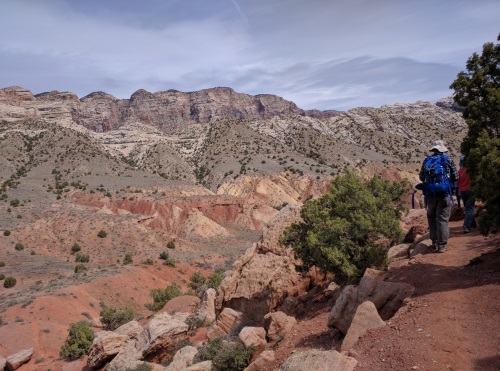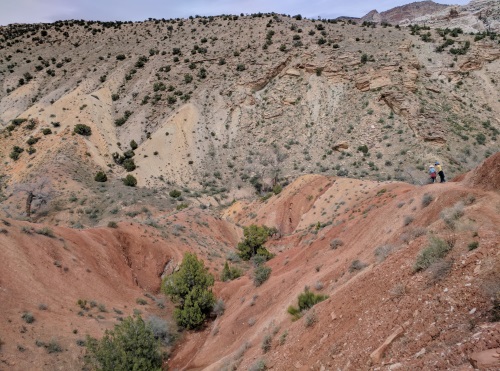 Painted Hills along the Sound of Silence Trail, Dinosaur National Monument, UT
Dinosaur National Monument extends to Colorado from Jensen, Utah. We did not make the trip across on this trip due to a lack of time, but from the pictures I have seen, it looks beautiful. However there are no fossils on display on the Colorado side.
Practical Information (as of April 2017):

| | |
| --- | --- |
| Features: | Real dinosaur fossils from 149 million years ago, still embedded in the rocks, colorful hills and slanted rocks on hikes |
| Our Hike: | Sound of Silence: 3.5 miles; Desert Voices: 1.5 miles; Both hikes are from the same trailhead and can be connected to make a 5 mile loop |
| Fee: | $20/private vehicle-valid for 7 days, or Free with Interagency National Parks Pass |
| Amenities: | Visitor Center, Flush toilets, Parking |
| Website: | Dinosaur National Monument |
| Address: | 11625 East 1500 South, Jensen, UT 84035 |
| Other: | When hiking in deserts and canyons, pay attention to the weather forecast for Heat or Rain. Rain in any surrounding area may cause dangerous flashfloods. Check with Rangers if in doubt. |
Natural History Museum of Utah
This Museum was a fun surprise for us. We had intended to spend most our day day at Antelope Island for a view over the Great Salt Lake and some free roaming bison, but the weather had other plans. Being pretty tired from our trip, we decided on spending the day at the Natural History Museum of Utah in Salt Lake City.
We arrived at the Museum at about 11am. Parking was quite full, but we managed to snag one as someone left. We found the entrance, but were stopped at the front door, for the General Admission line on this Saturday morning. Using our ASTC member Museum reciprocity agreement, our whole family gained entrance to this Museum at no charge.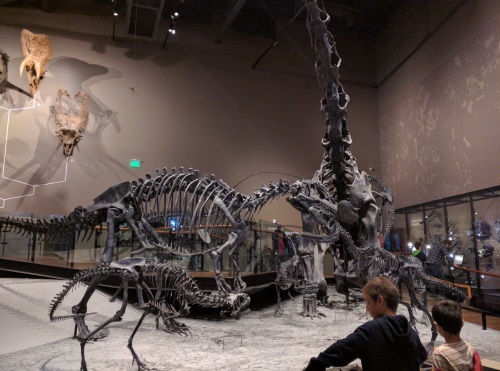 Gallery of dinosaur fossils, NHMU
Our first view of the dinosaurs was of gryposaurus. There lay a partially excavated fossil of gryposaurus in the glass floor beneath our feet. This is also where we saw a fossilized skin section, which looked similar to the one we saw at Dinosaur the day before. Nearby, there was a huge replica of a dinosaur footprint, that my son was drawn to.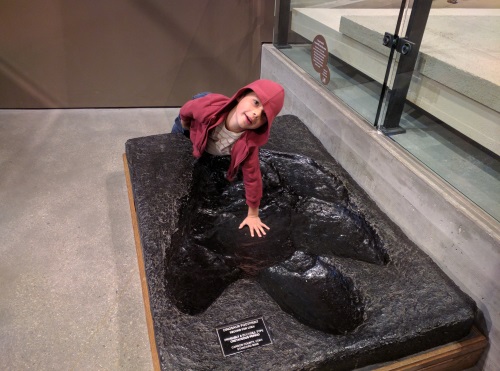 Comparing handprints to Dinosaur Footprint, Natural History Museum of Utah, SLC, UT
Adjacent to the gryposaurus, we found a drawer of other fossils found in the area. One was of a horse fossil, the size of a medium sized dog. Pretty amazing how animals evolve.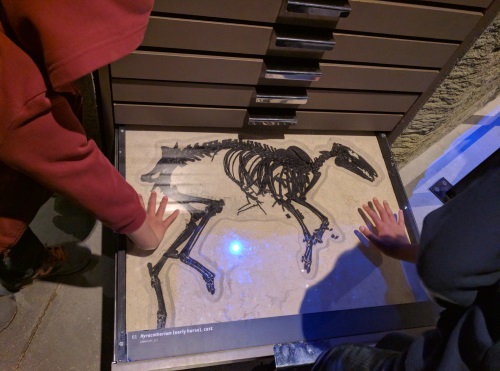 Early Horse Fossil, NHMU
Beyond these, there were several full fossils of other dinosaurs, a collection of 12 or 13 skull fossils of horned dinosaurs, a fossil of a huge crocodile, a giant sloth and a mammoth.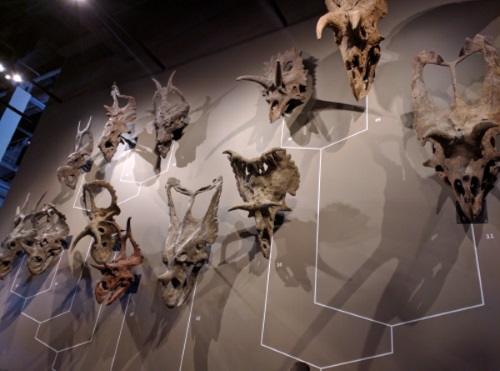 A collection of horned dinosaur skulls, Natural History Museum of Utah, SLC, UT
Upstairs, there was an interactive section where one can pair DNA bases, kids can dig for fossils etc. We also stumbled upon a temporary exhibit called Poison. It featured different poisons in nature that has different uses. It was surprising to learn that even staple foods like rice, cassava and sugar cane contain things that are toxic to us. I learned that metals, such as silver and mercury, were used for many ages as an antedocte to aging before we learned of its detrimental effects on our bodies. As the saying went in the exhibit, the only difference between poison and medicine is the dose.
This was my favorite Museum for fossils, tied for a close second are Los Angeles County Natural History Museum and La Brea Tar Pits in Los Angeles, California.
Practical Information (as of April 2017):

| | |
| --- | --- |
| Features: | Fossils of many different dinosaurs and early mammals |
| Address: | The University of Utah, 301 Wakara Way, Salt Lake City, UT 84108 |
| Fee: | $15/adult, $10/child under 12, $2 discount if purchased online on NHMU website, Free if member of another ASTC Museum |
| Website: | Natural History Museum of Utah |
More Utah Travel Ideas More U.S.A. Travel Ideas More Worldwide Travel Ideas