Deadhorse Point State Park
Between Moab and Canyonlands, there is a turnoff for DeadHorse Point State Park. We walked the almost 6 mile Rim Trail, starting at the Visitor Center. The view at the point over the confluence of the Green and Colorado Rivers was pretty amazing. It reminded me of pictures I had seen of Horseshoe Bend, near Page, Arizona; except that rock structures here prevent you from seeing the entire bend of the river. We had a very Grand Canyon-type of view walking along the East Rim Trail from the Visitor Center.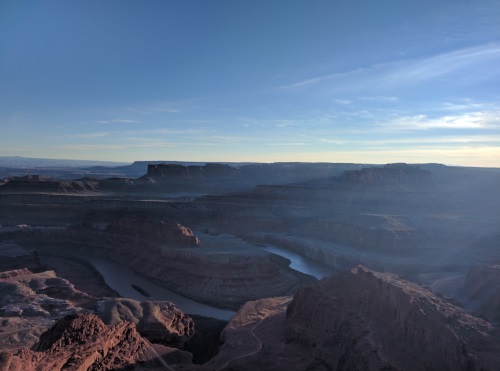 High above the confluence of Green and Colorado Rivers, Deadhorse Point SP, UT
This park gets its strange name from its former use to cowboys. Cowboys used to chase wild horses to this point which is surrounded by 3 sides of tall cliff, and corral them to find the horses that suited their needs.
The Visitor Center had bathrooms and refuge from the strong winds. Bring jackets. Entry fee is $15(as of April 2017).
Far below Deadhorse Point are ponds of blue water. These ponds are evaporating ponds for the harvest of Potassium Carbonate (potash) used in the agricultural industry.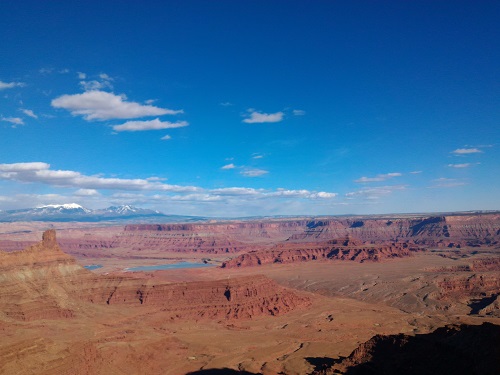 A View of the Blue Potash Ponds Below at Deadhorse Point SP, UT
Website: Deadhorse Point State Park
More Utah Travel Ideas More U.S.A. Travel Ideas More Worldwide Travel Ideas