Capitol Reef National Park
Capitol Gorge
Our first hike in Utah was a 2.5 mile hike into a false slot canyon called Capitol Gorge. A slot canyon is defined as a narrow canyon whose walls can be touched at the same time by one person's outstretched arms. This canyon was a lot wider than that, hence a false slot canyon. This flat hike in a fairly wide canyon saw many many young kids exploring it.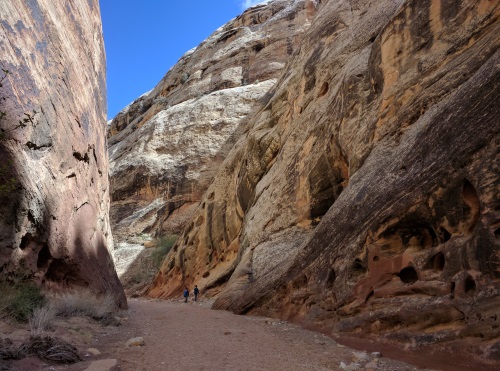 Inside Capitol Reef NP, Utah
Along the way, there was something called Pioneer's Register, which contain name carvings into the walls of the canyon, of Pioneers traveling this route, dating back 100 years. Capitol Gorge is also part of a road used by Pioneers to cross the towering Waterpocket Fold. The Waterpocket Fold is a 100-mile wrinkle in the earth's surface. Rocks have been pushed up, and erosion has played a role forming deep canyons and this Park's varied rock structures. Nearby, there are also some 1000 year old petroglyphs carved by the Fremont Indians that have faded. Better views of petroglyphs can be seen on Highway 24 going east. Look out for signs!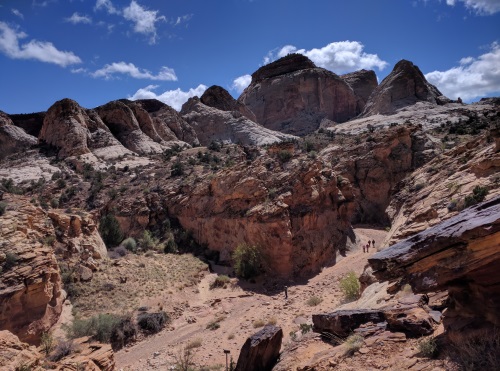 Viewing Capitol Gorge from above, Capitol Reef NP, UT
Near the end of the hike, there is a short spur trail that goes up the rocks for a view of a series of potholes filled with water called the Tanks. There was a view from above of Capitol Gorge itself, in addition to views of surrounding domes that gives Capitol Reef it's namesake. The domes reminded the namegivers of the Capitol.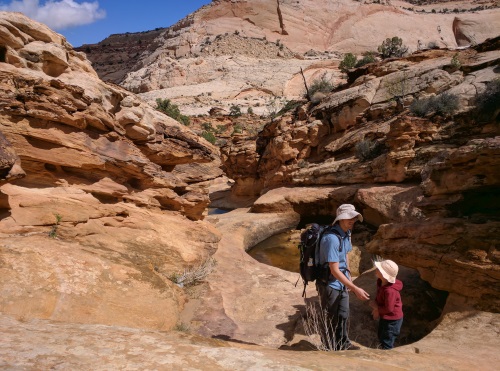 Inside a series of potholes called The Tanks, off Capitol Gorge Trail, Capitol Reef NP, UT
The Capitol Gorge trailhead requires a 2 mile drive along an unpaved 2WD road between walls of a canyon. It was an interesting, scenic drive. Be sure to check with the Visitors Center for weather conditions before heading out on the trails. Rain in the immediate or surrounding areas can lead to flash floods.
Golden Throne
This hike is a 4 mile return trip from the Capitol Gorge trailhead. There are many tall drops, almost 800 ft in elevation change, so we warned the kids to stay close. It was a neat walk between many rock structures, with some nice views of surrounding rock structures. Be forewarned, most of the trail is on a ledge adjacent to a deep canyon. We didn't make it to the very end, as my son wanted to catch the Visitor Center before it closed to earn his Junior Ranger badge.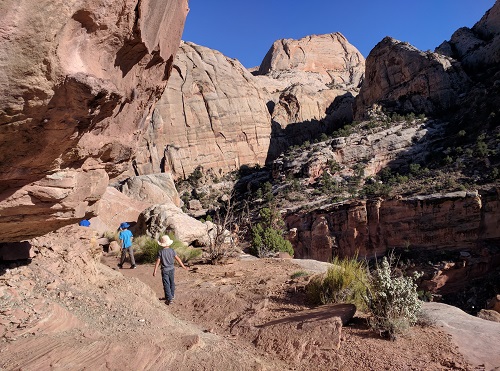 Walking along a ledge on the Golden Throne Trail, Capitol Reef NP, UT
Hickman Bridge
Hickman Bridge is a 2 mile loop. The hike starts along a wall of rocks by a river. Signs warn against stopping along the rock wall, as rock falls may occur. We went near sunset, when sunshine illuminated Capitol Dome and the surrounding walls of rock. Eventually, we walked into a rocky garden, by a series of potholes that have turned into an arch. This trail then led us to under Hickman Bridge. Hickman Bridge is a large rock arch hidden amongst a cluster of tall rocks. The view of Capitol Dome across the valley as we walked under Hickman Bridge was amazing. Near Hickman Bridge, there was a small section where there is high drop; that was our cue to keep the boys calm and close.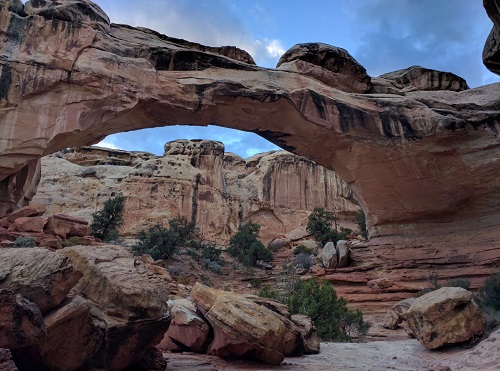 Hickman Bridge, Capitol Reef National Park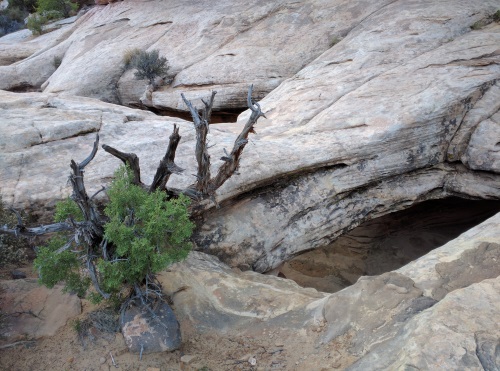 Potholes progressing to arches, on Hickman Bridge Trail, Capitol Reef National Park, UT
Practical Information (as of April 2017):

| | |
| --- | --- |
| Features: | Walk along an old wagon road in a canyon with Pioneer's names inscribed on it's walls. Venture into a short but more difficult spur trail up the rocks to view a series of water-filled potholes. |
| Our Hike: | Capitol Gorge: 2 miles rt ( 2.5 miles rt if include the Tanks); Golden Throne: 4miles rt, almost 800 ft elevation change; Hickman Bridge: 2 mile rt |
| Fee: | $10 (Free with $80 Intra agency National Pass Annual Pass)) valid for 7 days |
| Amenities: | Vault toilets, Limited parking |
| Website: | Capitol Reef National Park |
| Other: | When hiking in deserts and canyons, pay attention to the weather forecast for Heat or Rain. Rain in any surrounding area may cause dangerous flashfloods. Check with Rangers if in doubt. |
More Utah Travel Ideas More U.S.A. Travel Ideas More Worldwide Travel Ideas