Canyonlands National Park, Utah
Chesler Park Loop - Joint Trail Loop, Needles District
The Needles district of Canyonlands National Park holds my favorite hike of our trip, my favorite hike of all-time as it stands now (as of Sept 2019). The hike starts off going up some steps, to a view of miles and miles of white-topped red mushroom rocks below. As we walked further, I noticed huge red and white rock structures to our right and ahead. Eventually, three huge structures of red and white rocks appeared before us. As I walked closer to Chesler Park, these structures started looking like castles. It became obvious how massive these rock structures really were as we walked up to it.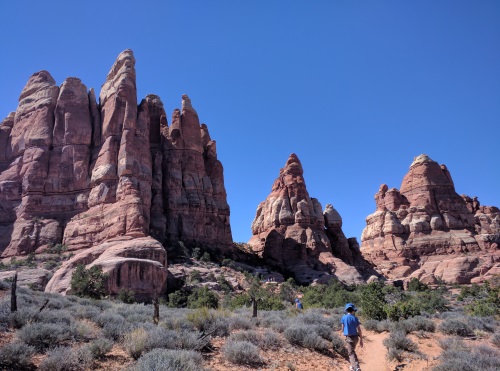 Chesler Park 'Castle Rocks', Needles District, Canyonlands NP, Utah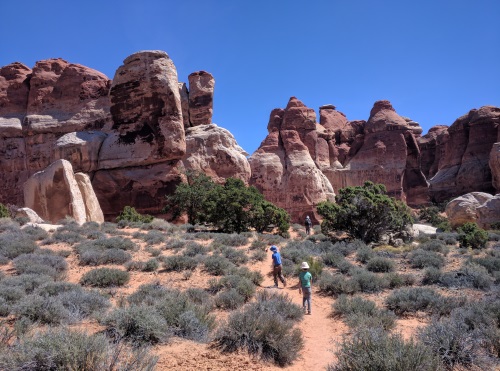 Walking between rock complexes, Chesler Park-Joint Trail, Needles District, Canyonlands NP, Utah
We walked up between these "castle rocks" to the other side for an amazing panoramic view of mushroom rocks below and needles surrounding the entire valley of mushroom rocks. The trail also went through a straight-walled dark rock slot canyon, the first one with steps going into this slot. We had lunch just behind the massive castle rock at the edge of Chesler Park. After lunch we continued on Joint trail, which allowed us to explore further the surrounding rock structures. I spotted one that had circular rocks on the top, which looked like the Kremlin. An arch, more giant needles, giant silo-shaped "mushroom" rocks, some with "windows" between them, some more slot canyons, more views of what looked like city skylines made out of rocks (including a balanced rock in the middle of the skyline), more scrambling, and we eventually made our way out of Joint trail. Words, even pictures, don't do justice to the amazing structures that surrounded us. This trail was the most unique and beautiful that I have hiked to date. It is as if the Flinstones left us a rock city to discover.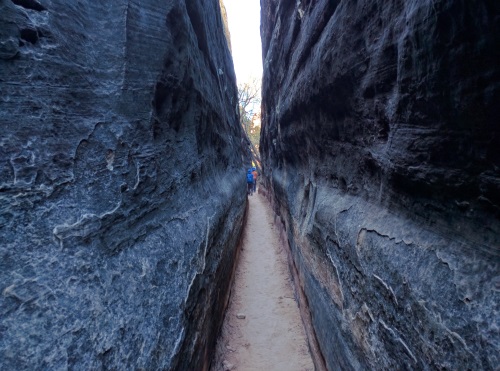 Walking between mushroom rocks which form straight-walled slot canyons, Canyonlands NP, UT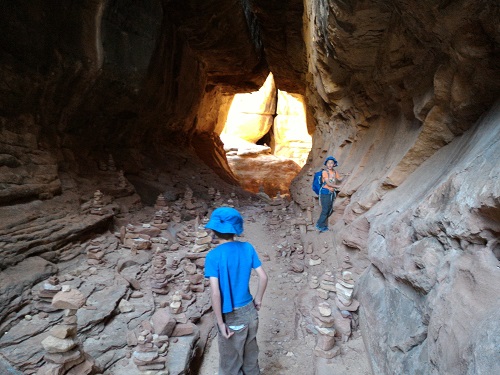 A Canyon along Chesler-Joint Trail Loop, Canyonlands NP, UT
The Needles were formed by two different earth movements. The Monument Uplift lifts the mesa sandstone upwards, causing a series of fractures from east to west. The Paradox Formation is a thick layer of salt buried deep underneath the sandstone. This salt layer is slowly flowing towards the Colorado River. As the salt layer slides, it causes fractures to occur in the sandstone from north to south. These two movements cause a series of gridlike fractures which is later eroded to form spires which are called the Needles.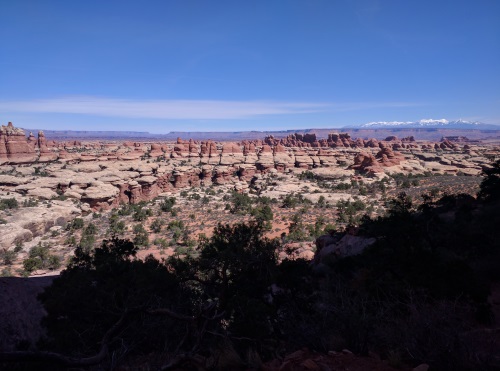 Mushroom rocks from above, Chesler Park-Joint Trail, Canyonlands NP, UT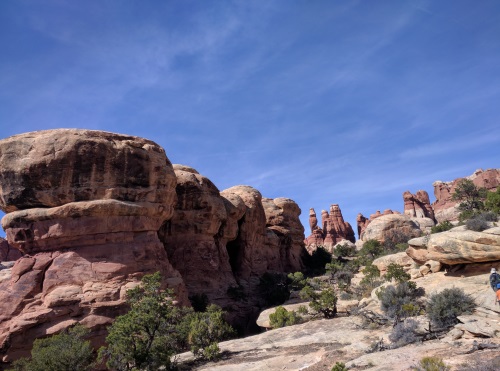 Mushroom rocks along the Chesler Park-Joint Trail, Canyonlands NP
UT-211, the 35-mile paved road that leads you into the Visitor Center is a very scenic drive. Lined with massive rock formations resembling human-made buildings, it kept us distracted for most of the drive. On our drive, we spotted rock structures resembling giant cathedrals, stadiums, the Whitehouse, castles and even a triangular rock structure.
At about 11 miles roundtrip, this hike would probably be considered strenuous but does not require any technical climbing skills aside from the usual stamina and attention needed to complete a hike over rocky and mountainous terrain. The hike consists of going up and down the sides of these massive rock formations often, so the actual elevation gain is a lot more than 1600 feet (which is the difference between the highest and lowest points of this hike). Most of the rock had texture for grip, or steps built into them. Though I have a fear of heights, this hike did not challenge my fears. For those who are familiar with Nevada Falls in Yosemite National Park, I would say this hike is similar in difficulty to the hike to the top of Nevada Falls via Mist Trail, then down by John Muir Trail. There are several "slot canyons" between the bases of the needles and mushroom rocks to get from one complex of rocks to another. These slot canyons had straight walls on both sides, narrow, most just sufficient in width for one-way, one-person traffic at a time.
If 11 miles seems daunting distance-wise, an almost 6-mile out-and-back hike to Chesler Park will give you a glimpse of these amazing rock formations. Be sure to check in with the Visitor Center for trail conditions and weather updates before going on the trail. There is NO water on the trail, so all needed water will need to be carried in. Our very modest usual hiking speed of 2 miles an hour was slowed down considerably; we completed this 11 mile hike in 8.5 hours (includes 30 minute lunch), owing partly to the terrain and partly to my continuous picture taking. Sometimes, I wonder why I take so many pictures. Pictures just don't do justice to the awe I felt walking amongst these gigantic structures.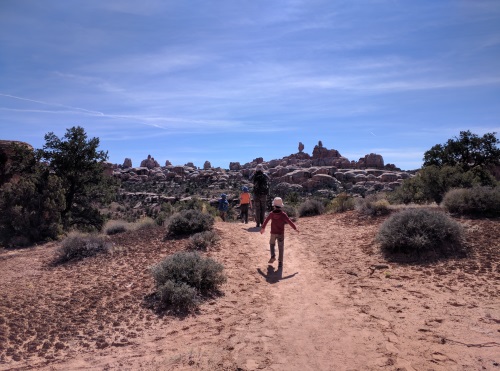 Skyline of rocks with balance rock in the middle, Chesler Park-Joint Trail, Canyonlands NP, UT
We hope to visit this part of the park again in the future, maybe camping overnight to enjoy sunsets and sunrises. It is the most unique and beautiful hike that I had ever done to date. Campgrounds are available both close to the Visitor Center and inside Chesler Park. Spring and fall seem to be the best time to visit. Summer's high temperatures (over 100F) and monsoon floods make it unsafe. Winter's cold temperature and possibility of snow/ice on trails/roads make it unsafe as well. Inquire with Canyonlands website for more details.
Practical Information (as of April 2017):

| | |
| --- | --- |
| Features: | Needles and mushroom rocks forming shapes of giant buildings and changing rock city skylines for miles and miles |
| Our Hike: | Chesler Park-Joint Trail Loop: 11 miles roundtrip, up and down very rocky terrain, fairly difficult, Chesler Park: shorter almost 6-mile round-trip to experience the needles, out and back trail |
| Fee: | $25 (or free with Intra-Agency National Parks Pass) valid for 7 days |
| Amenities: | Vault toilets, parking |
| Directions: | About 1.5-2 hours south of Moab, starts at Elephant Hill trailhead of Needles District of Canyonlands NP, Drive south on US-191 40 miles from Moab. Take UT-211 35 miles to Visitor Center, unpaved 2WD road leads to Elephant Hill trailhead. |
| Website: | Canyonlands National Park |
| Other: | When hiking in deserts and canyons, pay attention to the weather forecast for Heat or Rain. Rain in any surrounding area may cause dangerous flashfloods. Check with Rangers if in doubt. |
Canyonlands Island-in-the-Sky Auto-Tour
There are a few stops we made in the Island-in-the-Sky district of Canyonlands. Mesa Arch was one. A very short (0.5 mile) walk to the arch perched at the edge of a canyon overlooking rock formations in the background made for a beautiful photo. We stopped at Upheaval Dome for a hike to the First and Second Overlook, a total of about 2 miles. Upheaval Dome, a crater that is multi-colored, is mysterious in its origins. There are two theories as to how it was formed. One involves a meteor crater forming th upside-down dom; the other theory a very earthly movement over salt. Either way it was a beautiful sight to see. My husband tells me that Aztec Butte was a worthwhile climb. I stopped about 3/4 way up the rock mountain, as I couldn't find my grip to get across the slick rock. Hubby tells me there was a roofless rock house on the mesa top and nice views of the surrounding valley.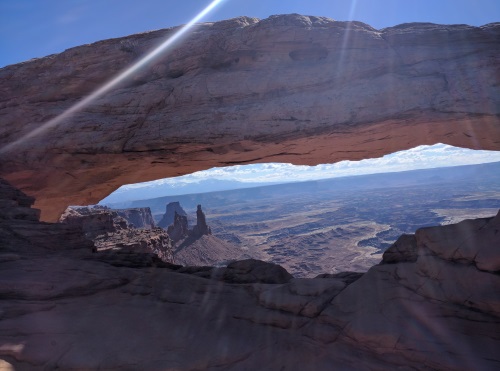 Mesa Arch, Islands in the Sky District, Canyonlands NP, UT
More Utah Travel Ideas More U.S.A. Travel Ideas More Worldwide Travel Ideas