Arches National Park
Devil's Garden Primitive Loop
Devil's Garden trailhead is the start of three different levels of hiking. If the complete loop is done, a total of 7 arches can be seen in just under 8 miles round-trip. The easy part of the trail will take you to the bottom of Landscape Arch. Landscape Arch is the second largest arch in the world, with a span of about 300 ft. It is thin and fragile over it's arch, and it is expected that it would be the next arch to fall. Near the beginning of this trail, there are short spur trails to Pine Tree and Tunnel Arches. It is a mostly flat, mostly paved trail with beautiful views of the surrounding fins and spires.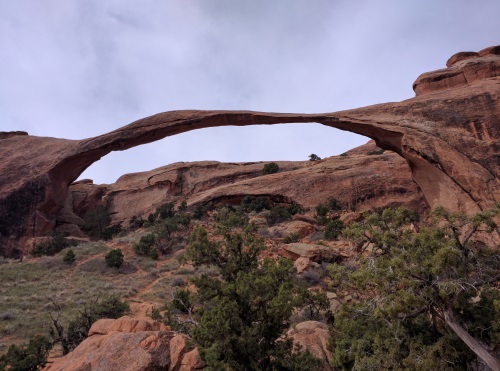 Admiring Landscape Arch from afar, Arches National Park, Utah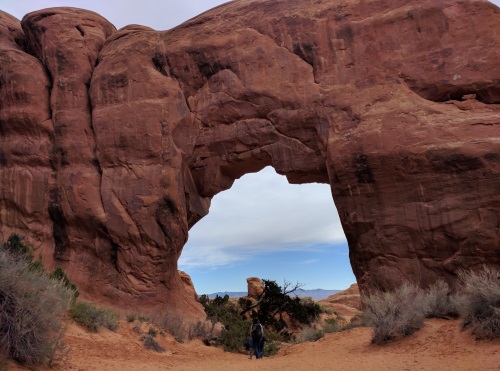 Pine Tree Arch towering over, Arches National Park
After Landscape Arch comes the medium difficulty trail. Ascending a sloping fin with dizzying views of the surrounding landscape, this part challenged the acrophobe in me. Ascending the worn steps cut into the slick rock (vs descending) helped keep my fear of heights in check. With butterflies in my tummy, I put my head down, watched my every step and avoided looking at the view until I was on safe ground. This stretch of trail brought us to short spur trails to Partition and Navajo Arches. Partition Arch consisted of a large and small arch adjacent to each other. The view through the arches was of the surrounding fins and the green valley below. We saw people ascending further onto the high rocks beyond Partition Arch and decided to follow suit. Wow! We were rewarded with views of Landscape Arch from above, La Sal Mountains in the distance and the valley below.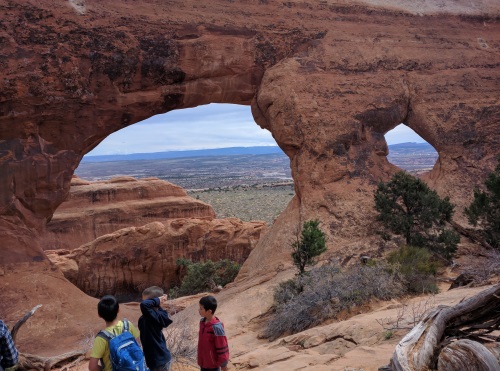 Behind Partition Arch, Arches National Park, Utah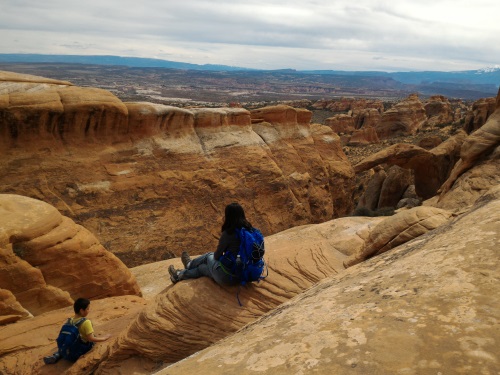 Views of Landscape Arch from above Partition Arch, Arches National Park, UT
Nearby Navajo Arch was a quiet arch on solid ground. At first sight, it looked like there was nothing interesting about it. Then my son went to the back of Navajo Arch and saw a short straight-edge slot cut into the ascending rocks behind Navajo Arch. As is our usual practice whenever there is new territory, an adult leads the way. I got the call this time, and led us up the rocky slot to the top, then down the other side. We had fun exploring both the arch and the slot.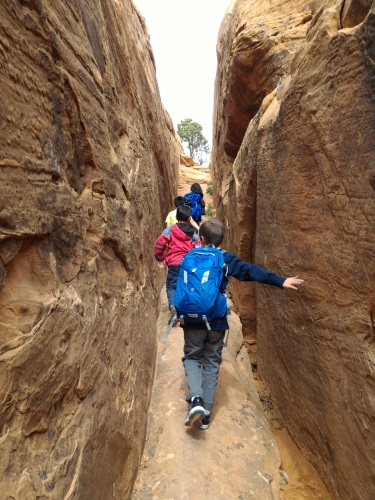 Ascending the short slot canyon behind Navajo Arch, Arches National Park, UT
After Navajo Arch, we made our way back to the main trail towards Double O Arch. After a short walk on flat surface, the trail went over a ledge with drops on both sides and an amazing view. Though cuts in the rock were made to help with traction, the rock was slick due to the number of hikers using it. It was a fairly flat walk on this ledge, and keeping my eyes squarely on the trail helped me overcome my fear of heights here too. Once safely on the other side, I admired the wonderful views of all the rocks way down below and afar. We stopped for lunch near Black Arch overview, then continued on to Double O Arch. Double O Arch consists of two arches, roughly the same size, one on top of the other that you can walk under. We didn't spend too much time here, as a big group had beaten us to this arch, and we tend to shy away from crowds, sometimes much to our loss. The primitive trail of Devil's Garden Loop began here.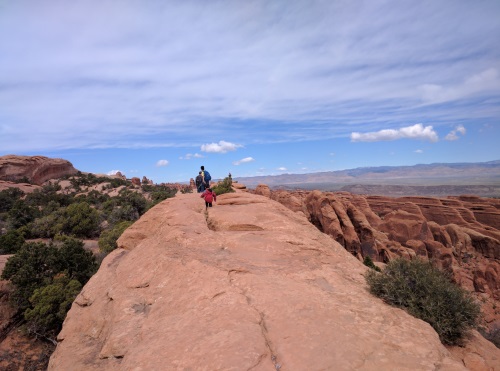 Walking on a fairly flat fin (read ledge) towards Double O Arch, Arches NP, UT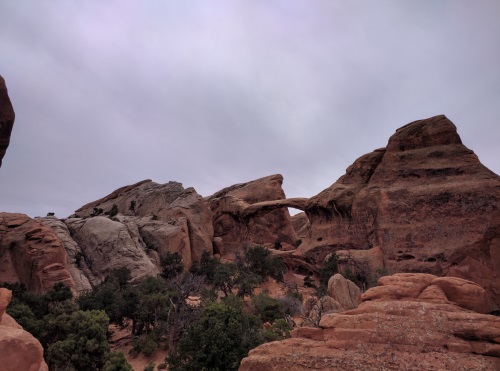 Double O Arch from afar, Arches NP, UT
The primitive part of the trail consisted of mostly sandy trails, sometimes over rocks and roots, marked by rock cairns. Not much improvement or maintenance has been done to this trail. Most of it did not bother me except for a short (maybe 20 foot section) after Private Arch. There is a steep sandy slippery slick slope to descend which gave me a good scare. My hiking shoes didn't seem to handle sandy rock very well, but with lots of spousal moral support, a helping hand and a lack of other good options, I turtled my way down, feeling like I stared death in the face. But many people before and after me did that portion with seemingly minimal trouble so it's possible that it was the acrophobe in me that set the tone for what felt like my death walk. It was about a 20 foot stretch across slick rock at about 45 degree angle with little or no foot or hand holds with maybe 10-15 foot drop. My kids and I made it about halfway across with no help, but needed help from my husband at that point. With a helping hand, they made it to the other end with minimal trouble. I needed a helping hand, moral support, and specific advice from my husband ("Put your foot underneath you") to get across. Once I did that, my shoes took grip, and it was easy for me to walk across with a hand. What doesn't kill us will make us stronger, right? The Primitive trail portion had only one arch to see, Private Arch, which looked very similar to Navajo Arch. A few hikers walked up the adjacent ascending fin so we decided to follow. The views of the fins across the valley were panoramic. I would have thought these to be the best fins around, until our hike in the Needles, a couple days later. From this fin, we could also see the brave souls walking across the ledge high above towards Double O Arches. Pictures don't do justice to this view.
Sitting on a fin for a panorama of fins across the valley, near Private Arch, Arches NP, UT
The just under 8-mile Devil's Garden Loop (including Primitive Trail), took us about 6 hours, including a few snack breaks and all spur trails (except Dark Angel). I feel like I say this often, but pictures do not do justice to this amazing site. I am glad we did Devil's Garden Loop in a clockwise manner- there were more arches to see early on, and we didn't have to descend a sloping fin - we went up the fin, which really helped with my fear of heights. The National Park advises against this hike if you have a fear of heights, and as someone who is fearful of heights, there were portions that was a problem for me, though I was able to shakily conquer it with some help. As always, it is a good idea to check in with the Rangers at the Visitor Center to find out about trail conditions and weather updates before heading out.
After the almost 8 mile hike on Devil's Garden Primitive Loop, we decided to go for a mile or so walk to find Skyline Arch. The best route was probably to go via the campground, which unfortunately was closed for 2017 due to construction. So we took a detour, taking the "scenic route" to find Skyline Arch just beyond the campground's amphitheater. On our way back, we realized that the campground roads were still open for tired hikers to walk on, so we took that route back to the car, rounding out our day's hike mileage at around 11 miles and 8 arches. There were a few more arches in the vicinity, but we could not bribe those boys enough to put more mileage onto those tired legs. Tapestry Arch would have been a nice one to see, along with a cluster of several arches, not too far from Skyline Arch.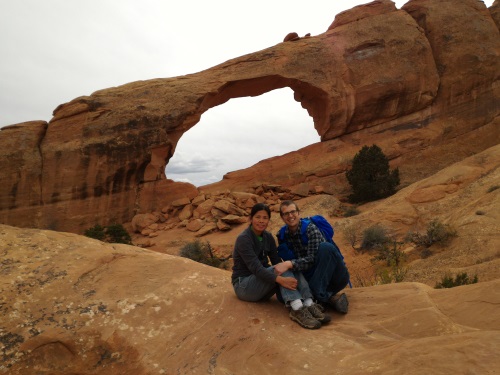 Skyline Arch, near Devil's Garden Campground, Arches NP, UT
Arches is a landscape 65 million years in the making. Many geologic movements, freeze-thaw cycles and lots of erosion exposed and sculpted the landscape filled with arches we see today. Since all these processes are currently at work, Arches is also continuing to change. Structures that seem permanent will one day fall.
The Seven Arches, in order, hiking clockwise from Devil's Garden Trailhead and back the Primitive Trail: Tunnel Arch: First Arch of the loop, two holes in a distant wall, one small, one large, adjacent to each other Pine Tree arch: Big arch you can walk under at the beginning, easy to get to, view of rocks and tree behind it Landscape Arch: At about 300 feet across, it is one of the longest natural arches in the world, likely next to fall. Navajo Arch: Found a small slot canyon to climb into behind the arch to make our way out, Least crowded of all the arches we visited Partition Arch: My favorite arch, climbed on rocks behind the arch for a view of Landscape Arch from above, views of valley below Double O arch: Walk under two arches, one on top of the other Private Arch: Large arch you can walk under, Amazing panoramic view of fins across the valley
Practical Information (as of April 2017):

| | |
| --- | --- |
| Features: | Views of 7 arches, amazing views of surrounding fins, canyons and La Sal Mountains |
| Our Hike: | Just under 8 miles, Trail crosses dizzying heights, some over slick rock to view 7 arches |
| Fee: | $25 (or free with Intra-Agency National Parks Pass) valid for 7 days |
| Amenities: | Vault toilets, parking |
| Website: | Arches National Park, Utah |
Auto-Tour of Arches National Park
On our second day in Arches, we did the auto tour. We started at Delicate Arch around noon. The trail was Unshaded and over inclining bare rock, so we felt the sun's warmth on our necks. The trail ends out with a ledge curving towards the majestic Delicate Arch. The ledge was wide enough so the acrophobe in me felt OK walking on it while holding on to the adjacent wall.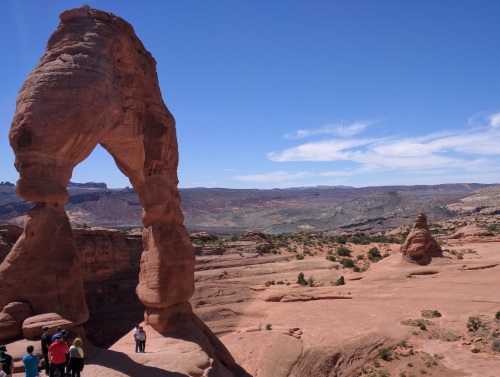 Approaching the sloping Delicate Arch, Arches National Park, Utah
Delicate Arch is a beautiful arch standing tall and alone in a bowl-like structure. It was a busy 3- mile roundtrip hike, with a line forming at the base of the arch for pictures. We decided against the line and opted to take pictures from afar. The walk towards the arch itself within the bowl structure was a slope, but the rock surface was textured so we found our grip easily.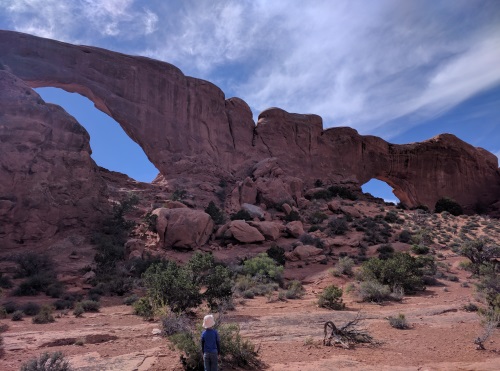 Approaching Windows Arch via the primitive trail, Arches NP, UT
Our next stop was at Windows Arch. We took the primitive trail, which was unpaved and quieter, and made a circle around the back of the arches for a perfect photo opportunity of the two-window arches. The primitive trail ended at the main trail, which we followed to Turret Arch, another side-by-side double arches, one a lot larger than the other.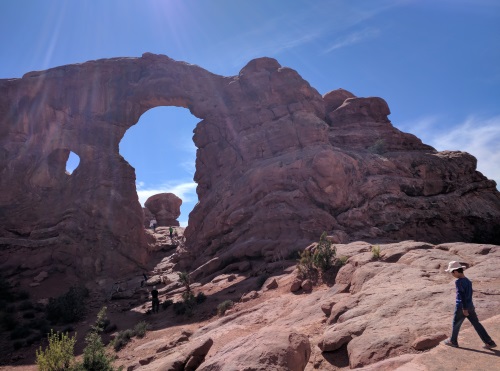 Turret Arch, Arches NP, UT
Across the parking lot of Windows and Turret Arches is Double Arches. Double Arches are two arches adjacent to each other, though at an angle, formed when water broke through a pothole. Despite the crowd, we climbed so that we were directly underneath the arches. It was an awesome sight, the arches towering over us, while we sat on the rocks beneath it to admire it's grandeur. The hike to all three arches (Double Arch, Turret Arch and both Windows Arches) leaving from the same parking lot is about 2 miles roundtrip.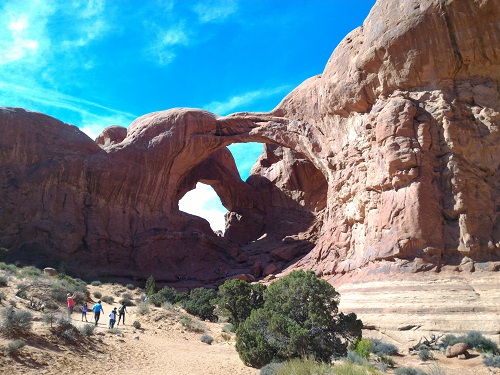 Approaching Double Arches
Our third and final stop was Park Avenue. This is a short 1 mile one-way hike between giant rock structures resembling human-made buildings. One is nicknamed Courthouse towers, another resembles the Parthenon in Athens, another still a king's throne, in my opinion. It was cool to be able to walk between these massive rock structures that seem to imitate human creations. The hike ends at another part of the scenic drive, so if you preferred to get a ride from a friend instead of walking back, you can. We enjoyed the opposite view on our walk back. We did the this hike during late afternoon, and had the trail mostly to ourselves. Morning is apparently the best time for photography.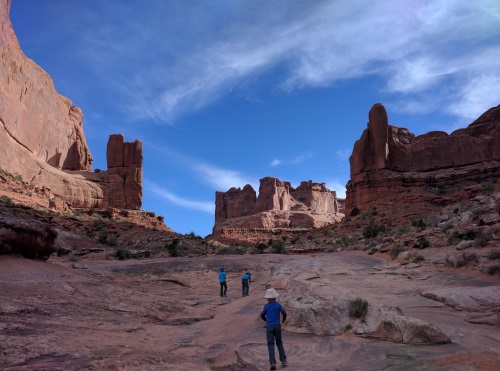 Walking between the giant 'buildings' of Park Avenue, Arches NP, UT
Practical Information (as of April 2017):

| | |
| --- | --- |
| Delicate Arch Hike: | Unique arch standing tall and alone near the bottom of a bowl structure, about 3 miles roundtrip, out and back trail, mostly on bare rock, some over sloping rock, small part of trail on a ledge overlooking a canyon, Unshaded, uneven surface |
| Windows, Turret, Double Arches: | View 5-6 arches in about 2 miles round-trip, Unshaded, fairly flat walk, some uneven surface, some paved |
| Park Avenue Hike | Easy walk between giant building-like rock formations, 1 mile one-way, out-and-back trail, possible for shuttle, Unshaded, uneven surface |
| Other: | When hiking in deserts and canyons, pay attention to the weather forecast for Heat and Rain. Rain even in any surrounding area may cause dangerous flashfloods. Check with Rangers if in doubt. |
| Fee: | $25 (or free with Intra-Agency National Parks Pass) valid for 7 days |
More Utah Travel Ideas More U.S.A. Travel Ideas More Worldwide Travel Ideas