Space Center Houston
If you are interested in learning about space and space exploration, Space Center Houston is a must-see. Where else can you see "Mission Control" of so many of our flights into space. As we arrived at the parking lot of the Space Center, we spotted an exhibit being built. A Space Shuttle was being placed on the back of a 747. It made for a pretty cool picture. Online tickets to the Space Center saved us $3 per person and a wait in line to purchase tickets. Parking was readily available when we arrived around 10:30am. Parking cost was around $6 (in 2015), if I remember correctly.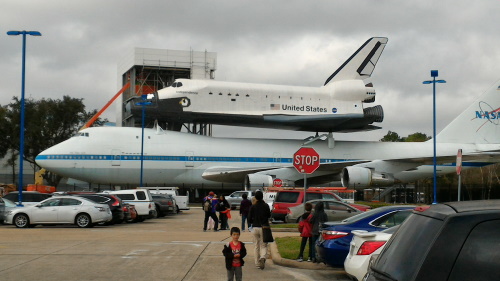 Space Shuttle sitting atop a 747 Shuttle Carrier Aircraft jumbo jet, Houston, Texas
Timed tram tour tickets of Johnson Space Center (aka "Mission Control") are also available online free of charge with tickets. The timed tram tickets allowed us to skip the long lines of untimed tickets. We arrived about 15minutes early as advised by one of the friendly staffers, which helped us avoid the timed ticket lines. We noticed that there were people that didn't get on, even with timed tickets, on the 3pm tour since they started filling the trams earlier, at around 2:45pm. So be sure to show up early, even with pre-reserved timed tickets!
The tram tour took us over to the actual Johnson Space Center across the street from its visitor center Houston Space Center. There are 2 tours, the Red tour and the Blue tour. The Red Tour was recommended to us since we had young kids. We were told that it was more visual, thus better for kids . The Blue tour, we were told, covered Mission Control and involved a 45 minute talk. The Red Tour took us over to the astronaut training center, which held replicas of the different space crafts for astronauts to train in, such as the Russian craft Soyuz, which is what is presently being used to carry supplies to the International Space Center. We also saw the new Orion there. As of November 2015, Orion had made its maiden voyage successfully, going up and around the moon and returning home. Orion is destined to make a landing on Mars by the year 2035. I very much look forward to that day. Most certainly, if you plan to go to Space Center Houston, tram tours are a must-do, as it takes you to the site of action. Space Center Houston, where the exhibits are located, is merely a visitor center for Johnson Space Center (aka "Mission Control").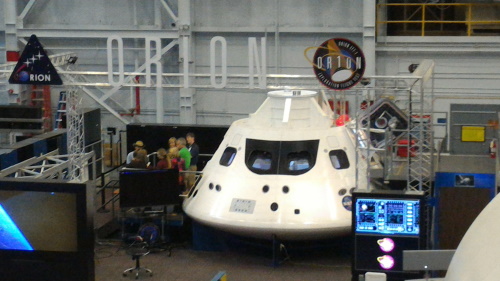 Orion, planned landing on Mars by 2035, at Johnson Space Center Astronaut Training Center, Houston, Texas
At the end of the tram tour, we perused around Rocket Park, which holds one of three remaining Saturn V rockets. It is 363 ft long and lying on its side. It is what you'd normally see standing upright just below the spacecraft as it prepares to launch. This family of rockets was used to launch the Apollo crafts onto the moon, and to send supplies up to the American space station Skylab. We were told by our tour guide that Rocket Park is open to the public (even without the tram tour).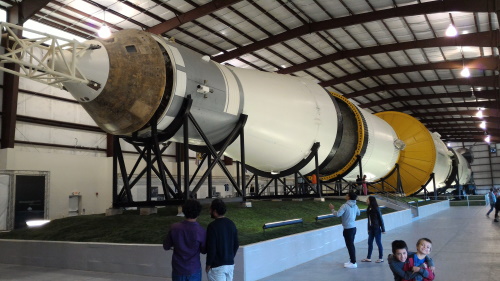 One of the Saturn V rockets -363 ft long- that launched Apollo onto the moon, Rocket Park, Houston, Texas
We also explored the International Space Station exhibit, which gave us a better idea of how the men and women lived up in space, from sleeping arrangements to the experiments they ran. My oldest son was selected to volunteer onstage and I think it enriched his visit experience. As we walked out of the space center, he mumbled the words "That place was fun, mama." Words that made my day.
Blastoff Theatre also gave us an idea of what life was like in the international space station. The kids enjoyed the Angry Bird play area. There was a replica of Orion in the center exhibit area, a space shuttle to climb into and a collection of astronaut uniforms over the years. Starship Gallery contained different space ships over the years, and a variety of moon rocks, one rock even to touch.
Food was expensive inside the Space Center ($6 for fries, $27 for a pepperoni pizza). There are restaurants just a street away, or do as we did, bring snacks and eat discreetly.
Of note, if anyone is interested in Malaysian cuisine, there are several restaurants to choose from in Houston. We drove to Houston from San Antonio to visit the Space Center. Unfortunately we had to catch a flight from Austin the next day, so our visit to Houston only encompassed our visit to Space Center Houston. It might have been nice to stay an extra day to take in the scenery in Houston.
Practical Information (as of November 2015):

| | |
| --- | --- |
| Website: | Space Center Houston - check website for updated hours, ticket prices and parking information. |
| Recommended Time:: | 4-6 hours |
More Texas Travel Ideas More U.S.A. Travel Ideas More Worldwide Travel Ideas