Austin & Area
Westcave Preserve
Our first stop in Austin was the Westcave Preserve. We went on the canyon tour (available on weekends only - $25/family in 2015). An informative guide took us down to the box canyon, grotto and cave. The small cave contained stalagtites and stalagmites, which eventually join together to form columns and walls. We went for the 10am tour on a cool day (50F) so our family had a private tour. The tour group after us was 16 people large. We were told by the guide that on warmer days, pit vipers make an appearance. The tour took 1.5 hours for a 1 mile return trip. We also did the 1 mile Uplands hike up above which was included in the $25 fee. The Uplands tour was nothing to write home about, except that it gave us an idea of what central Texas grasslands look like, which we always appreciate.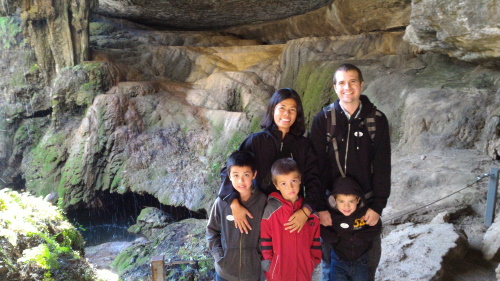 At Westcave Preserve, near Austin, Texas
City of Austin
The Texas State Capitol building was great place to take pictures with cannons. It was also a nice place for kids to run free. The Capitol building itself also made for a nice background for photos.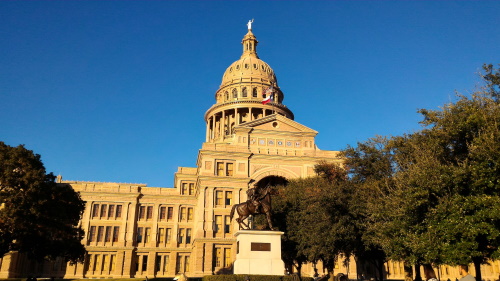 Texas State Capitol, Austin, Texas
Austin is home to the largest urban Mexican free-tailed bats in North America. They fly up from Central Mexico in the spring to spend the warmer months in Southwest United States. In Austin, they live under the Congress Ave Bridge. Numbering up to 1.5 million, these bats may eat 10,000 to 20,000 pounds of insects during their nightly meals. On the cold night in November when we visited, they did not make their nightly flight for dinner though we could hear them under bridge. Under the bridge, there is a nice area to view the bats. From there, we noticed that there is a walking path along the water that can serve as an alternative to walking the streets above to get from one place to another in the downtown area.
McKinney Falls S.P.
McKinney Falls State Park, in theory, boasted some interesting hikes. When we got there, half the park was closed due to flooding a month before. Of the three hiking trails still open, two of them required wading in a river on slippery rocks just upstream from a waterfall. This information the park rangers did not think was important to tell me when I purchased our daily pass ($6/adult) and informed him that we had 3 children looking to do some hiking for the day. The remaining one mile hike that was open, though was not clearly marked, gave us a a small view of the flora that grows in this part of Texas. Surprisingly, even though quite humid, clusters of prickly pear cacti thrive here.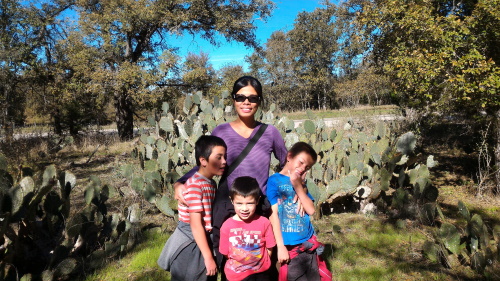 Clusters of Cacti at McKinney Falls State Park, Austin, Texas
Mount Bonnell offers a nice viewpoint for Lake Austin and the city below. To call it a hike would be misleading, it took us about 10 minutes to go up the 106 stairs to the top. It was a good way to kill some time before our flight.
More Texas Travel Ideas More U.S.A. Travel Ideas More Worldwide Travel Ideas