The Rogue River
The Rogue River starts as a spring on the west side of Crater Lake at about 5300 feet. It flows 215 miles into the Pacific Ocean, emptying into the ocean at Gold Beach, Oregon. On its way, it cuts gorges through much of the lava beds and lava tubes formed from past volcanic eruptions. One such feature is Natural Bridge, where the raging Rogue River disappears underground into a lava tube, only to reappear 250 feet downstream.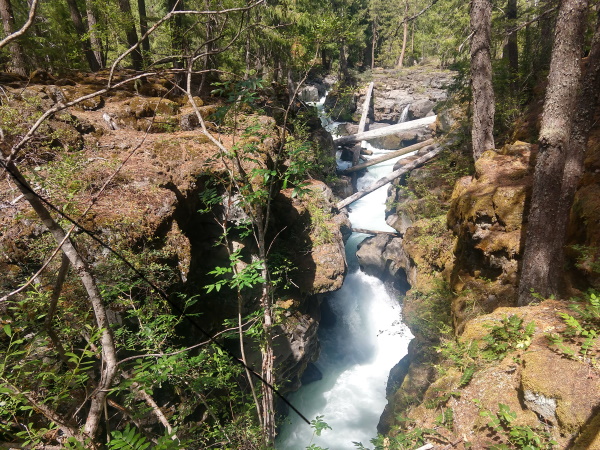 Above the rushing Rogue River through the Rogue Gorge,OR
About 3.5 hike miles upstream (one way), the raging Rogue cuts the Rogue Gorge. There is a viewpoint (with a short walk) for Rogue Gorge as well with a large parking lot closeby. We walked from our campground, Union Creek Campground, north to the Rogue Gorge, then back south Natural Bridge for a total of about 7 miles round-trip, most of the time along the shores of the Rogue. Coming from the north, we were able to view the Rogue as it entered the lava tube below ground, and even stood on the natural bridge though, in retrospect, I don't know how safe that was. We noticed the fences and warning signs the next day when we drove to Natural Bridge viewpoint to get a view from a different perspective. The hike from Natural Bridge to Rogue Gorge was mostly shaded, on narrow footpaths with shrubs protruding into the trail. We passed multiple campgrounds on this hike.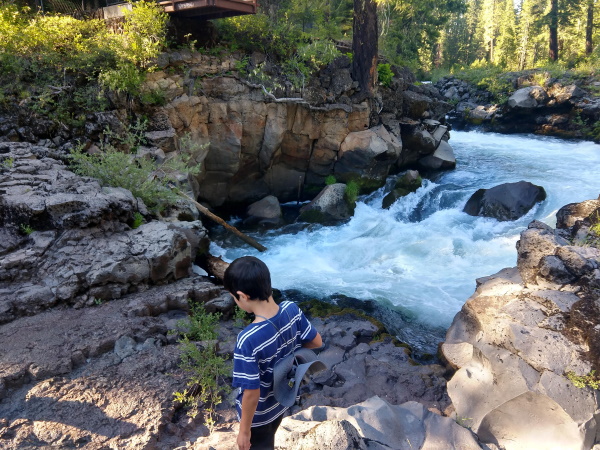 The spot where the Rogue River disappears underground into a lava tube, Natural Bridge, OR
Union Creek Campground is located about a 20 minute drive from Crater Lake. We camped under giant Ponderosa pines and fir trees, and a trickling creek serenaded us to our slumber. Here I finally understood what is meant by "tree therapy". Being amongst such giant trees had a calming effect over all of us. The campsites were very spacious with (slightly disrepaired) metal grills and potable water available at most campsites. We made our first wood fire pizza and enjoyed it maximally as a surprise warm lunch. The boys hung our hammock between two trees and enjoyed resting in it while watching the fire. Our campsite on the first night was #40, the next three nights were at campsite # 41. If we were to do it over, I would have booked campsite #39 for all four nights. From where we were, that campsite seemed to have the most privacy, space and the best trees surrounding it. That is not to say that our campsites was bad at all. It ranks up there as my top 5 campsites of all time. Campground bathrooms were vaulted, but closeby, over a creek or two, there was a restroom building for day use visitors. Not so sure whether or not the restroom building will be open during the pandemic.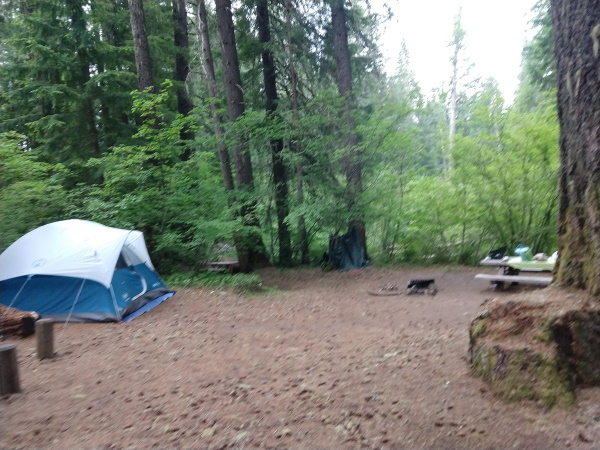 Under the embrace of tall trees, Union Creek Campground on Rogue River, OR
Practical Information (as of July 2020):

| | |
| --- | --- |
| Features: | Walk along the shores of a 200-mile river near it's origin to view the volcanic features that the raging river has shaped. |
| Our Hike: | From Union Creek Campground to Rogue Gorge - back past the campground to Natural Bridge, then back to the campground - 7 miles round-trip, fairly flat on narrow packed dirt footpaths along the shores of the Rogue River. |
| Fees: | Free |
| Website: | For the most updated information, please visit The Rogue River |
| Campground Information: | Union Creek Campground *Caution - there are 2 Union Creek Campgrounds listed, make sure to book at the correct one.* |
More Oregon Travel Ideas More U.S.A. Travel Ideas More Worldwide Travel Ideas