Crater Lake
Located in southern Oregon in the southern part of the Cascade Range, Crater Lake fills a volcanic caldera formed by the collapse of Mount Mazama. Mount Mazama was over 12,000 feet high before it's eruption about 7,700 years ago.
The enormous eruption that led to the formation of the caldera we see today was a two-part eruption ejecting 50 cubic kilometers of magma out of the volcano.(By comparison, the 1980 Mount St. Helen's eruption ejected 0.5 cubic kilometers of magma.) After the massive ejection of magma from the mountain, the central part of Mount Mazama collapsed, creating a massive caldera that is 5 to 6 miles in diameter and 0.7 to 1 mile deep. It is believed that the collapse that formed the massive caldera occurred quickly, within a few hours or days. Since the depression that Crater Lake fills is really a caldera, Crater Lake is somewhat of a misnomer; it is really a caldera lake. (Per National Geographic Society, craters are formed by the outward explosion of rocks and other materials from a volcano. Calderas are formed by the inward collapse of a volcano.)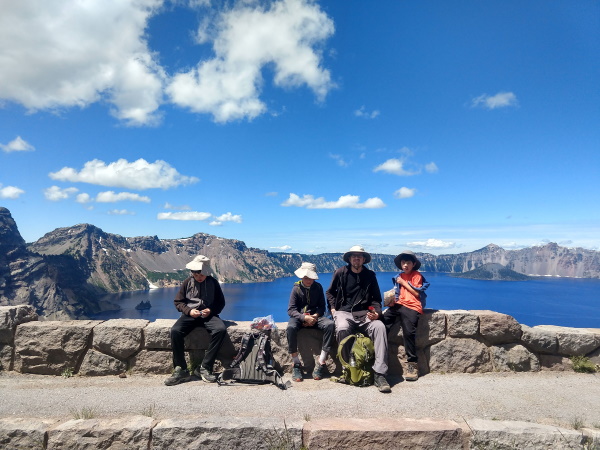 Lunch at a viewpoint with Phantom Ship in the background, Crater Lake, OR
Crater Lake has no natural streams or rivers entering or leaving it's lakebed. It is filled purely by precipitation. Water levels are therefore determined by precipitation, evaporation and water seepage into the surrounding rocks. The lake fills about half of the almost 4000 foot deep caldera. Because there are no inlets, there is no sediment that is left by in-flowing water, so the lake is clean and clear, one of the clearest and cleanest in United States.
Looking at Crater Lake today from it's steep-sided shores, you'll notice that it has a very deep blue hue. The blue comes from it's great depth (the deepest in America at almost 2000 feet) and clarity of the lake itself. Sunlight is able to penetrate the depths of the lake due to its clarity. Water molecules with no sediment in it absorb all colors of the spectrum except the blues. We were lucky enough to be at Crater Lake when a storm was rolling in, and the lake suddenly turned from it's characteristic deep blue shade to a grayish shade of blue.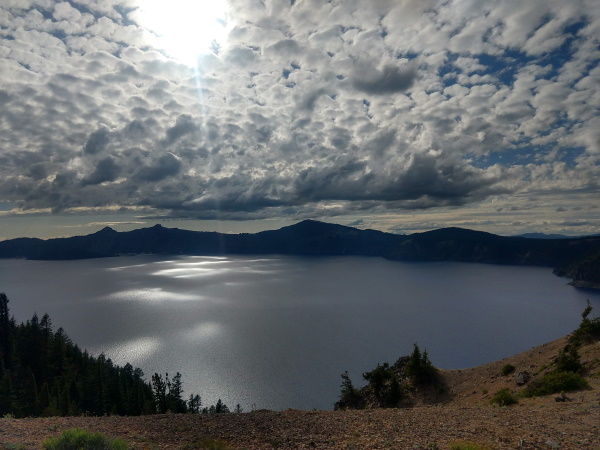 Storm clouds rolling in over Crater Lake, OR
Also from various points on the rim, you could spot the two islands within Crater Lake, Wizard Island and Phantom Ship Island. Wizard Island is one of five volcanic vents that erupted after the cataclysmic caldera-forming event 7,700 years ago. It is the only volcanic vent that has broken the lake's surface. Looking at Wizard Island from the shores of Crater Lake, it is obvious that it is volcanic in origin with black lava sand surrounding it's central cinder cone. Phantom Ship Island, a small island on Crater Lake, consists of jagged andesite rock from lava flows 400,000 years ago, the oldest rock exposed above lake level.
The only spot to "touch" the water so-to-speak, is at Cleetwood Cove where there is a seasonal ferry that will shuttle you to Wizard Island. Though in the summer of 2020, that was not available due to the COVID pandemic.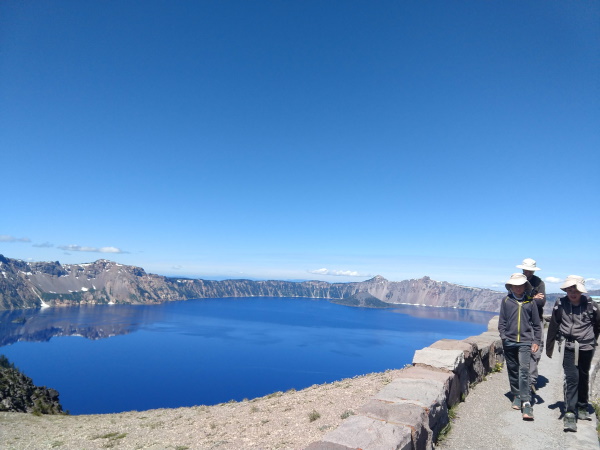 Walking above the caldera lake along the East Rim, Crater Lake, OR
There is a road that approximately encircles the rim of the crater. The West side is open earlier in the season than the East side. We made our way on the open side of the West Rim, and parked our car and hiked the East Rim to a total of 20 miles round trip. Bikes were allowed too when the road was closed to vehicular traffic. I wouldn't necessarily recommend this hike, it didn't possess the most beautiful views, lake wise or otherwise. (We only did it to get our 20-mile hike goal as a training hike for a longer hike in the plans for the following summer.) Along the Rim Drive, there are various pull-outs/trails to give you a different perspective of Crater Lake. We did two such trails.
The first hike we did was Garfield Peak. It was about a 4 mile round-trip hike, about 1200 feet elevation gain, to a peak along the crater rim. It was a very busy trail on the day of our visit in early July. The switchbacking narrow trail was somewhat rough in terrain, with loose rock, but the views kept us well distracted. Hiking poles might be handy for those who have issues with loose rock.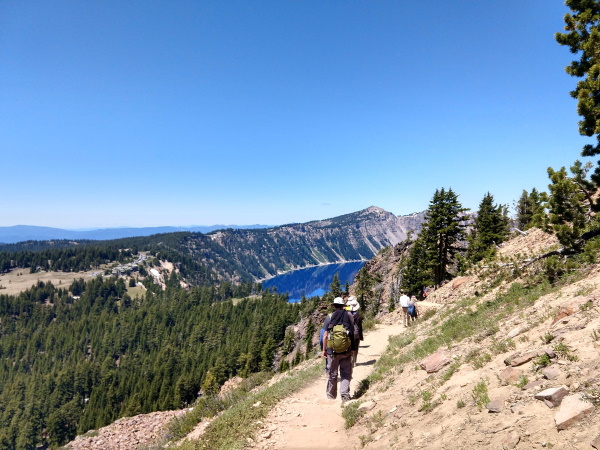 Peek-a-boo Views of Crater Lake from Garfield Peak Trail, Crater Lake, OR
Our next hike was at Discovery Point. Ours was a short hike, barely making it to the bottom of Watchman's Tower, which was closed due to COVID on the day of our visit. Discovery Point Trail gave us a closer look at Wizard Island's terrain surrounding its cinder cone. It was busy near Mazama Village but crowds lessened as we approached Discovery Point.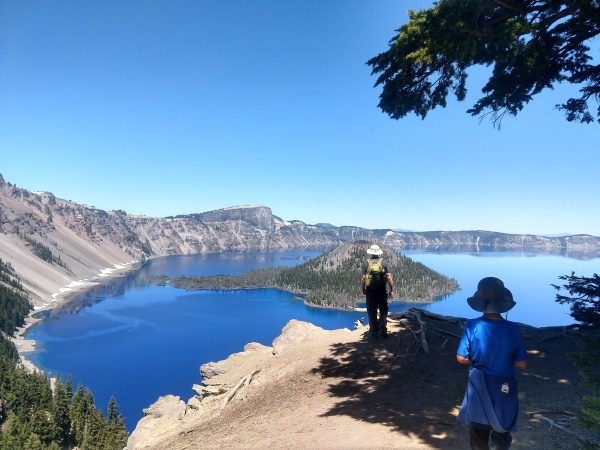 A close-up view of Wizard Island's cinder cone along the Discovery Point Trail, Crater Lake, OR
Practical Information (as of July 2020):

Features:
Walk along the rim of a collapsed ancient volcano filled with rainwater for 7,700 years.
Accommodations:
We stayed at a campground near the Rogue River called Union Creek Campground.
Our Hikes:
Garfield Peak: about 4 miles rt, 1200 ft elevation gain over loose rock.
Discovery Point: about 4 miles rt, 1000 ft elevation gain with upclose views of Wizard Island.
Fees:
Varies by season. $30/car in summer, $20 per car in winter. Free with America the Beautiful Interagency Annual Pass.
Website:
For the most updated information, please visit Crater Lake
More Oregon Travel Ideas More U.S.A. Travel Ideas More Worldwide Travel Ideas