Santa Fe
Located an hour away from Albuquerque, Santa Fe is the oldest and highest (elevation) American capital city. It was the capital of the three different countries that New Mexico has been part of in the last 400 hundred years: Spain, Mexico and presently U.S.A. Santa Fe was founded as a Spanish city in 1610. It sits at an elevation of 7000 feet making it the highest city in the U.S.A.
The oldest standing church in U.S.A. (San Miguel) is situated here. We had a quick pizza meal in its courtyard. The church had admission fees of $1 per person over 6 years old (April 2015). Across the street is the oldest house in United States. Admission is by donation.
In town, Loretta Chapel, the church whose stairs were built with no nails charges an admission fee of $3 per person over 6 years old. They do not allow visitors to climb the stairs though.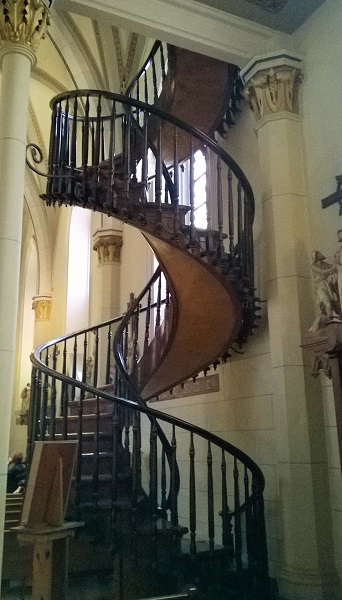 Loretta Chapel - Stairs with No Nails - Santa Fe, NM
Santa Fe has a beautiful old town. There are many quaint shops and restaurants. Shops close early and closed on Sundays. The old plaza in the middle is great for people watching. Just a street away, the Basilica of San Francis Assisi, the beautiful 18th century church has nice grounds for the kids to stretch out in. We were there Easter Sunday and were lucky enough to catch an Easter egg hunt. Not too far from the old plaza, the Palace of the Governors is the oldest capital building in U.S.A. It was built in the 1600's and was the state capital of 3 different countries, Spain, Mexico and USA. Canyon Road is another attraction in Santa Fe, famous for art galleries.
Website: Santa Fe, New Mexico
This part of New Mexico is dotted with National Parks and Monuments. Twenty miles east of Santa Fe is Pecos National Historic Park. Here there are partial excavations of an ancient pueblo and an excavated church from the Spanish era. There is also a kiva to climb into. A kiva is a large underground chamber in a Pueblo village used for religious ceremonies and other purposes.
Not too far from Santa Fe is a little museum called the Bradbury Science Museum. It is a museum that educates about nearby Los Alamos Laboratories' Manhattan Project, both the science and history. There was no fee at time of our visit.
Closeby, there is a Native American house (called Taos Pueblo) from the 1000s that still has inhabitants. Ticket prices were about $16 per adult. We decided to skip this stop due to a lack of time.