Valley of Fire State Park
Valley of Fire State Park consists of red sandstone rock called Aztec Sandstone formed from mineralized sand dunes of 150 million years ago. It is about an hour from Las Vegas Strip. It is a wonderland of red rocks to explore, both for hikers and drivers. Valley of Fire has a few marked stops for short walks to explore the different rock formations.
Practical Information (as of December 2019):

| | |
| --- | --- |
| Fees: | $10 per day per car (Nevada State Parks fee) |
| Website: | Valley of Fire State Park, Nevada |
| Other: | When hiking in deserts and canyons, pay attention to the weather forecast, as rain in any surrounding area may cause dangerous flashfloods. Check with Rangers if in doubt. |
Fire Wave Trail
Fire Wave is a short flat 2 mile return hike which included wanders on beautiful red and white striated rocks. This is what I imagine Vermillion Cliffs to be like, only smaller. The Fire Wave hike starts off across the street from the parking lot, into a non-descript pathway into the desert where sage brush grew around a large rock cliff to the right. Past the rock cliff, the striations start, first subtlely, then more intensely. The "end" of the hike are a couple hive-like rock structures with red and white striations encircling the hives. The boys and my husband ran up and down the sides of those hives with absolute joy and enthusiasm. The nervous mom among us found it hard to watch.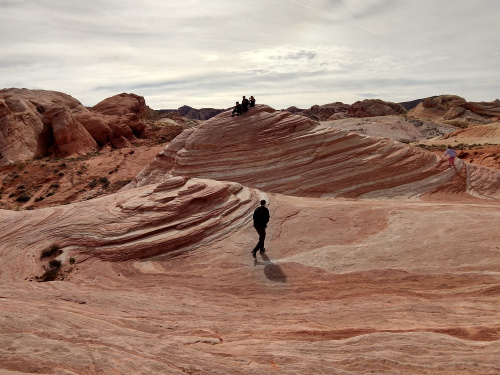 Approaching the red and white striated rock hives on Fire Wave Trail, Valley of Fire SP, NV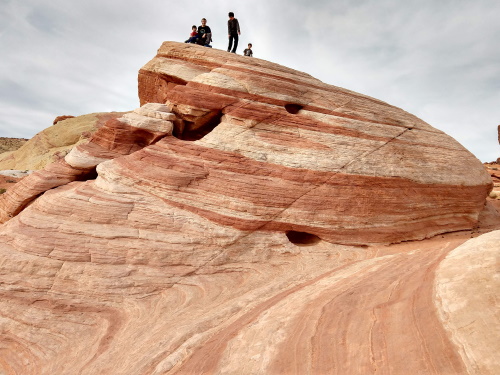 Another rock hive conquered on Fire Wave Trail, Valley of Fire SP, NV
On our way back, we stopped off to the left at what looked like a white dome striated with yellow and red bands. ALl my boys (big and small) raced their way up. I wasn't sure about going up, but my mom started heading up the dome. My mom is awesome, by the way. She has this incredible adventurous spirit that I wasn't even aware of until just a few years ago. Watching her go up that white dome, I knew where I get my spirit from. We got to about half way when the boys and hubby made it all the way down and started looking bored. The view from up the dome was pretty cool. Hikers seem so small in the expanse of the red striated rocks around us. Not wanting to keep the others waiting too long, we headed down.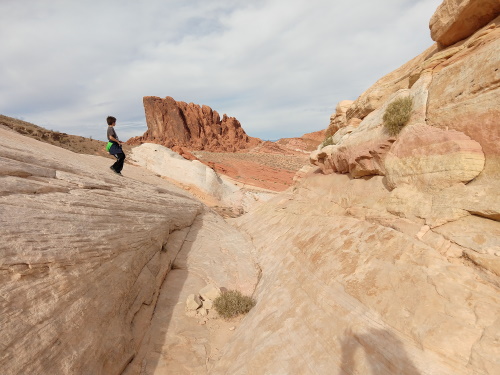 View from the white dome near rock hives along Fire Wave Trail, Valley of Fire SP, NV
After our Fire Wave hike, we scrambled about a mile on the rocks on the same side of parking lot P3, hoping that we would eventually run into the White Dome Trail. Off trail shortcuts are seldom successful for us as was the case this time as well. The colorful rocks provided a good distraction. The rocks had bands of red, white, yellow, purple and pink striations. The boys scrambled and climbed all around me with such joy. Nature never ceases to amaze me.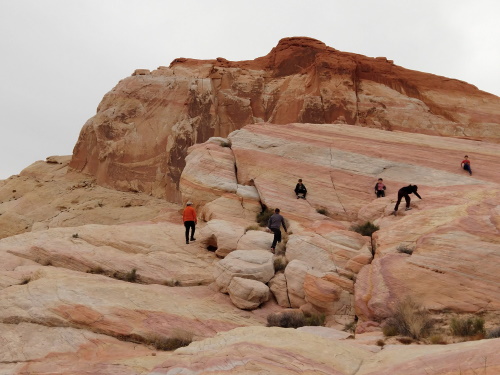 Climbing the colorful rocks across the street from the Fire Wave Trailhead, Valley of Fire SP, NV
We parked at parking lot P3 cross the street from Fire Wave. We had lunch on the rocks at same side as P3. We arrived at 11am on the Sunday before Christmas and there was still room for parking. The parking lot did get busy soon after that.
This is NOT a warm weather hike. There was NO water and NO shade, so it can be dangerous when temperatures are high. Check weather forecast before going. We explore the dessert usually in the winter. Watch out for flash floods if rain is in the forecast in nearby areas.
Practical Information (as of December 2019): Fire Wave:

| | |
| --- | --- |
| Features: | 2 miles roundtrip, fairly flat hike (or two) on sand then rocks striated with red, white, pink, yellow and purple bands |
| Directions: | Fire Wave Trailhead starts across the street from P3 parking lot. |
| Other: | When hiking in deserts and canyons, pay attention to the weather forecast, as rain in any surrounding area may cause dangerous flashfloods. Check with Rangers if in doubt. |
More Nevada Travel Ideas More U.S.A. Travel Ideas More Worldwide Travel Ideas