Las Vegas Strip
The Las Vegas Strip itself offers free and inexpensive entertainment for families and adults alike. One thing I've always loved about Las Vegas is that it gives you an opportunity to pretend that you are in a different place. Many hotels offer replicas of European buildings and monuments.
Bellagio
The Bellagio is one such hotel. It puts on a water fountain show several times a day. The water fountain show is located at the man-made lake at the front of the hotel. The shops that line the lake is reminiscent of Bellagio, Lake Como, Italy. In its conservatory, they display a seasonally changing exhibit, free though very busy. Inside the Bellagio, the world's largest chocolate fountain is on display by Jean-Phillipe Patisserie. It's full size is 27 feet but only 14 feet of it is visible to the viewing public.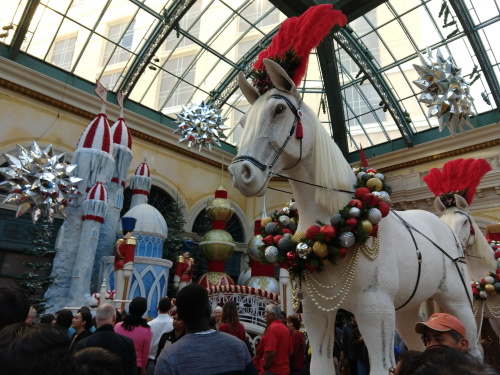 Floral Holiday Display at Bellagio Conservatory, Las Vegas, NV
Paris Las Vegas
Paris is another pseudo-European experience you can enjoy right on the Las Vegas strip. A mini Eiffel Tower adorns the landscape across from the Bellagio along with an Arc de Triomphe (replica). Inside there is a creperie and a French food buffet served. Unfortunately, that was all I found at Paris that accentuated the French experience. But a walk under the Eiffel is always nice; it will start you dreaming of a French vacation.
The Wynn
In addition to free parking (as of December 2019), the Wynn offers beautiful holiday displays, much like Bellagio's but with less crowds (for now). Displays change from year to year and feature different themes.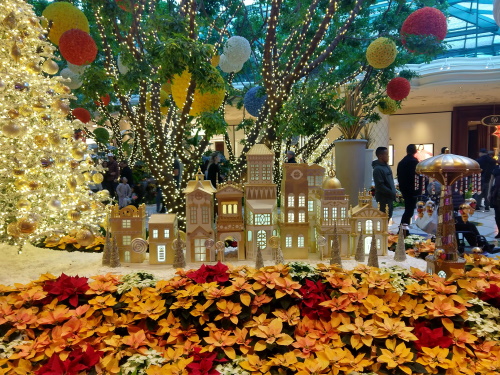 Holiday Display at the Wynn, Las Vegas, NV
Caesars Palace
Keeping with the Italian theme, Caesars offers a Roman pseudo-experience. Across from the Bellagio, an Italian landmark copy is the first time I saw Il Vittoriano. In Rome, it is a monument to honor the first king of unified Italy. In Las Vegas, it is a splendid structure to symbolize the glory of Rome. It also houses a casino and hotel. Inside, there are many statues and fountains that greet you as you peruse along the shiny marble floors of Caesars Palace. Celine Dion used to perform at the theatre inside, the Colosseum. Outside Caesars, you will be greeted by the Trevi Fountain (replica).
The Venetian
The Venetian offers gondola rides through its meandering canals, which imitate the canals and bridges of Venice. If not wanting to spend on gondolas (understandable), a walk inside this hotel on the non-casino floor will have you reminiscing about Venezia. As you enter the main entrance off the Strip, look up and you will see some incredible ceiling art. In some ways, it's more beautiful in this Las Vegas version since you get a view of the canals almost the entire time. Of course you'll have to look past the fact that it is not a real 1000 year old city built on stilts in the middle of the Adriatic Sea.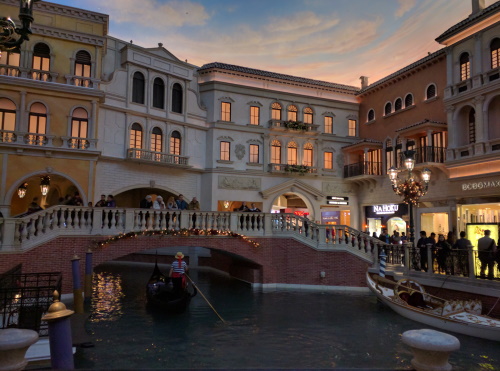 Watching gondolas float by near St. Mark's Square in the Venetian, Las Vegas, NV
The Linq
High above the strip, you may have spotted a giant ferris wheel. Called the High Roller and dubbed the world's largest observation wheel, you can ride the High Roller to get a view of the strip from high above. Kids under 6 ride free (as of March 2020). Locals get a 50% discount with a Nevada ID. The Promenade, as it is called, the alley below the High Roller is quite a destination in itself. Lined with shops and restaurants, it is the best stroll on the strip, in my opinion. During the holiday season, there are free holiday shows that are put on by the surrounding shops. During our last two holiday visits there in the evening, we managed to unintentionally walk into a free show.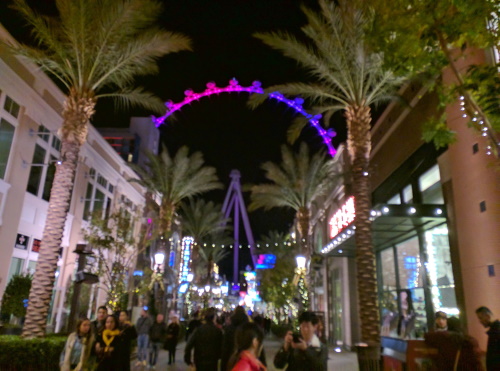 Beneath the giant ferris wheel, High Roller in the Linq Promenade, Las Vegas, NV
Circus Circus
Circus Circus offers a free mini Circus several times a day. Trampolines, acrobats and jugglers are all on tap on a small stage, which also means you get an upclose view of all performances. Different shows feature different performers. Arrive early to get seats. Surrounding the circus stage are fairground-like games available for per ticket play. AdventureDome is a 5 acre theme park found within Circus Circus. All day passes can be had for under $40 (as of March 2020). We did not try out AdventureDome as I have a maximum of time (and money) that I want spend indoors for recreational purposes.
New York New York
For a more local experience, New York New York Hotel and Casino provides a pseudo-experience of walking the streets of New York.
Flamingo Las Vegas
Flamingo offers pink flamingos in its courtyard for visitors to view. Occasionally, huge parrots make an appearance too. It probably is not an ideal situation for the birds on display.
Las Vegas Off-Strip
Fremont Street
Fremont Street is the site of Old Las Vegas founded in 1905. Today, it is a few blocks of canopied streets lined with shops, casinos and hotels filled with a party ambience. Weighing in at 61 lbs, the second largest gold nugget ever discovered is located in the lobby of Golden Nugget Hotel at Fremont Street. There is rumour that there is a free shuttle from the Strip to Fremont Street starting in May 2019, however, I have not been able to verify.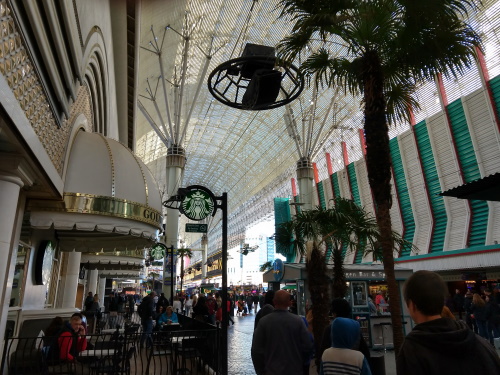 Under the Canopy at Fremont Street, Las Vegas, Nevada
Ellis Island
Slightly Off-Strip, is a restaurant called Ellis Island. They offer a $6.99 steak and egg special, that is available during breakfast hours. It may not be on the menu, but just ask the waitress. ( It is usually on the Specials board as you walk into the restaurant.) One steak, country potatoes, 2 eggs and toast for the awesome price of $6.99. Also available is an all-day $7.99 Steak special (as of March 2020). I must warn you though, you will have to walk through a dark and smoky casino to get to the restaurant and wait a little for your seats (they like to give you sufficient time to play the slots while waiting). Ellis Island is located just off Strip close to the Linq, walkable during the day. For beer lovers, Ellis Island brews its own beer and root beer and offers it up for a reasonable price.
More Nevada Travel Ideas More U.S.A. Travel Ideas More Worldwide Travel Ideas