St. Mary's Glacier
Located near Idaho Springs, the high elevation of this hike (around 10,000 ft) was hard on my usually-very-fit husband. He reported dizziness and breathlessness while doing this hike, while the kids and I were a little out of breath, but for the most part okay. You might want to consider getting acclimated to higher elevations before doing this hike.
It was slippery in most parts, our newly purchased ice cleats came in very handy. They were great when they stayed on, helping me acquire mountain goat status, even allowing me to help my usually mountain-goat-like husband who went without the cleats. However, the ice cleats were difficult to put on to my hiking boots and didn't stay on very well. I suspect user error had something to do with it, since they seemed to stay on a little better the more we used it. They are also available for rent at mountain sports stores.
At the end of our 1 mile'ish hike, we reached a frozen lake and an adjacent permanent snowfield dubbed "St. Mary's Glacier"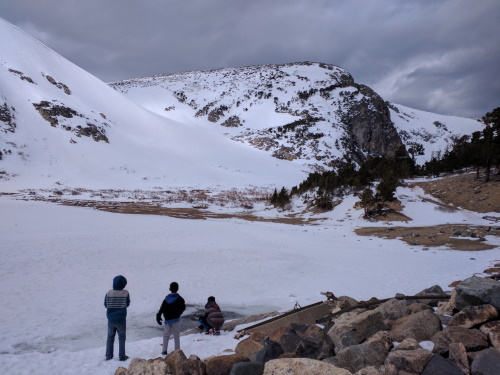 At frozen St. Mary's Lake, at the base of St. Mary's Glacier, near Idaho Springs, Colorado
Practical Information (as of April 2018):

| | |
| --- | --- |
| Features: | Hike to a frozen lake situated at the base of a permanent icefield called St. Mary's Glacier. |
| Fee: | $5 parking fee about 1000 ft from trailhead, large parking lot, bring cash, exact change unless you don't mind waiting for your change in the mail |
| Directions: | Take I-70 west and go past the town of Idaho Springs. Then take exit 238, marked "Fall River Road". From there, take a right, (north), on Fall River Road. You'll go through a couple hairpin turns, past the town of Alice. Parking for St. Mary's Glacier trail is large, on the left of the road. After parking, you'll have to walk about 1000ft on the road to get to the trailhead for St. Mary's Glacier. |
| Our Hike: | Just under 2 miles rt, at slightly above 10,000 ft elevation, with elevation gain of about 500 ft, icy snowy terrain on our visit. |
More Colorado Travel Ideas More U.S.A. Travel Ideas More Worldwide Travel Ideas