Horsethief Falls
At 44F, it was a chilly morning hike for us, after enjoying temperatures in the 70s F back home a couple days before. We did alright doubling up on sweatshirts. This was our first hike at 10,000 feet of elevation.
Horsethief Falls was a 3-mile slippery hike to a frozen waterfall near the town of Divide, Colorado. I had trouble with staying upright at many points of this trail but did ok with a helping hand. Many fellow hikers passed us in microspikes. After hiking for almost a couple of miles, we got to the bottom of a gradual column of ice flowing down past some rocks into an icy stream down below. We guessed that was Horsethief Falls. We tried to explore further up the icy column but our shoes were no match for the ice.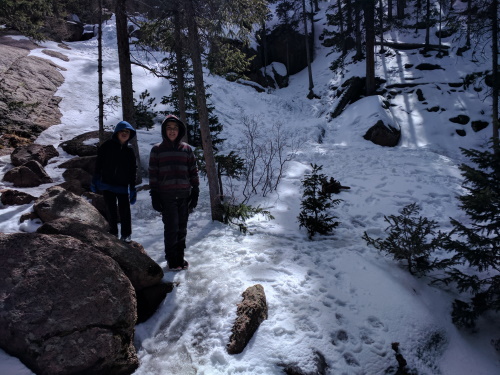 Boys in front of (alleged) Horsethief Falls, near Divide, Colorado
Found a teepee near Horsethief Falls, Divide, Colorado
There were many bear tracks along the way which I didn't spot on the way there. I was made aware of them by a passing hiker. They looked very much like foot prints. Happily, we did not spot any bears.
The kids made snowballs and a snow fort in front of a teepee we found along the trail.
Our original plan was to go all the way to Pancake Rocks, effectively doubling our distance, but without something to help with traction, the icy slopes proved too much for us.
Practical Information (as of April 2018):

| | |
| --- | --- |
| Features: | Walk to a frozen waterfall, stop along the way to check out a teepee skeleton. |
| Fee: | Free |
| Directions from hikingproject.com: | From Colorado Springs, take Hwy 24, through Woodland Park, to Divide. Turn south on Hwy 67. Drive 8 miles until you come to a tunnel. Parking is available on the other side of the tunnel. This is where the trail begins. |
| Our Hike: | An icy 3 mile rt, 600 ft elevation gain. |
More Colorado Travel Ideas More U.S.A. Travel Ideas More Worldwide Travel Ideas