Garden of the Gods
Located in Colorado Springs, the Garden of the Gods has many enormous red rocks tilted at bold angles. From afar, some look like spires reaching out for the heavens. According to the "Friends of the Garden of the Gods" the land where these rocks occupy have played many different parts in the past: an inland sea, a tropical forest, a floodplain and a sea of sanddunes, with dinosaurs and giant sea creatures roaming and living here. About 65 million years ago, as the Pacific Plate collided into the North American Plate, mountains were formed, and overlying sedimentary rocks bent upwards. With time, erosion did its work on the softer rock, leaving behind the harder rocks in tall spires and columns reaching for the heavens.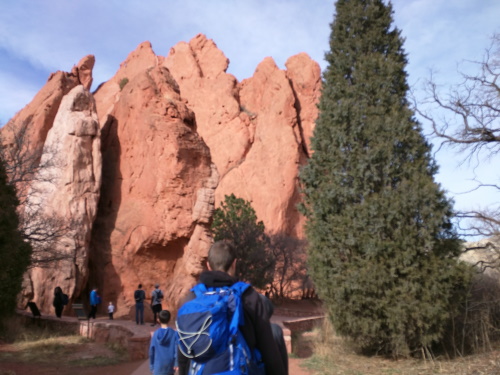 Red rock spires reaching for the skies at Garden of the Gods, Colorado Springs, Colorado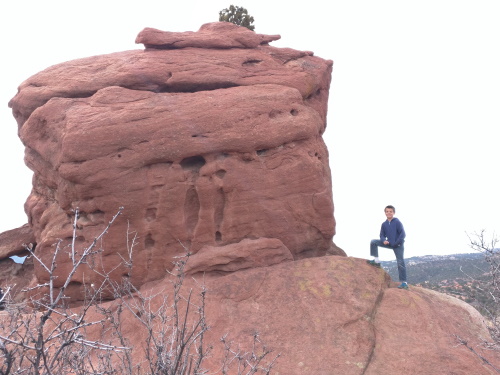 Standing beside red rocks, Garden of the Gods, Colorado
There were many trails to choose from at the Garden of the Gods. We hiked the Central Garden and Ridge Loop (4 miles). It was a busy but beautiful site, even with homes visible just a stones throw away. We had some trouble finding parking where we wanted to be parked, but soon realized that we were able to walk to our preferred destination (Central Garden) even being parked quite a ways away from it, since the trails were interconnected.
Practical Information (as of April 2018):

| | |
| --- | --- |
| Features: | Walk in the shadow of enormous slanted red rock spires of different shapes and sizes, tilted at bold angles |
| Fee: | Free |
| Address: | 1805 N 30th St, Colorado Springs, CO |
| Website: | Garden of the Gods |
| Hours: | 8am - 5pm (winter), 8am to 7pm (summer) |
More Colorado Travel Ideas More U.S.A. Travel Ideas More Worldwide Travel Ideas