Boulder & Area
Flatirons
Located in Chautauqua Park in Boulder, this city park gave us many trails to choose from. We hiked the 1st/2nd Flatiron, then went to the start of the Royal Arch Trail, wandered a little and eventually made it back to the parking lot at the Ranger Cottage.
The bottom of this hike was fairly flat, then switch backs all the way to the top. Parts of the trail required walking across rock slide areas. The most challenging for me was a short section (maybe 10 feet) where we had to go up an almost vertical rock wall via foot holes. The view of the city below was beautiful from this spot, but certainly did not help me conquer my fear of heights. After what felt like an eternity, I made it up to the top of this section, then worried about how I would possibly make my way down.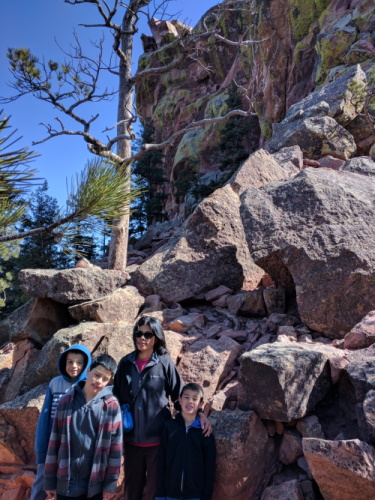 Along the trail up the Flatirons, Boulder, CO
The rest of the hike was challenging but fairly uneventful. The close-up views of the Flat were wonderful, as were the views of the city below and the snow-capped mountains on the other side.
The most senior offspring unit was protesting loudly, or else we would have gone on to do the Royal Arch Trail. From a historic picture near the Ranger Station, it seems like there really is an arch.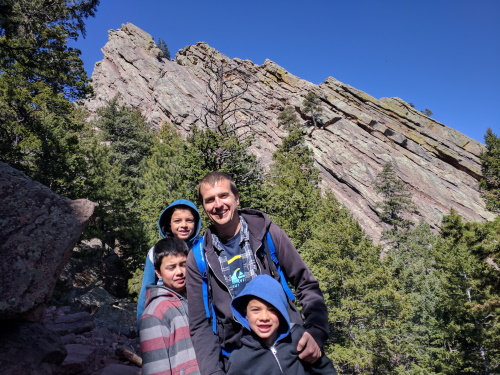 In front of the angled rocks at Flatirons, Boulder, CO
Practical Information (as of April 2018):

| | |
| --- | --- |
| Features: | Panoramic views of the city below, upclose views of the slanted Flatirons |
| Fee: | Free |
| Address: | Baseline Rd and 9th St., Boulder, CO |
| Our Hike: | About 5 miles rt, 1800 ft elevation gain, rocky terrain |
| Website: | Chautauqua Park, Boulder, CO (includes trail map) |
Pearl St. Mall
About a mile from University of Colorado, Pearl St. Mall is an outdoor pedestrian district with shops that opened about 40 years ago, if you're aching for an urban hike. We found it a little sleepy of a walk, though to be fair it was on a weekday late-afternoon that we visited.
More Colorado Travel Ideas More U.S.A. Travel Ideas More Worldwide Travel Ideas