Trona Pinnacles
If you are looking for an otherworldly landscape, this is the place for you. A skyline made up of about 500 tall tufa spires dotted the barren landscape as we walked in an ancient dry lakebed named Searle Lake. Searle Lake was one of many lakes filled with glacial meltwater connecting the Sierra Nevada to Death Valley as glaciers melted from the Sierra Nevada mountain range. According to one of the information boards, half of all of earth's minerals are found on this lake bed, one of which is trona, the park's namesake.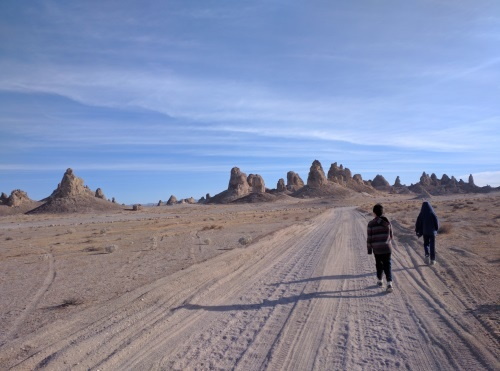 Approaching Trona Pinnacle's Skyline
There are three areas of pinnacles here, the northern, middle and southern. The Southern pinnacles are the oldest (32,000-100,000 years old) and on highest ground. The Northern group of pinnacles are the youngest at around 11,000 -25,000 years old. We mostly explored the middle group which were 25,000 to 32,000 years old. The pinnacles were formed under water when calcium-rich water from underground hot springs seaped upwards into the carbonated brine lake, in a process very similar to its northern neighbor Mono Lake. Algae colonies formed on these deposits, which helped bond the deposits as it grew into the spires that they are today. The spires are made of part coral, part tufa. Some of the spires rise 30-40 feet. Trona Pinnacles was a movie set for Planet of the Apes and a few other movies - my husband thinks he found the remnants of one of the movie sets, a cave that looked very much like a cave entrance in Planet of the Apes.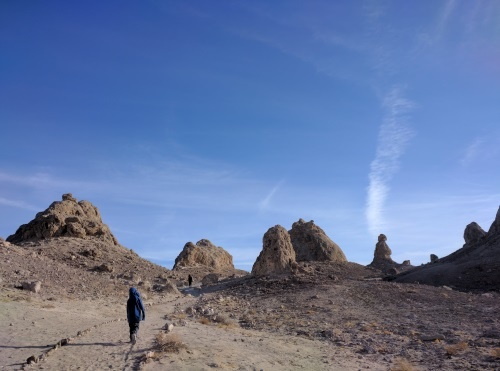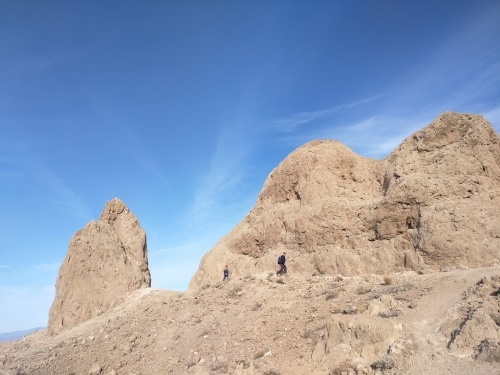 Walking amongst and around Trona tombs and spires
We visited during a warm December when the weather was perfect, not too hot, not too cold, about 60F daytime temperature. I imagine it would be searing hot when temperatures are higher. Most of our way there after the turnoff from SR 178 was on packed dirt/gravel which our 2WD sedan had no trouble with, though I think rain could have caused some trouble. We stopped about ½ mile from the pinnacles near the first set of information boards, weary that we would get stuck if we went further, but saw a car or two taking it closer. Most other vehicles were 4WD vehicles. Be sure to read the information boards, they are filled with lots of information on the Trona Pinnacles. There is also a 4WD scenic loop which we didn't do, since ours was a 2WD. We only hiked the very short hikers loop to walk amongst the pinnacles. Our entire walkabout from the car (which was parked ½ mile away each way) through and around the middle pinnacles was 2.5 miles.
Practical Information (as of December 2017):

| | |
| --- | --- |
| Features: | Walk in an ancient saltwater lakebed amongst spires of tufa that rose from under the lake |
| Directions: | Per BLM website: The Trona Pinnacles are located approximately 20 miles east of Ridgecrest. Access to the site is from a BLM dirt road (RM143) that leaves SR 178, about 7.7 miles east of the intersection of SR 178 and the Trona-Red Mountain Road. The 5.0-mile long dirt roads may be impassable during and after heavy rain. |
| Our Hike: | 2.5 miles on sand/rocks around spires and tombs made of tufa |
| Fees: | Free |
| Website: | For most updated information, please visit Trona Pinnacles |
| | --Not a warm weather hike-- |
More California Travel Ideas More U.S.A. Travel Ideas More Worldwide Travel Ideas