Sequoia National Park
Venturing into Sequioa National Park is venturing into a land of ancient giants. As we drove up Generals Highway from the south, we encountered many a giant around every corner, some as part of a family of giants, others as lone giants. We couldn't wait to park and start our hike once we reached the Giant Forest Museum. Luckily, there were many trails for us to stand in awe of these trees as old as 3200 years old. Of course, despite its name, Sequioa National Park is not just about giant sequoias. We managed a trail or two into different environments as well, walking through snow to reach a mirroring subalpine lake, and walking through dry foothills to a cascading waterfalls over marble rock.
Practical Information (as of November 2017):

| | |
| --- | --- |
| Website: | Sequoia National Park |
| Fee: | $30 for entry in Sequoia National Park (valid for 7 days), free with Annual Interagency Pass ($80) or 4th grader Pass |
Giant Forest Museum to Sherman Tree Hike
A Ranger told us that Sherman Tree was 3 miles one way from the Museum. A few detours to loops closeby, a missed turn or two, and our devices recorded 9 miles round trip. The hike took us past huge, I mean huge trees. Our family (minus a camera person, held hands and still did not cover the width of one side of a tree). The thing about superlatives, is that when you're surrounded by it, it is easy to take it for granted. It wasn't until the next day on our hike to Heather Lake did we realize that the giants that we were surrounded by, were limited to a fairly small area.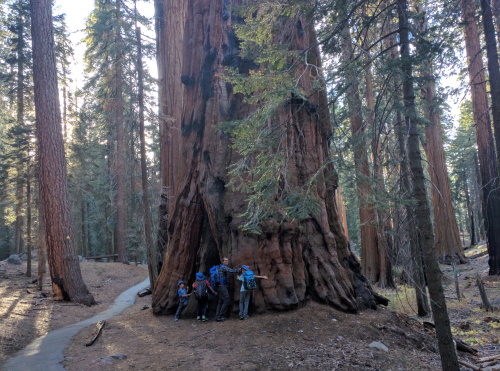 Family hugging big tree, Sequoia National Park, CA
Though our destination of Sherman Tree was the biggest tree in the world by volume, it is not the oldest nor the tallest tree in the world. The tallest tree is General Grant Tree in the northern end of King's Canyon/Sequoia National Park. The oldest, 3200 years old, is an unnamed Sequoia. I saw many trees that made me wonder if it was the oldest. The nice thing about the trees along Congress Trail and Big Trees Loop Trail is that you could walk up to it, hug it, and even walk through its tunnels. There is no fence nor line deterring you from getting up close and personal. On the late November weekend that we visited, it was a fairly quiet hike with handful of hikers roaming these trails. In November, due to weather, road closures of the main road leading to the Park is Not uncommon. We were lucky the weather was mild the year that we visited.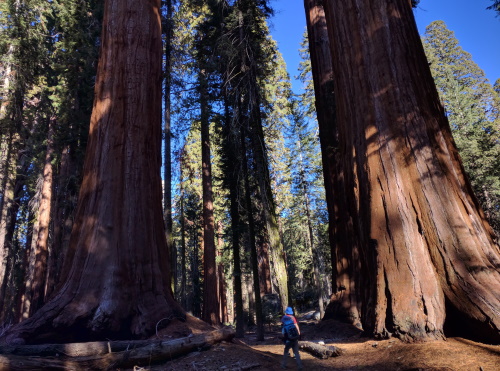 Walking among giant trees, Sequoia National Park
If you stop by the Museum, don't miss the Sentinel tree, the Sequoia in front of the Museum. It is an average sized Sequoia in the park, but the bricks in front of the Museum indicating it's height will bring the point home as to how tall these trees really are.
Practical Information (as of November 2017):

| | |
| --- | --- |
| Features: | Walk under, into and around many clusters of giant trees, free to wonder if this is the unnamed Sequoia that is the oldest in the park (3200 years old) |
| Our Hike: | 9 miles rt, 1050 ft elevation gain rt, from Giant Forest Museum to Sherman Tree via Alta Trail, Congress Trail and Rimrock Trail with a detour through Big Trees Loop Trail |
| Parking: | Park at Giant Forest Museum parking or at Sherman Tree |
Moro Rock
A Ranger told me that the Hike to Moro Rock was 1.5 miles each way from the Museum Parking. We decided to do the longer hike first to Sherman Tree at 3 miles each way, as is our usual strategy when walking with kids - do the longer hike first, so they are not tempted to quit after the short hike. We fully intended on walking to Moro Rock, but a few missed turns to Sherman Tree, a late start combined with short November days led us to abandon that plan. We ended up driving to the base of Moro Rock the next morning, walked up the 350 narrow dizzying steps (though mostly with railings) for a 360 degree beautiful view of surrounding mountains.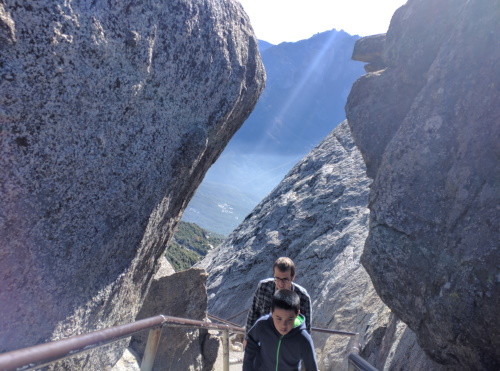 Walking up Moro Rock, Sequoia National Park, CA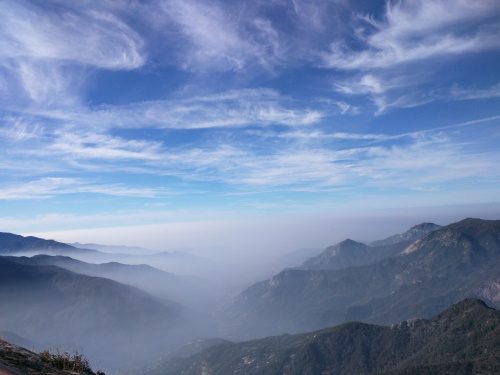 Views from Moro Rock, Sequoia NP, CA
Practical Information (as of July 2016):

| | |
| --- | --- |
| Our Hike: | A very short 0.7 mile walk up 350 narrow steps to the dizzying heights of the top of Moro Rock for an amazing 360 view of surrounding mountains and valleys |
| Parking: | Limited parking at Moro Rock |
Lakes Trail to Heather Lake
Our hike to the Lakes trail was uphill most of the way, with the welcome downhill portions occurring near our snowy destination of Heather Lake. The kids loved the snow, even (or maybe especially) the downhill snowy slippery portions. Being one who does not enjoy thrilling rides, this was not my favorite portion. Heather Lake was a reflective mirror of its surroundings, to a point where it wasn't clear that a watery lake existed there.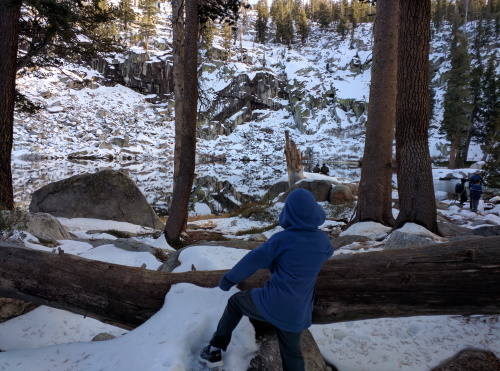 The reflective Heather Lake in the background - Can you tell where the lake starts and where the rock ends?
Practical Information (as of November 2017):

| | |
| --- | --- |
| Features: | Walk through a mostly shaded evergreen forest to a lake that perfectly mirrors it's surroundings (at least in our late November hike). Our late fall hike also featured crossing many snow fields, some a lot bigger than others |
| Our Hike: | 9.6 miles rt via Hump Trail (Watchtower Trail closed due to snow), 2400 ft elevation gain rt, (NPS states 8.2 miles rt), starting elevation 7200 ft, ending elevation 9200 ft |
| Parking: | At end of Wolverton Road, North parking lot |
| Directions: | From Generals Highway, follow directions for Sherman Tree main parking area, then continue on Wolverton Road for about 1.4 miles where there is a large parking area, turn north (left) to be close to trailhead. |
Marble Falls
Marble Falls Hike was mostly uphill along mostly dry vegetation, about 50-60% shaded on an early November morning. The first ½ mile or so was along what looked like an aqueduct, then goes uphill into a narrow foot trail. We were warned at the bottom that ticks, mountain lions and bears make their home here. I wouldn't call this hike exceptionally beautiful this time of year, except for the end when we spotted the cascading waterfalls over what looked like white rocks.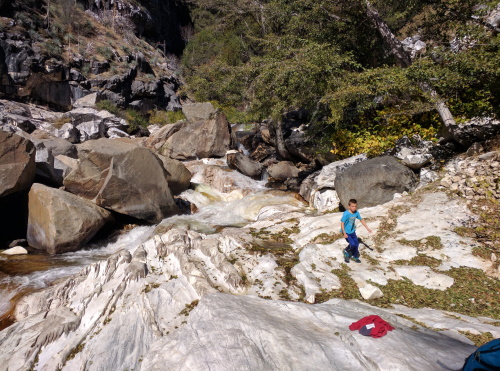 Walking along the trail with a view of Marble Falls, Sequoia NP, California
As we closed in, we realized why it is called Marble Falls; these rocks really do look like marble and just as slippery when wet. I am glad we went on a dry day. We had some lunch along the marble falls, wet our fingers in an inlet, and called it a day. In the end, the destination made it worth the hike.
Practical Information (as of November 2017):

| | |
| --- | --- |
| Features: | Hike to cascading waterfalls falling over marble rocks |
| Directions: | From Generals Highway, turn into Potwisha Campground, parking at the end of the campsite loop, not too far from Foothills Visitor Center than other hikes we did here |
| Our Hike: | 7.5 mile rt, 1700 ft elevation gain rt, mostly uphill there, mostly downhill back |
| Amentities: | Limited parking at the end of the loop at Potwisha Campground |
More California Travel Ideas More U.S.A. Travel Ideas More Worldwide Travel Ideas