Point Lobos State Reserve
If you are looking for a beautiful hike along California's Big Sur coast, this is one you cannot miss! There is something beautiful waiting to be seen at every corner, be it interesting rocks, tide pools, seals or sea lions, blue-green coves, sea caves or just ocean waves crashing onto coastal rocks. This is by far the best coastal hike I've done.
Views like this at every corner, Point Lobos, CA
We started our hike about ¼ mile outside the entrance gate, hoping for a 5-6 mile hike. There was already a line of cars parked on the side of the road and we were afraid parking would be full inside on a clear July Saturday morning. So we walked in past the entrance gate and took the trail that got us to the coast as quickly as possible. We walked through a forested trail which led us to a Whaler's Cove, an area used in the past for whaling and abalone fishing. There is a small museum housed in an old cabin which tells a bit more about the history of that industry in the cove. Whales' bones that have washed up on these shores are also displayed here. I noticed that a whale rib bone was longer than the height of my 8 year old. After getting a closer look at the huge abalone shells (larger than a human hand), we pressed on looking for our coastal trail. Whaler's Cove is also where we saw several groups of scuba divers exploring the waters below.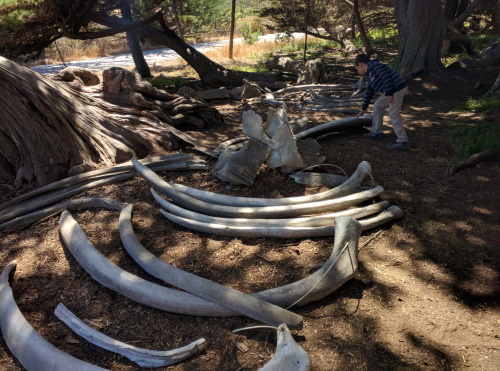 Whale bones that washed up onto Big Sur coast, at Whaler's Cabin, Point Lobos, California
We walked past a parking lot, up some stairs to a lookout point. The view and sound of waves crashing onto rocks were very serene. Our goal was to stay on the coastline as much as possible, so we stuck to the North Shore Trail which did a great job taking us over a rocks and onto cliff edges for ever changing cliff views. I found myself constantly reminding my kids to walk (not run) on the trails as there are many dropoffs and not too much in the form of guard rails, just ropes to indicate where the trail is.
There are a few loop trails off the main North and South Shore Trails worth mentioning in case you need to do a shorter hike. Cypress Grove Trail took us under one of the two last natural remaining cypress groves in the world. The trees here are covered in orange colored green algae, so there is an orange glow to the trees and rocks on this trail. Here you will also find beautiful views over a row of triangular rocks slotted in the ocean at a parallel with blue ocean waves crashing at its base.
Sea Lion Point Trail provides a great view over the ocean and resting sea lions and harbor seals on offshore rock islands. We saw a few resting on these offshore rocks. Keep your eyes peeled, we almost missed them as they are very well camouflaged with their surrounding rocks. Part of this trail was closed when we were there but it looks like there is a stairway to a nice cove with a small beach.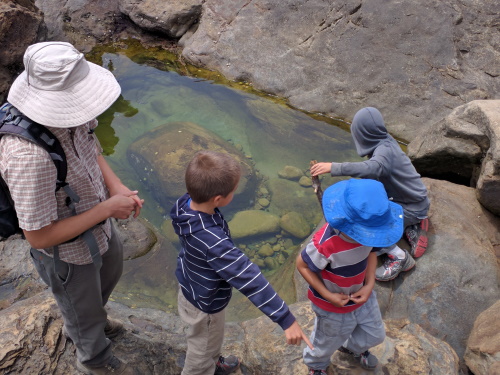 Looking for crabs at the tide pools at Point Lobos, CA
There is an area of sandstone rocks that traps ocean water in during low tide just beyond Sea Lions Trail. This was a great area for tide pooling. My kids were excited to find little crabs on these rocks. There were so some triangular seashells attached to the bottom to these tide pools and a couple of small fishes. These weren't the best tide pools I have seen, but certainly a fun surprise chasing little crabs. Hold on to energized little ones as the rocks can get slippery. The rocks at the sandstone tide pool area and afterwards were pretty interesting as well. There were beautiful sandstone formations, one looked like a huge bowling ball ready to roll downhill, others were terraced or formed points and ridges on the watery shores. Down trail from these magnificent sandstone rocks were rocks that are slanted sideways, had giant circles in them and white rocks that looked like little white hills emerging from the ocean. These hills in the water we later discovered was Bird Island.
China Cove, Point Lobos State Reserve, CA
On the way to Bird Island, we were pleasantly surprised by China Cove. China Cove has amazing blue-green waters with a sea tunnel and sea caves along its southern shore. It also had an inviting white sand beach, but it was closed due to erosion. Just past China Cove was Bird Island. We saw two different colonies of black birds on these white rock islands. One of my kids noted that they looked like penguin colonies we had seen on Nature shows. It was a short trail out to the overlook and certainly worth the effort. With the white rocks and lingering fog, the overlook of Bird Island made me forget we were in sunny California. The walk back from this loop trail continued to provide amazing views of China Cove from a different perspective. Here we could see the other side of the sea tunnel we originally spotted in China Cove, again with blue green waters flowing through it.
Beyond Bird Island was Gibson Beach. A bigger white sanded cove than China Cove, this beach was open to the public on the day we went. A steep staircase down led us to this beautiful beach with rocks jutting out of the waters close to shore. The kids played at the ocean's edge creating their sand forts. After Gibson Beach we made our way to our car via the South Plateau trail under the shade of tall trees with hanging lichen.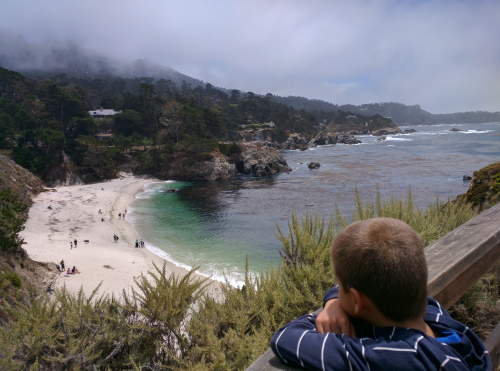 Overlooking Gibson Beach, Point Lobos State Reserve, CA
I am very glad we did the entire shoreline trail which was about 4 miles in length. Adding the trail to and from our parking lot, we were a little closer to 6 miles. Each portion of the trail provided amazing views. However if you are limited by the distance you can hike, I would go with the South Shore Trail for a more- bang-for-your-buck hike. As for parking, any of the ones along the South Shore Trail should give you fairly good access to the attractions mentioned above (within a short hike) except for the parking by Whaler's Cove. That seemed to have been a popular spot for the scuba divers and was full when we walked through it at 10:30am. To park inside the park, it is best to arrive early (by 9:30am). We arrived at 9:45am and it looked like cars were still getting into the park, though at a slow rate. Park at a centrally located location and be prepared to walk to the different attractions - if you left your parking spot, you may not readily find another. If parking outside park, be prepared to add 1-2 miles to your hike to get to and from car. This park has 4 wheelchair accessible trails** - see below for more information. Backpack carriers for kids would be ideal if you'd like unrestricted access to all trails.
Poison oak was everywhere along most trails but with a few warnings, it was not too difficult to keep our kids from touching them. We were also warned of ticks at the beginning of the trail but did not see any during our after-hike tick check. Be sure to check the Park's website* to find out of any closures before leaving home; park may close due to recent or impending storms. Wildfires may affect park or highway leading to park.
Practical Information (as of July 2016):

| | |
| --- | --- |
| Features: | Beautiful coastal hike with sea lions, otters and seals, small coves of blue-green water with sea tunnels and sea caves and white sand beaches, interesting rock formations housing tide pools, to-die-for ocean views, views of Bird Island with colonies of birds living on them, learn about whales and abalones |
| Our Hike: | 5-6 miles, but many ways to do shorter hikes with many parking lots scattered throughout the Park. See map here Point Lobos Trail Map. |
| Address: | 62 California 1, Carmel-By-The-Sea, CA 93923 |
| Parking: | $10/car/day, arrive early, $1/person suggested donations for walk-ins, park along South Shore Trail to be closer to most attractions. Don't park at Whaler's Cabin (far from most attractions) unless you're scuba diving with permit or looking to hike the entire shore trail, arrive early (before 9:30am) or late (after 3pm) for better parking availability, lots of highway shoulder parking but fills up early. |
| Amenities: | Picnic area near Piney Woods and Hidden Beach, washrooms, 4 accessible trails, see ADA accessible trails for more information |
| Don't Forget: | Jacket (the ocean breeze can be very cooling), hat, sunscreen (very warm on inland portions near North Shore Trail), water, snacks/td> |
| Website: | Point Lobos State Reserve |
More California Travel Ideas More U.S.A. Travel Ideas More Worldwide Travel Ideas