Pinnacles National Park
Bear Gulch Cave-Rim Trail
Pinnacles National Park is one half of an ancient volcano that was cut into two by tectonic forces about 20 million years ago. Two thirds of the volcano eventually became Pinnacles National Park while the other side of it became the Neenach Formation almost 200 miles south. Our visit this time had us explore Bear Gulch talus caves. Talus caves are caves formed by boulders and rocks that fall into a narrow canyon. The canyons here are the result of faults and fractures in the central area of volcanic rock. Rock falls that helped form Bear Gulch Caves are believed to have occurred during the last Ice Age.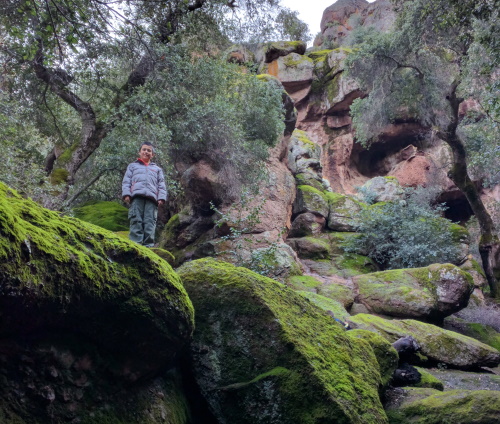 On top of the mossy rocks along the Bear Gulch Trail, Pinnacles NP, CA
We made our start on this 2-mile trail at 11am after arriving at Bear Gulch Parking area. After packing our snacks and water, we started our walk slightly uphill along fluorescent green moss-covered giant rocks. We visited this part of the trail last summer and it definitely did not look this beautiful. The bright green moss-covered rocks were situated below huge red columns of rocks. These sights kept us occupied until we came to the first cave.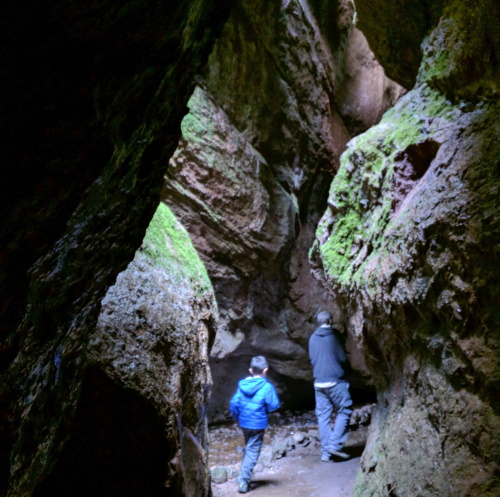 Making our way through the talus cave, Pinnacles NP, CA
The first cave area was short before we saw some daylight coming through the roof of the cave. The trail was covered with water, providing just stepping stones peeking out of the water to hop on. We managed to make our way to the next section which was both dark and wet. Flashlights and head lamps (or in our case the Torch app) would be very useful here. Through an open gate, up a wet winding flight of stairs, we made our way to the side of some waterfalls, then crossed over it on a metal bridge. There were many, many boulders to squeeze between and under.
After this first cave area, there was an open area with a view of mossy rocks stacked in loose piles, and more tall columns rocks in the distance. This daylight was short-lived, and we came upon another tight squeeze under a large boulder. Probably not a good hike for a child backpack carrier. We crawled under the rock to continue on. Crossing a rock bridge over a creek brought us to the bottom of some more stairs. These stairs were very narrow, steep and wet, though it had a guard rail, with a waterfall on its left side flowing into the creek we just passed.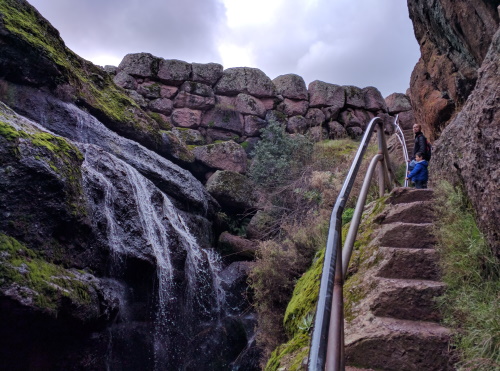 Making our way out of the talus caves beside a waterfall, Pinnacles NP, CA
At the top of the stairs we got our first view the Reservoir. Surrounded by rocks of different shapes, this Reservoir reflected most of what surrounded it. A nicely manicured stone bridge brought us to the other side of the Reservoir where many hikers were enjoying a snack and a view. We followed suit and enjoyed a few moments of peace.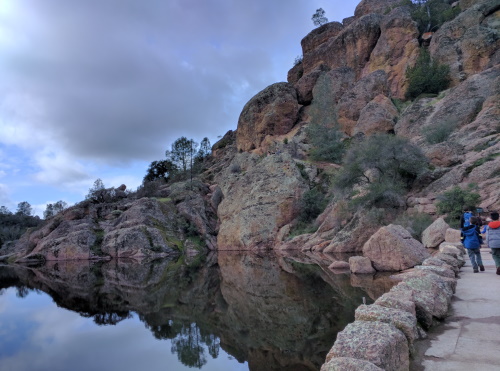 Our view of the Reservoir at the end of Bear Gulch Trail, Pinnacles NP, CA
Soon after, we made our way back to the picnic area by the creek for a warm lunch. We took the Rim Trail back. On this trail, we had a view of the rocks in surrounding area and all the dark clouds over the neighbouring areas. We kept the kids closeby due to big drops. The Cave trail was full of variety and surprises that we did not expect. It was definitely a cool hike, but one that brought out the nervous mom in me, given the dark, wet trail and big drops. Part of Bear Gulch Cave may be closed at different times of year to accommodate roosting bats or inclement weather. We came across many climbers along our hike. Moses Spring trail is an alternative way to get to the Reservoir if you are looking to avoid the caves. We did not explore this route.
Update: We recently went on Moses Spring Trail. It is also a beautiful hike with many big drops into a canyon, so definitely keep kids closeby and under control. As with most hikes in Pinnacles, we found many many mountain lion scat along the way, indicating their presence, though have not had an encounter, so yet another reason to keep kids closeby. Know what to do if you do by chance have a face-to-face encounter these creatures. From my last search on the subject, I believe the thing to do is to make many loud noises, carry young kids and appear as big as possible. Whatever you do, don't crouch down, as you would resemble a prey. Again, luckily, in all our miles of hiking, we have not yet had such an encounter, but as a nervous mom, it is something always on my mind.
Practical Information (as of February 2017):

| | |
| --- | --- |
| Features: | Walk into a couple of talus caves along a waterfall to a reservoir, passing by columns of mossy rocks (in the spring) and red rocks, all part of an ancient volcano split into two by tectonic forces |
| Our Hike: | 2 miles round trip, 400 feet elevation change, cave is very dark (bring a light source), wet and has big drops. |
| Fee: | $15/vehicle or free with Annual Interagency Pass |
| Directions: | East Side Visitor Center GPS: 36.493545, -121.146646, then follow directions to Bear Gulch Day Use Area for most hikes including Bear Gulch Cave Hike. |
| Amenities: | Bring flashlight if you are going through the Cave, check for Cave closure, Check weather - Flash floods can occur in the Cave when there is rain in the surrounding area. |
| Pinnacles Bear Gulch Cave Status: | Cave Status |
High Peaks-Tunnel Trail Loop
On a very warm weekend in July 2016, we explored an ancient volcano a couple hours south of the San Francisco Bay area. The ancient volcano was cut into two by tectonic forces about 20 million years ago. Two thirds of the volcano eventually became Pinnacles National Park while the other side of it became the Neenach Formation almost 200 miles south. The side that we explored is on the Pacific Plate, which is slowly drifting north, while the Neenach Formation is on the North American plate, slowly pushing westward. As an active volcano, Pinnacles Volcano stood 8000 feet tall and 15 miles long, located almost 200 miles south of where it is now, where it's other half still stands today. The "Pinnacles" that we encountered were massive fingerlike projections made of dark rocks reaching for the sky, along with rounded rock formations just as massive. These rock formations were caused by the erosion by ice, water and wind.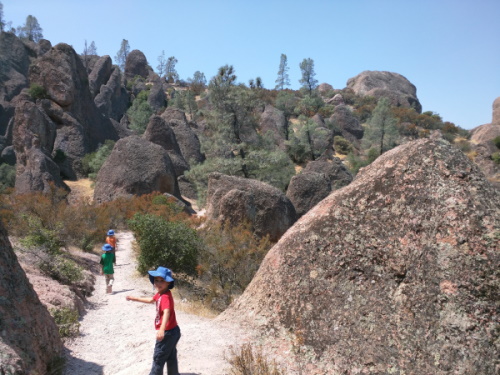 Pinnacle rocks ahead, Pinnacles NP, CA
We started our hike at the Old Pinnacles Trailhead just before 10 am on a warm July morning. Parking was easy to snag at this trailhead when we got there. The initial 2-3 miles of our hike was a gentle uphill, UNshaded and without much rock formations to look at. We got a view of the surrounding mountains as we climbed.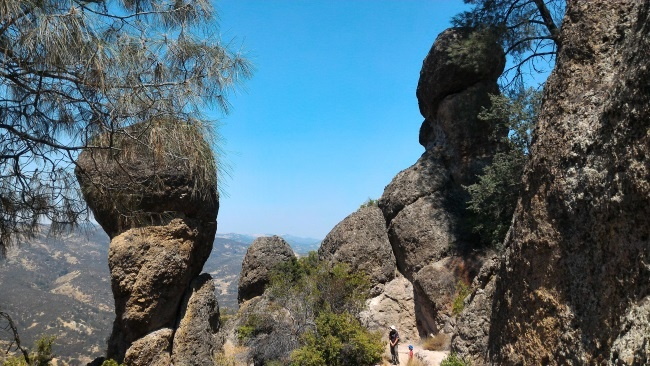 The rocks of Pinnacles National Park, California
The rock formations started near the junction of the Condor Gulch Trail and the High Peaks Trail that we were on. The trail took us amongst tall hoodoo-like projections and around huge circular rocks. Soon after the rock formations began, we had to choose between the Tunnel Trail or the Steep-and-Narrow Trail. Having been on a hot hot trail for the first part, we opted for the slightly more shade-sounding route of the Tunnel Trail. We walked under the shade of huge pinnacles downhill. I worried a little as we made our way downhill, because I have learned that there is usually an uphill that accompanies every downhill. Just beyond this downhill section, we came across this trail's namesake, a welcome respite from the hot sun. A short bridge took us across a narrow canyon overshadowed by massive pinnacles into this respite.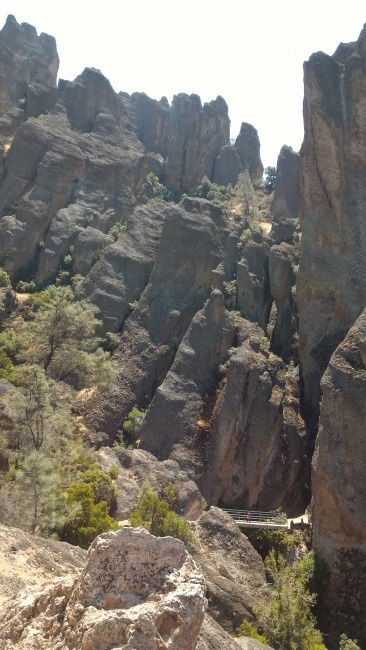 Bridge into the Tunnel at Tunnel Trail, Pinnacles National Park, California
True enough, a half mile uphill section of the Juniper Canyon Trail awaited us, connecting us back to the High Peaks Trail which took us to Bear Gulch Day Use Area. On our way there, we saw a few signs indicating areas for climbers.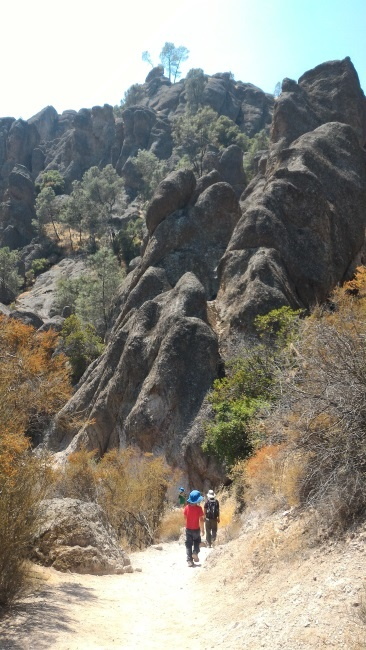 Rocks on the High Peaks Trail toward Bear Gulch Day Use Area
If I were to do it over, I would start at Bear Gulch Day Use Area parking, go up High Peaks Trail, to the Steep and Narrow Portion, then back down via the Tunnel Trail. From Tunnel Trail continue on to Juniper Canyon Trail then down High Peaks Trail, making a loop trail of about 6 miles. Or if the Steep and Narrow Trail is of concern, park as close to the Nature Center as possible, start at Condor Gulch Trail, bear left on High Peaks Trail, then go down Tunnel Trail, to Juniper Canyon Trail back to High Peaks Trail for a loop back to Bear Gulch Parking area. These loop trails would cut out the not-so-scenic parts of High Peaks Trail near Old Pinnacles Trailhead and reduce the hike length by about 3-4 miles round-trip compared to the 8-10 mile loop that we did. The views of the massive Pinnacles started just before the Tunnel Trail. *** Spring would be a better time to visit for the wildflowers and cooler temperatures. Bear Gulch Cave Trail is a much shorter trail (about 2 miles round-trip) which we will try at our next visit. It has a cave and reservoir at the end of the hike. Check Pinnacles website for times of Bear Gulch Cave closure (due to bats roosting - cave closed entirely mid-May to mid-July)***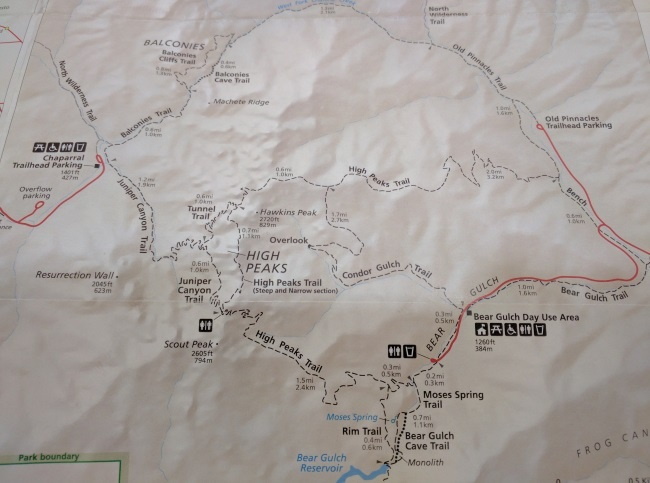 Trail Map of Pinnacles National Park, CA
Practical Information (as of July 2016):

| | |
| --- | --- |
| Features: | Explore an ancient volcano split into two by tectonic forces, walk amongst and under massive fingerlike rocks along with rocks of many other shapes, walk through a tunnel (or two) dug into these rocks |
| Our Hike: | 8 miles (hot, unshaded) to Bear Gulch Day Use Area (from Old Pinnacles Trailhead via High Peaks Trail to Tunnel Trail to Juniper Canyon Trail to High Peaks Trail towards Bear Gulch Day Use Area); 10 miles to loop back to Old Pinnacles Trailhead, shorter trails available see above*** |
| Fee: | $15/vehicle or free with Annual Interagency Pass |
| Directions: | East Side Visitor Center GPS: 36.493545, -121.146646, then follow directions to Bear Gulch Day Use Area for most hikes recommended or to Old Pinnacles Trailhead for the hike that we did. (There is NO through road from the West side of the park to the East side of the park) |
| Amenities: | Water at Bear Gulch Day Use Area (no water on trail), bathrooms, picnic area, Visitor Center at Bear Gulch Day Use Area, shuttle stop at Bear Gulch Day Use Area at certain times of year. |
| Pinnacles Bear Gulch Cave Status: | Pinnacles National Park |
| Remember: | Bring plenty of water (especially on a hot day, no water along trail), hats, sunscreen, snacks, flashlight (if exploring cave), start early, AVOID this hike in hot weather. |
More California Travel Ideas More U.S.A. Travel Ideas More Worldwide Travel Ideas