Pier Whale Watching
Pacifica Municipal Pier
We arrived at Pacifica Municipal Pier at around 7:30am. We came to crab. My brother had researched the different piers to crab for Dungeness crabs, and had come to a conclusion that this was the best one for such activity.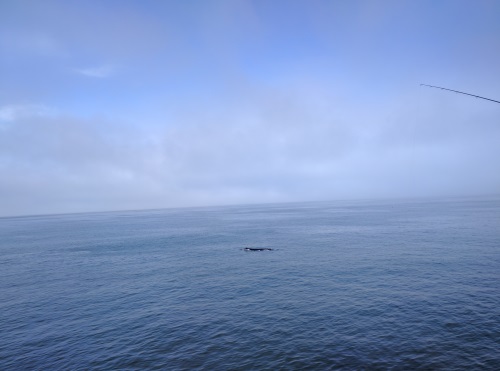 Whale Watching at Pacifica Municipal Pier, CA
When we arrived, there were many who had already started their crabbing day. Crabs came and went often, released by disappointed crabbers when they fell short of the legal size limit. The boys were excited to throw in our crab pods. After baiting it with chicken thighs, they excitedly waited for a crab or two. The wait was not long before our first crab crawled in for get a taste of our chicken. Everyone had a hand in pulling up the pod from the water 20 feet below. When it finally made it over the pier, out came the measuring ruler. Unfortunately, the first one did not make the cut. After my brother gave it a goodbye kiss for a picture, in it went into the water. Our wait continued. Every so often, another crabber would reel one in. I mean really reel it in. There were many with fishing lines and snags attached to the end. These seem to be more successful of the crabbers, at least for legal sized crabs anyway.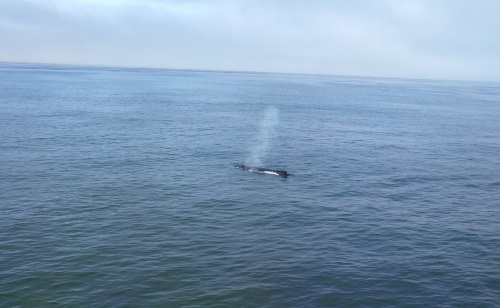 Spouting whale at Pacifica Municipal Pier, CA
Our first real view of whales came when the crabbers started pulling in their reels. Out to the right, a spray of water sprouted, followed closely was a large black and white body. Then another. Then another. Not all the whales swam parallel to our pier, just one. But that whale gave us a nice view as it dove in with its tail in the air. It was a really pleasant surprise, seeing these majestic creatures gracefully move in their home. I apologize for the picture quality. I have read that whale viewings are best from February to April when whales migrate, though, this year it has been extended by the warm weather, well into June, from our experience.
Practical Information (as of June 2017):

| | |
| --- | --- |
| Fee: | free, some street parking |
| Address: | Pacifica Municipal Pier: 2100 Beach Blvd, Pacifica, CA 94044 |
| Don't Forget: | Start early, bring water, jacket, folding chair if you'd like to sit. *IF crabbing, be sure to check on season dates and size limits at Wildlife.ca.gov* |
More California Travel Ideas More U.S.A. Travel Ideas More Worldwide Travel Ideas