Mount Tamalpais State Park
Matt Davis-Dipsea Loop Trail
We started our walk a little late on this particular February morning. After encountering a few traffic jams and detours, our initial plan of hiking Cataract Falls was not going to come true. First the road to the trailhead was closed off, and the next closest parking spot (Pantoll Ranger Station) was completely full. Heading down Panoramic Highway, we kept our eyes peeled for any parking with a trail close by. After driving 2 hours, we were not going to leave empty handed. After driving down Panoramic Highway for 10 minutes, we found a spot near a large trail. We eagerly grabbed it, not knowing what the trail was. Once stopped, we realized that the trail was DipSea Trail. I had heard about the famous DipSea, and had planned to do it on a different day, but it looks like today was going to be that day!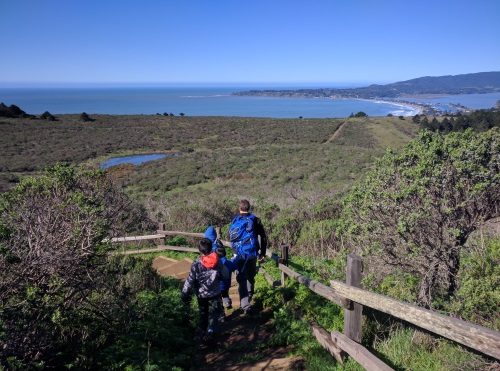 View of Bolinas Lagoon from Dipsea Trail, Mt Tamalpais, CA
As we stood enjoying the view of the lagoon and sandbar down below, a couple of passing hikers asked us what our plans were. They pointed us south towards Stinson Beach, then back up using Matt Davis Trail. Thankful for the direction, we happily took their advice and went downhill on the Dipsea. The trail quickly got under some tree cover running alongside a Creek. Not too long after, we crossed a road and a "DipSea Trail" sign pointed us onto a narrow road with homes and many parked cars for 0.3 miles. Passing by a cafe, a playground and a bridge crossing a swollen creek, we made our way to Stinson Beach. The boys played in the sand for a few minutes, then we headed towards the Matt Davis Trail.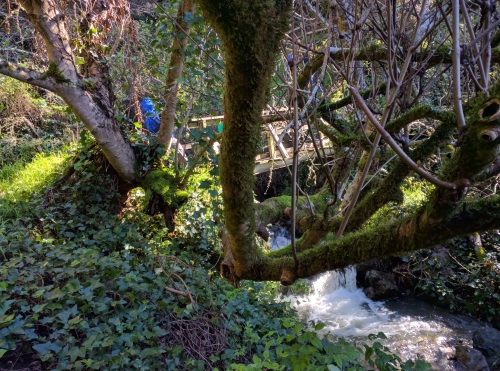 One of many bridges crossing waterfalls on Matt Davis Trail, Mt. Tamalpais, CA
We found Matt Davis Trailhead starting behind the Fire Station. We crossed that bridge and headed uphill into the lushly vegetated trail, along yet another swollen creek. Before long, we got a view of the creek, a beautiful cascade of water rushing its way downhill. Making our way up switchback after switchback, we encountered more criss-crossing creeks, and more beautiful cascades. Matt Davis Trail came equipped with bridges to cross most, if not all, of these creeks. There were mossy trees in every direction, and every so often, a peek-a-boo view of the ocean.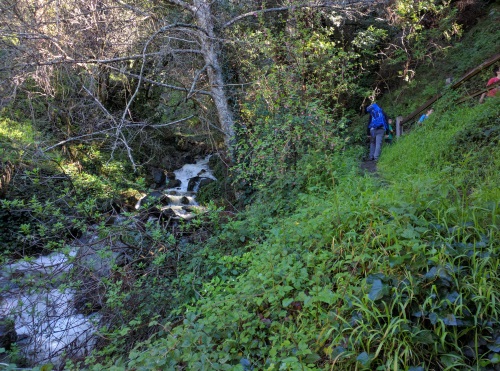 More waterfalls along Matt Davis Trail, Mt. Tamalpais, CA
Eventually, we made it to a clearing with a full view of the bare hills around us and the ocean. Having walked for a couple hours, we found ourselves a quiet rock (no small feat on this trail) and sat down to a picnic lunch. This is what I call a lunch with a view. A full view of San Francisco's coast on our left, a very peek-a-boo view of Golden Gate Bridge and the city of San Francisco behind a hill, and a view of the lagoon on our right. We will have to go explore that lagoon, with what looks like a lake within it, soon.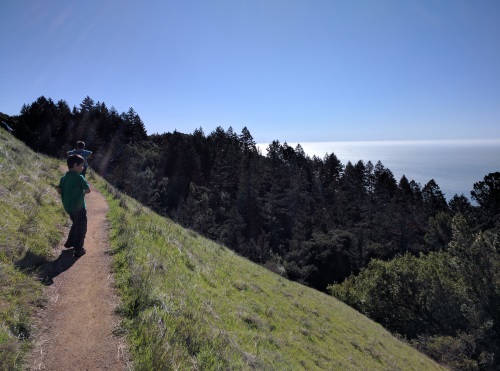 Views of the ocean from Matt Davis Trail, Mt. Tamalpais, CA

After lunch we continued our way up to Pantoll Station, rather uneventfully. Some creek crossings, some downed trees, some muddy creeks, some bridges, and we made our way to the DipSea Trail again. More views of the ocean, some more downed trees, some more mossy trees. Sometimes I feel spoiled by all the beauty we see on these hikes. The DipSea did present some new views. We walked through a couple of redwood groves and lots and lots of slippery stairs along another rushing creek.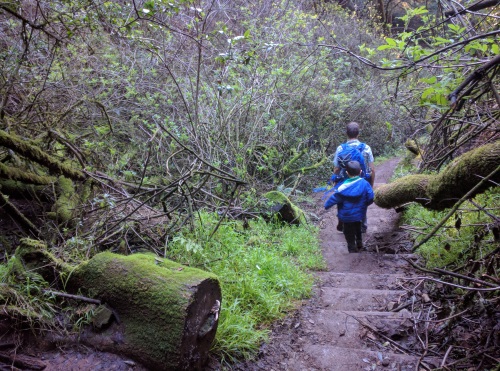 Stairs on Dipsea Trail, Mt. Tamalpais, CA
We eventually walked to our parking spot on Panoramic Highway. We were happy to have made the 9-mile loop while enjoying the different fauna and views of the hike. Sometimes, it's okay for plans to fall through.
Practical Information (as of February 2017):

| | |
| --- | --- |
| Features: | Walk along many Creeks cascading over rocks and hills forming several waterfalls, views of the coast and lagoon from above |
| Our Hike: | Dipsea (to Stinson Beach) to Matt Davis (to Pantoll Ranger Station) Loop - 9 miles, almost 1800 ft elevation change, muddy, partial shade, lots of slippery steps on DipSea Trail, lots of bridges on Matt Davis, some rock hopping over creeks, some downed trees |
| Fee: | Some parking spots charge a fee, others don't. Pantoll Ranger Station has a fee, parking along Panoramic Highway was free |
| Address: | Pantoll Ranger Station - 3801 Panoramic Hwy, Mill Valley, CA 94941 |
| Amenities: | Bathrooms at Pantoll Ranger Station |
More California Travel Ideas More U.S.A. Travel Ideas More Worldwide Travel Ideas