Mount Shasta
Standing tall at 14,179 feet, Mount Shasta is one of five volcanoes situated in California, about 100 miles north of the city of Redding. Near the southern terminus of the Cascade Range, Mount Shasta is considered an active volcano whose last eruption occurred in 1786. Mount Shasta looms majestically over most of the horizon in northern California, and as we found out later in our trip, very much visible in southern Oregon too.
Clear Creek Trailhead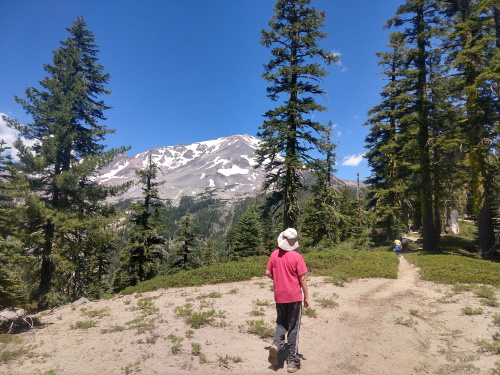 Along the trail with Mt. Shasta peeking through in the distance
To summit Mount Shasta is probably a mountaineer's dream, but as a hiker who is lacking a mountaineer's skills (and crampons/ice picks), our goal was to just make it partways up the mountain, hopefully past the treeline. Our hike to Mount Shasta began at Clear Creek Trailhead. There were three trailheads to choose from. We chose Clear Creek Trailhead due to proximity since we were coming from the east. The trip to the trailhead was an adventure in itself. The road to the Clear Creek Trailhead was a very bumpy ride on dirt/sand roads for the last 5 miles. We were unsure if we were on the right track if it weren't for the faded signs stating otherwise. Our medium clearance AWD Subaru Outback proved sufficient for the trip on the early July morning of our hike. Once at the trailhead, we encountered about 10 cars, one of them a Toyota Prius. At the trailhead, you'll need to fill out a free permit for each individual in your group.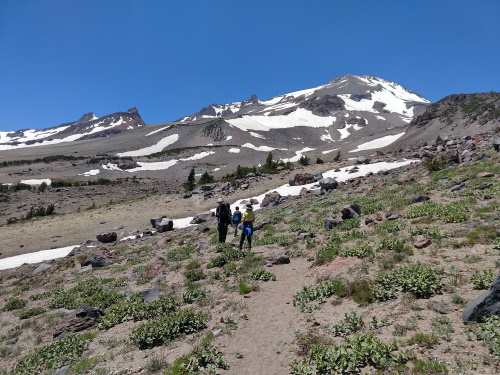 At the meadow towards Mount Shasta
Our initial goal was to make it to Clear Creek Meadow, but once there, we decided to continue on until the rock scramble got the best of us. The trails up from Clear Creek Meadow were not always easy to follow. We made it to a snow field above Clear Creek Meadow and decided to call it a day when the scrambles proved too big a challenge. The view from the foot of the snowfield was pretty neat. It had a blue glow to it, which reminded me of pictures of the earth looking down from space.8) My pictures did not do it justice.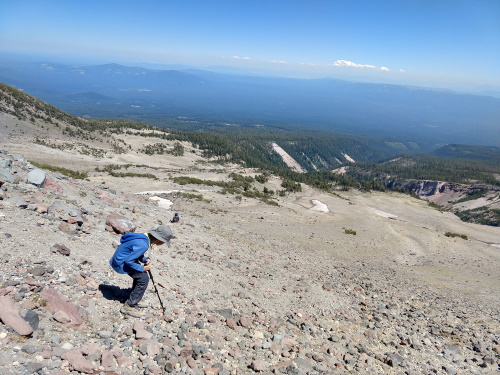 The view from our highest most point on Mount Shasta - Elevation 9220ft
Practical Information (as of July 2020): Clear Creek TH to Meadow

| | |
| --- | --- |
| Features: | Walk to a meadow on the flanks of Mount Shasta, one of five active volcanoes in California, panoramic views from above the meadow. |
| Our Hike: | 8 miles rt (to a snowfield above Clear Creek Meadow), about 2700 ft elevation gain, rocky scramble near the end of trail |
| Fees: | Free, but permit required, obtain permit at trailhead for each member of group |
| Website: | For most updated information, please visit Mount Shasta |
More California Travel Ideas More U.S.A. Travel Ideas More Worldwide Travel Ideas