Mount Diablo State Park
Rock City
Great sculpted sandstone rocks to climb and conquer. A short walk (less than a mile) from Live Oak Campground got us to a trail that gave us a view of three sculpted rocks: Wind Caves, Big Rock and Sentinel Rock.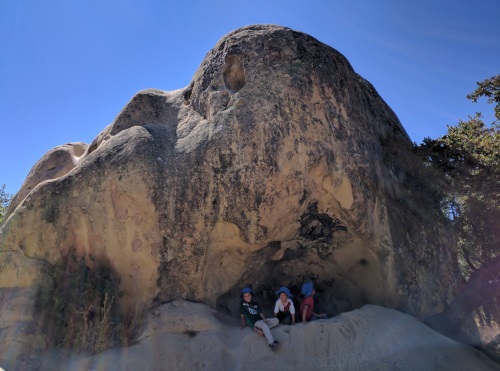 One of many wind-carved rocks at Rock City, Mt Diablo State Park, CA
Wind Caves had nest-like holes sculpted into the giant rocks. My kids excitedly raced to nestle into them. Unfortunately, graffiti artists have left their mark on parts of it, but it was still beautiful in its own right.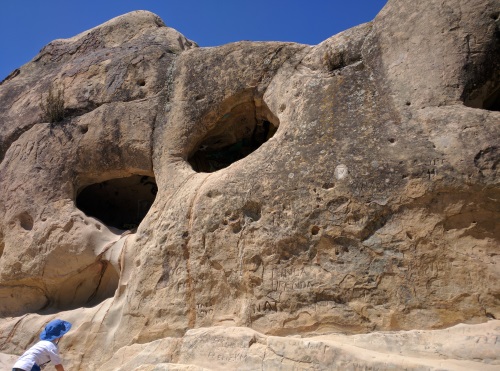 Holes sculpted into the rocks of Wind Caves, Rock City, Mt Diablo State Park, CA
Sentinel Rock had safety cables to help "climbers" have a safe climb. Dubbed mini-Half-Dome, my kids were excited to conquer it, since the real Half Dome is a little too much for them right now.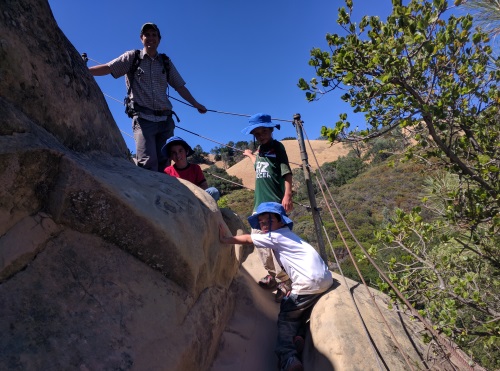 The cables at Mini-Half-Dome Climb, Rock City, Mt Diablo State Park, CA
Be on the lookout for poison oak and rattlesnakes. We have come across rattlesnakes on hikes closeby, though not on the Wind Caves trail itself. Watch where you place hands and feet. Most of the trail is on rocks which are covered in a thin layer of sand, making it a little slippery. Keep kids closeby as there are steep drops. Best to do this hike in the morning. Pick up a free Visitors' guide with map of Rock City at the Entrance Gate to avoid missing any rock features
Once you have thoroughly enjoyed Rock City, head up to Mount Diablo's summit for a view of the surrounding area.
Practical Information (as of July 2016):

| | |
| --- | --- |
| Features: | Different shaped sandstone rocks- Windcaves (holes sculpted into sandstone rock), Sentinel Rock large rock with safety cables to climb to the top with), Big Rock and a few others. |
| Our Hike: | About a mile for the 3 rock structures, more if you explore nearby trails, not much elevation changes but lots of ups and downs on rock trail, some steep drops, mostly unshaded |
| Fee: | $10 entrance fee |
| Directions: | Head to Mount Diablo's South Gate Entrance (via I-680, exit Diablo Rd) and follow signs to Rock City. Rock City is across from Live Oak Campground |
| Website: | Mount Diablo State Park |
| Other Info: | Bring hats, sunscreen and water, keep kids closeby, watch where you place hands |
Falls Trail
We started our hike on a cold, wet January morning. It had been raining for the last few days, and we had a few hours break from the rain before the clouds rolled in again. Our hike started at Regency Gate,with a step-over creek crossing. We followed Donner Canyon Road, down to Cardinet Oaks Road, and took a right on Falls Trail. Downhill from where Falls Trail started, at the beginning of Cardinet Oaks Trail, was a large stream which threatened the continuation of our hike. But with some determination we made it across. Alternatively, we could have turned right at the junction of Meridian Ridge Road and gone left at Middle Trail to connect to Falls Trail, to avoid the large stream at the base of Cardinet Oaks Trail.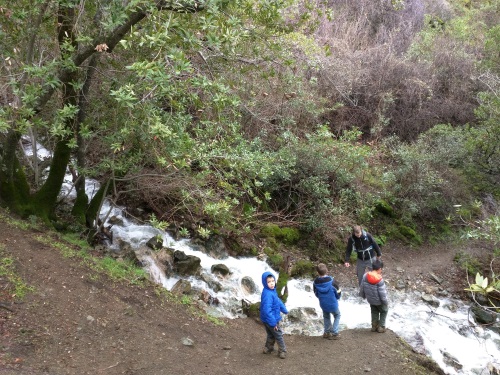 One of many stream crossings at Falls Trail, Mt Diablo State Park, CA
Three Falls appeared in the distance a short ways on the Falls Trail. The Falls Trail itself was 1-1.5 miles in length. The narrow Falls Trail curved around and into the many creeks that come together at the bottom as Donner Creek. With every creek that the trail crossed was a creek crossing usually in the middle of cascading mini waterfalls. Some required a big jump across, others required some wet rock hopping, and others, a helping hand from a fellow hiker. There were a few stream crossings that the kids required a carry-over from dad. Waterproof hiking shoes with good traction will prove their worth here. Hiking poles might have come in handy as well. We crossed a minimum of 5 rushing, cascading creeks/streams, each one unique in its own way. Each creek was surrounded by its own mix of flora, from red currant bushes to canopying trees to small green shrubs. Every so often, the trees opened a view of the surrounding hills and the town of Clayton.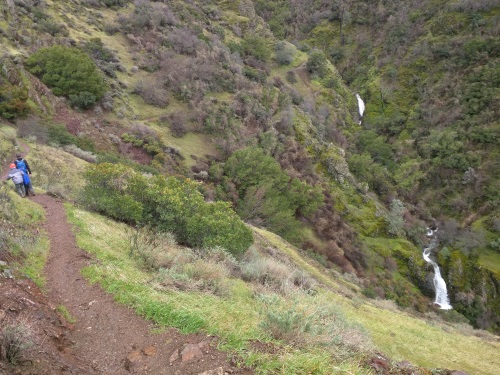 Three Falls in the Distance, Falls Trail, Mt Diablo State Park, CA
Falls Trail connected to Middle Trail to lead us back to Meridian Ridge Road, then back to Donner Canyon Road, to Tick Wood Trail and finally to Back Creek Trail. The remainder of the hike was through a meadow with small trees by a stream (Back Creek). We went on a day preceded by many rainy days, so the trails were slippery and muddy. We met a few downed trees but managed our way around them fairly easily. Most of us managed to stay upright. Our pants were covered in splattered mud up to our shins, so don't wear any clothes you hold dearly.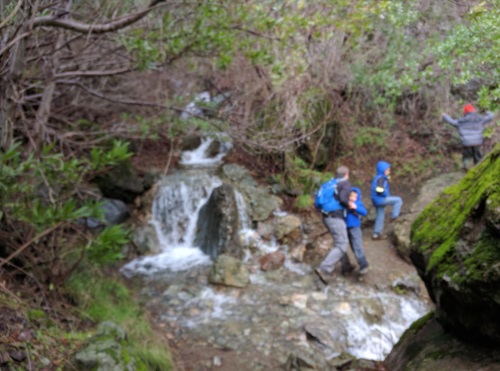 Crossing a cascade (one of many) at Falls Trail, Mt Diablo State Park, CA
Practical Information (as of January 2017):

| | |
| --- | --- |
| Features: | Views of at least 3 waterfalls from afar, cross several streams of cascading water in the Falls area, during rainy season, stream crossing over swollen creeks |
| Our Hike: | 6 miles, 1200 ft elevation gain, moderate to difficult, many stream crossings - some over swollen creeks, muddy and slippery when wet. We took the Regency Gate Trailhead. |
| Fee: | Parking in neighbourhood street at Regency Gate Trailhead is FREE. |
| Directions: | Regency Gate, at the end of Mountaire Parkway in Clayton, California, park in neighbourhood street near trailhead. (Google Maps: Regency Gate Trailhead, Back Creek Trail, Clayton, CA) |
| Things to Include: | waterproof shoes, hiking poles can be useful |
| Amenities: | None at Regency Gate trailhead, use cell phone to download or take a picture of trail map at Regency Gate trailhead |
More California Travel Ideas More U.S.A. Travel Ideas More Worldwide Travel Ideas