Mojave National Preserve
Rings Trail
Though short in distance, this hike was an exciting one. The trailhead we took was off the parking lot loop (Not the picnic area) which led us past some petroglyphs, over some short desert brush, and under giant light colored rocks dotted with many many holes.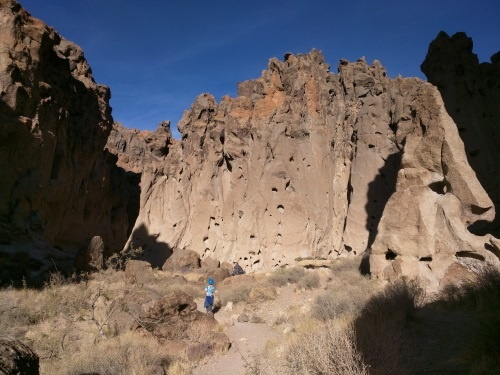 Walking towards Hole in the Wall, Mojave National Preserve
Per the Ranger on duty, there are 2 sections of rings to climb, each 12 feet in height. The first section (going in clockwise direction) had some steps to climb on while holding on to the rings. The second section was not so convenient. I needed a hand going up, as did a couple of my kids. The loop taken in this direction allowed us to climb up the rings, not down, which for a confirmed acrophobe such as myself, was a better option. At the end, there was a lookout with blue railing overlooking the interior of the canyon. Keep kids closeby, there are some sections that have big drops. Watch where you place your hands and feet as rattle snakes call this home. Our hike ended at the picnic area and we took the wide path back to the Visitor Center. Water is a good idea as well.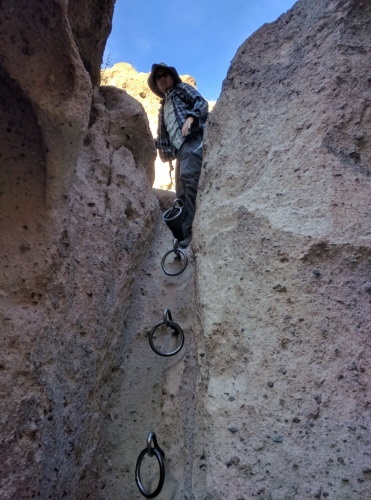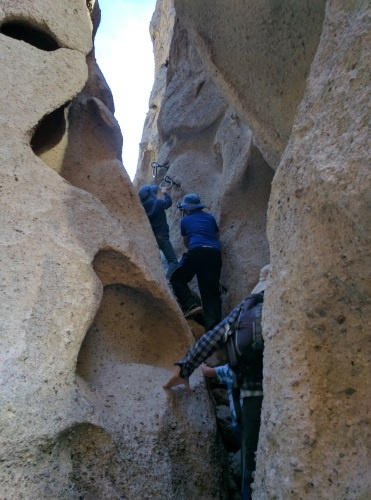 Up the rings on the Rings Trail, Hole-in-the-Wall, Mojave National Preserve
Practical Information (as of December 2017):

| | |
| --- | --- |
| Features: | Walk under a hole-y canyon wall, then through a slot canyon climbing over boulders and rings to go further into Banshee canyon |
| Directions: | Trailhead near Hole-in-the-wall Visitor Center, unpaved packed gravel/dirt roads if approached from Cedar Canyon Road. Approach from Hwy 40 to HITW visitor center paved as of December 2017 |
| Our Hike: | Just under 2 mile loop trail, 170 ft elevation gain, 2 sections of rings to climb - each about 12 feet in height (per Ranger) |
| Fees: | Free |
| Website: | For most updated information, please visit Mojave National Preserve |
| | --NOT a warm weather hike-- |
More California Travel Ideas More U.S.A. Travel Ideas More Worldwide Travel Ideas