Medicine Lake Shield Volcano Complex
Located about 30 miles northeast of Mount Shasta, Medicine Lake is the name of a lake and a volcanic complex. The volcanic complex, called Medicine Lake Shield Volcano (aka Medicine Lake Highlands), is the largest volcano in the Cascade Range by volume. Medicine Lake Highlands, which measures 50 miles by 30 miles (per USGS), covering about 850 square miles, appears more as a highland than a traditional volcano from afar, has its highest elevation reaching about almost 8000 feet. Medicine Lake Volcanic Complex occupies parts of three National Forests, Klamath, Shasta-Trinity and Modoc.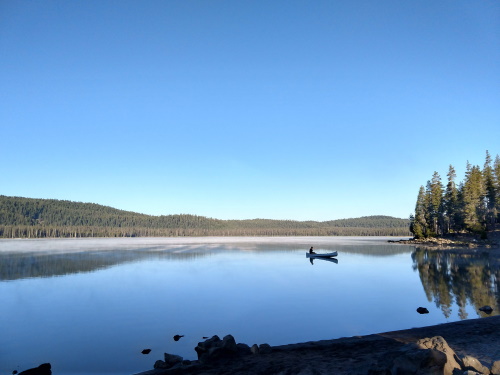 A peaceful morning on Medicine Lake, California's own crater lake
Medicine Lake Volcano consists of many small magma chambers, as opposed to a large one. In its more active days, Medicine Lake Volcano would have looked like Hawaii's current eruptions. Intermittent non-explosive eruptions over the last 13,000 years from more than 200 vents are thought to have formed this shield volcano. These eruptions caused the center of the mountain to be weakened which eventually led to its collapse forming a huge caldera. Around the rim of this crater, new, small volcanoes arose, called rampart volcanoes. Little Hoffman is one such example of a rampart volcano. There are many volcanic features to be seen at Medicine Lake Volcano Complex, including lava flows, obsidian mountains, cinder cones, lava tubes and crater lakes.
Medicine Lake
On the summit of Medicine Lake Shield Volcano, occupying part of the central caldera, lies Medicine Lake. Medicine Lake is a shallow but wide lake measuring about 4 x 7 miles. Medicine Lake is a peaceful lake which hosts campgrounds and small boats trying their luck for fish. Medicine Lake is of spiritual importance to the Native Americans and a few times a year, some campgrounds are closed to accommodate tribal ceremonies.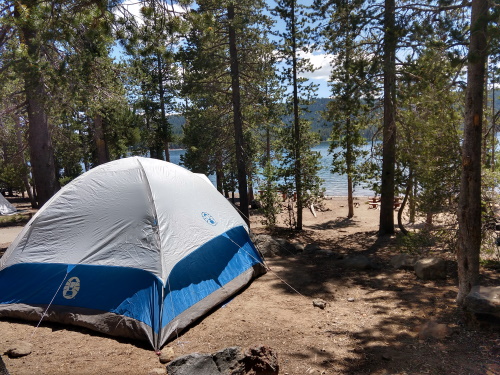 Peek-a-boo water views from our campsite at Hemlock Campground
There are about 75 campsites available at the shores of Medicine Lake, 60 of them first-come-first served. We easily got a spot at one of the FCFS campsites at Hemlock Campground on a Thursday afternoon before the July 4 2020 long weekend. It was not the flattest campsite, but it did have water views. Other campgrounds down the road seemed to have larger sites but not all had water views. At 6770 feet, camping nights were cold, temperatures dipping down to the 30F's. Daytime temperatures were comfortable. The lake itself had a beach, which we walked to on several evenings, and was fairly peaceful, hiding its identity as a volcanic crater lake. Many fisherman went out in canoes in the early morning hours and came back with fish in hand. We had hoped to walk around the lake but could never find a trail that encircled it.
Little Medicine Lake
A short walk from Medicine Lake lies Little Medicine Lake, another little volcanic crater filled with water. This lake was quite a bit smaller than the original Medicine Lake, and every bit as peaceful. Little Medicine Lake is part of a series of craters/eruptions formed along a weakness in the crust of Medicine Lake Shield Complex.
Glass Mountain
On the eastern side of Medicine Lake lies an obsidian flow which erupted about 950 years ago. Glass mountain is almost treeless but purple wildflowers seem to gain a foothold in the hard, hot rocky landscape when we visited in early July. Glass Mountain is dotted with mounds of obsidian and was used as an obsidian quarry by Native Americans to make sharp arrowheads. Obsidian is said to make a more precise cut than diamond, and was traded to Native American tribes as far as 100 miles away. From my kids' perspective, obsidian is interesting because it is also a prized item that is mined in their favorite virtual world, MineCraft.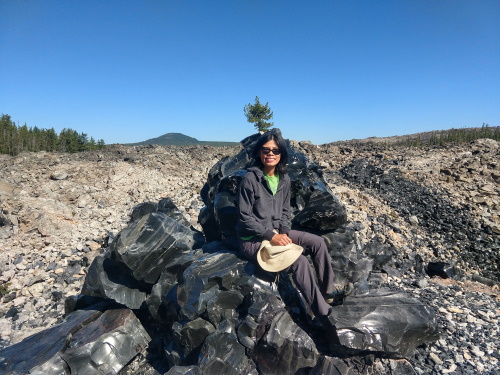 Sitting on my obsidian chair, Glass Mountain, Medicine Lake, CA
Trails, official and unofficial, criss cross the rocky landscape. We entered on one side, hoping to find a loop but managed to exit Glass Mountain on another side, which luckily was just down the street from where we were parked. The route to Glass Mountain was long on Google Offline Maps (indicating a drive duration of 1.5 hours, but there were signs along Highway 49, just south of Medicine Lake, which took us there in less than an hour. Keep a close eye for hiding signs, one of the signs was well-hidden behind a tree. The roads to Glass Mountain were unpaved but presented no challenge to our medium clearance AWD car. You can hike into as far or as close as you would like on Glass Mountain.
Jot Dean Ice Cave
Jot Dean Ice Cave is one of many collapsed lava tubes in the Medicine Lake area. A pocket of cold air lies at the bottom of the shallow cave, so ice exists into the summer, even on our July visit, providing a cool respite from the heat. It was the only cave that we visited that had ice, including the ones in Lava Beds NM. Jot Dean is one of a system of lava tubes that collapsed, providing us with a view of its interior. The hike to the Ice Cave was short. The walk inside the cave was rocky, narrow and steep, much like most other caves in the area.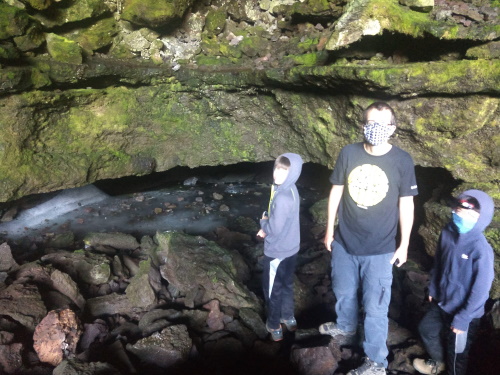 Inside the shallow Jot Dean Ice Cave, Medicine Lake, CA
All around Jot Dean Cave, and along Hwy 49 going north towards Medicine Lake, you will see an extensive lava bed called Giant Crater Lava Flow, much like the ones found in Hawaii. Giant Crater Lava Tube is the largest in the area and possibly in the world, measuring in at a distance of 18 miles. We thought we would go looking for Giant Crater which we found on a map, presumably where Giant Crater Lave Flow originated from. The road that it seems to be on, Forest Road 43N11 was a very narrow, bumpy road and when we got there there was no signage nor trail to Giant Crater. Unwilling to cut our own trails on an empty stomach, we decided to call it a day.
Little Hoffman Lookout
Little Hoffman is one of a series of small volcanoes (called rampart volcanoes) that erupted on the flanks of Medicine Lake Volcano. Little Hoffman is a cinder cone. Its location on the rim of the volcano provides panoramic views of Mount Shasta and a lava flow.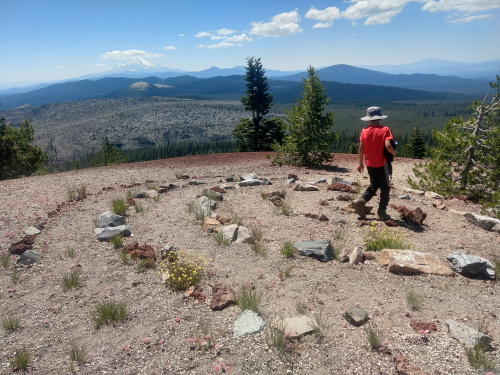 Walking the labyrinth on rampart volcano, Little Hoffman, Medicine Lake, CA
Sitting on the summit of Little Hoffman at 7300 feet is a Fire Lookout Tower. Built in the 1920s, the Lookout Tower was used regularly by the Forest Service until 1978. It is still used today in times of extreme fire danger. Most times however, the lookout tower is available for overnight reservations, though it is quickly snatched up. Understandably so, given the panoramic views of the lookout tower.
The hike up to Little Hoffman was not too long but steep and unshaded. I was not able to measure the distance as my batteries were low. Directions on GPS stated a long round-about way, but we followed signs near the Medicine Lake Recreation Area which led us to the foot of Little Hoffman in less than an hour. The last part of our drive was on unpaved road though nothing that challenged our medium clearance Subaru Outback.
Practical Information (as of July 2020):

| | |
| --- | --- |
| Features: | Explore the biggest volcano in the Cascade Range (by volume), along with all its volcanic features: crater lakes, cinder cones, lava tubes, obsidian mounds, lava flows and more. |
| Directions: | East of McCloud on Hwy 89, near Bartle, exit toward Hwy 15 going north. Take the fork onto Hwy 49 on the right, soon after turning onto Hwy 15. Go past the Giant Crater Lava Flow, and look for signs for Medicine Lake to turn left. |
| Fees: | Free for most features we visited. $14/night for First Come First Served camping at Medicine Lake |
| Website: | For most updated information, please visit: Medicine Lake |
More California Travel Ideas More U.S.A. Travel Ideas More Worldwide Travel Ideas