McArthur-Burney SP Area
McArthur-Burney Memorial State Park
McArthur-Burney Falls is a 129 foot waterfall fed by underground springs about ½ hour north of Subway Cave in Lassen National Park. It is twice as wide as it is tall, making it quite a sight to encounter. It is one of the more impressive falls I have seen. The hike to the bottom of the Falls was 0.3 mile away, paved and busy. Many people stayed at the foot of the falls to enjoy it's mist. Being a little crowd-aversed, we took a few pictures and continued on our way along the 1.2 mile Falls Loop Trail.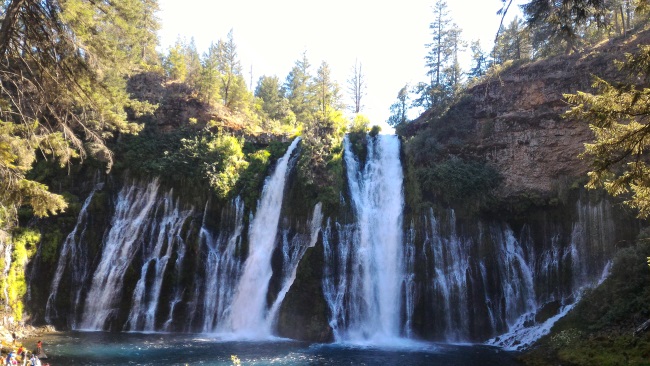 McArthur-Burney Falls, Burney, California - Note the scale of people in the picture to the left to the waterfalls
The remainder of the walk took us along a rushing creek to a bridge. The crowd thinned out right after the falls. The loop turn-around point is at the bridge. We opted to continue straight ahead on the trail that led us to Lake Britton. A sign indicated that the hike to the lake area is 1.2 miles. On our way there we walked beside a chalky white wall. The same chalky sand made up our trail. Just below the white wall, a board informed us that the chalky white wall was part of a 1000 ft thick layer of ancient algae shells that had built up at the bottom of a much deeper ancient Lake Britton. Ancient shelled algae - I wonder what that would have looked like.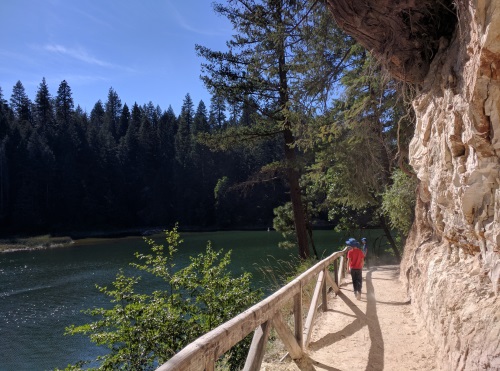 1000 ft deep wall of ancient shelled algae on shores of Lake Britton, Burney, CA
We arrived at McArthur-Burney Falls close to 4pm on a Saturday of a long weekend. A sign at the park gate indicated that parking was full, so we elected to park ½ mile down the road and walked our way in. We spent 2 hours at this park and noted the beautiful cabins within operated by the State Park.
Practical Information (as of July 2016):

| | |
| --- | --- |
| Features: | Tall and wide waterfalls formed, at least partially by ground springs, walk by 1000 ft deep wall composed of ancient algae shell |
| Our Hike: | Falls Loop: 1.2 miles + 1.2 miles lake area trail, slight elevation change with waterfall loop, trail to lake area is flat, mostly shaded trail |
| Fee: | $8, bring cash |
| Address: | 24898 Volcanic Legacy Scenic Byway, Burney, CA |
| Amenities: | boat rental, campground, cabin, restrooms, water |
SETI (Search for Extraterrestrial Intelligence Institute) Radio Observatory
Just south of Burney Falls, in the town of Hat Creek, there lies 42 radio telescopes pointed out to our universe to listen for the sounds of intelligent life. SETI is an institute dedicated to listen to the night sky for any noise that may be coming from alien life. So, if you have ever wondered "Are we alone ?", this agency may one day have the answer to that question.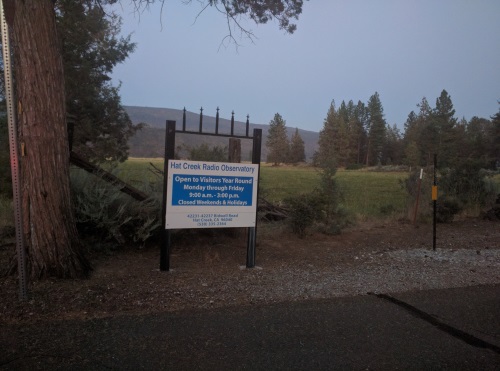 Search for Extraterrestrial Intelligence Institute, Hat Creek, CA
Guided and self-guided tours are available. Unfortunately we did not visit during a time when the institute was open, so we got a view of it from its locked gate and a distant viewpoint on a hillside. I would love to visit again when it is open to learn more.
Practical Information (as of July 2016):

| | |
| --- | --- |
| Features: | Learn how 42 radio telescopes are listening to the noises in space for signs of intelligent life |
| Address: | Hat Creek Radio Observatory, 42231 Bidwell Road, Hat Creek, CA 96040 Phone: (530) 335-2364 |
| Tours: | Self-Guided: available weekdays 9am-3pm (excluding holidays), Guided Tour: by appt |
| Website: | S.E.T.I |
More California Travel Ideas More U.S.A. Travel Ideas More Worldwide Travel Ideas