Lost Coast
Mattole Beach to Sea Lion Gulch
We spent spring break 2021 in early April, exploring the Lost Coast in Northern California. This is a 50+ mile segment of the Northern California coast whose terrain is so rugged, roads cannot be built rendering it accessible only by foot. I had wanted to explore this trail as a backpacking journey but the short notice to get permits and our protesting children banished that thought. So we explored the Lost Coast Trail as out-and-back day trip segments of about 10 miles. We did not cover the entirety of the Lost Coast Trail.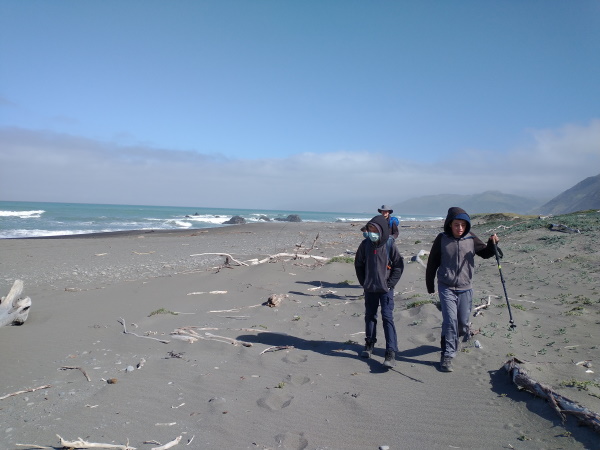 Walking south from Mattole Beach on Lost Coast Trail, California
We started our hike at the northernmost end of the Lost Coast Trail at Mattole Beach. One thing that I kept reading about the Lost Coast Trail is the impassable stretches where, during high tide, the trail is lost to the ocean. I made sure to download tide schedules for each day for that coast before our journey out. My research told me that we needed the tide to be less than 3 feet in height for safe passage, but to be on the safe side I wanted to have crossed that region before it reached 2 feet. We've played keep away from tides before in one of our hikes in Hawaii, and I wasn't about to try again on these rough waters. These impassable stretches can last up to 5 miles each way.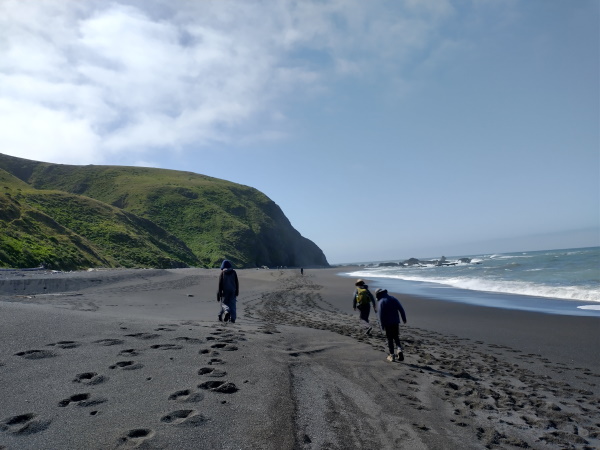 Just north of Impassable Boulder, California
The road to Mattole Beach was a narrow and winding one, making us appreciate the destination when we finally arrived. We passed the town of Ferndale along the way, which was a pretty town with Victorian styled buildings. We started our hike at about 10am at Mattole Beach. Given that low tide started at 11:30am at the first impassable boulder, we had plenty of company leaving at that time on that day. We opted to walk closer to the water instead of the trail more inland to get a better view of the sea. Walking on wet sand was also easier than walking on dry sand. To our surprise we came across a few strange creatures along the way. The nervous mom that I am, I was constantly keeping the boys in check, reminding them to stay away from the water to avoid being swallowed by sneaker waves. Impassable Boulder, as it is called, was a walk on the (wet compacted sandy) beach since the water had recently receded as our tide schedule had predicted.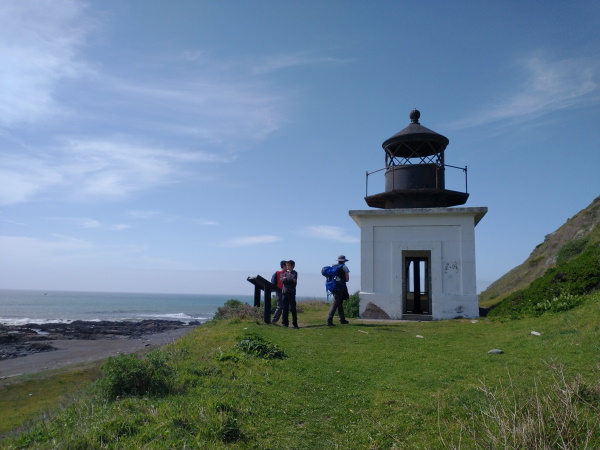 Punta Gorda Lighthouse on our trip back north, Lost Coast Trail, California
After Impassable Boulder, our next destination was Punta Gorda Lighthouse. There was a small community here of lightkeepers while the lighthouse was in use, between 1912-1951. The weather and terrain was so rugged that the lighthouse was eventually abandoned in favor of a lighted offshore buoy to warn ships of sunken rocks just offshore. The foundations of some of the buildings near Punta Gorda Lighthouse remain along with the lighthouse itself minus the light. A nice surprise at the lighthouse was the colony sunbathing sea lions and elephant seals. We took a few pictures and went on our way.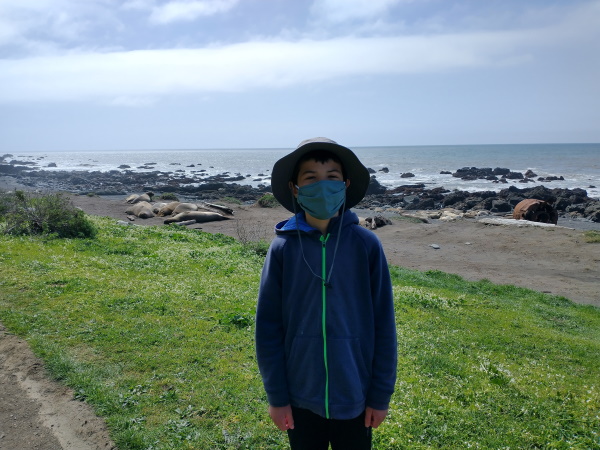 Colony of sea lions basking in the sun near Punta Gorda Lighthouse, Lost Coast Trail, California
Beyond Punta Gorda, we picked up the trail as it meandered on the side of the cliff above the ocean. There was an easy creek crossing or two. The views were distracting. Our next stop was at Sea Lion Gulch, a narrow ravine with a creek flowing into the ocean near an offshore rock populated by noisy sea lions. Depending on the direction of the wind, you may be able to smell the sea lions too. We had lunch on the cliff just before the Sea Lion Gulch before making our way onto the next impassable region. Sea Lion Gulch itself required a stream crossing on wobbly rocks; we all managed to make it through safely, albeit with slightly wet feet.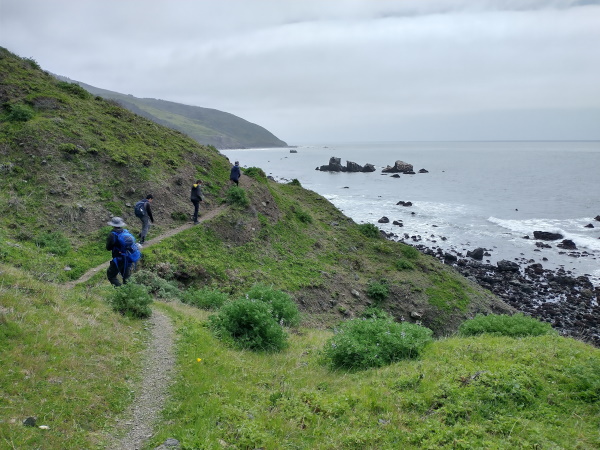 Cliffside trail at Lost Coast, California
The next impassable stretch was 3 to 4 miles long one way. I had hoped to go about 2 miles of it to ensure that we had enough time to make it past that region in low tide. The beach was peppered with rocks which took more time and patience than my boys were willing to tolerate. So we turned back after a mile into the passable region and headed back north for Mattole Beach where our car was parked.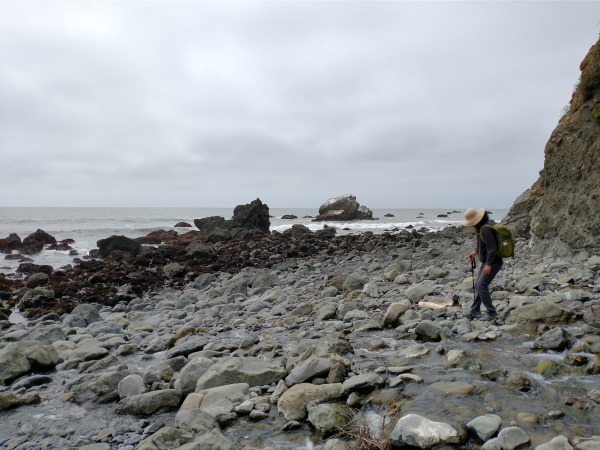 The beach gets rocky near Sea Lion Gulch near one of the Impassable stretches of the Lost Coast, California
The route back was pretty uneventful except for the strong wind, which carried sand towards our sun kissed faces.
If you are planning on this hike, please check tide schedules, trail maps, wind speed and sunset times. Tides are specific to theexact day of your hike. As of 2021, permits are not required for day hikes. Overnight hikes require permits as well as bear canisters. Shuttles are available by advance reservation if you're looking to do a one way hike. Please respect the ocean and its strength.
Practical Information (as of April 2021):

| | |
| --- | --- |
| Features: | Walk along the rugged coastline of the Pacific Ocean with continuous panoramic views of the ocean while observing sunbathing sea lions |
| Our Hike: | 11-12 miles return on trails that are sometimes sandy or rocky. Some elevation gain, Garmin recorded about 1000 ft gain roundtrip. Goes through a couple of impassable zones where the trail is not passable at higher water levels - check tide tables and pass only if tide is in safe zone. |
| Fee: | Parking is free for dayhikes, permits required for overnight trips |
| Don't Forget: | Hats, sunscreen, rain jacket, water |
Enchanted Forest at Usal Beach
Do you have dreams of seeing redwood trees that reach up towards the heavens like large candelabras? Then the Enchanted Forest is what will satisfy your curiosity. These redwoods are as old as 500 years old. Their shapes are probably caused by the coastal winds and the salty air. There are a couple dozen of these candelabra trees growing here.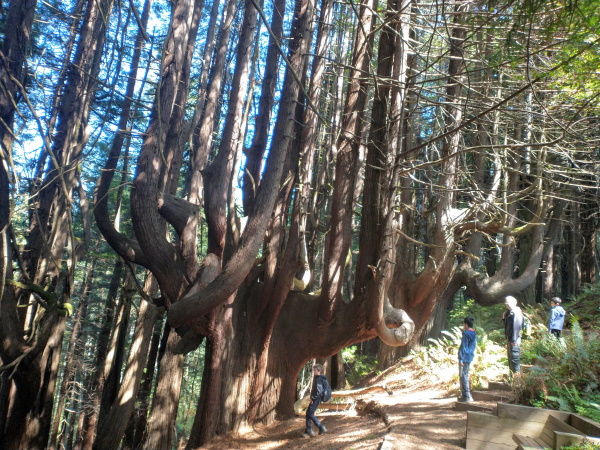 Walking under 500 year old redwood trees growing in the form of a candelabra, near Usal Beach, CA
We started our hike at the first sign that read Peter Douglas Trail when coming up on Usal Road. It was a short 2 to 3 mile hike to Usal Beach campground each way, with the Candelabras appearing on our way down. There were some pretty views of the ocean at the top near our starting spot. There was also a picnic table not too far from the starting point. We had plans of getting to the beach but the boys had other ideas. Instead we tried to find a shortcut to the beach from the campground but too many fast flowing creeks stood in our way. We soon tired of this and went on our way back.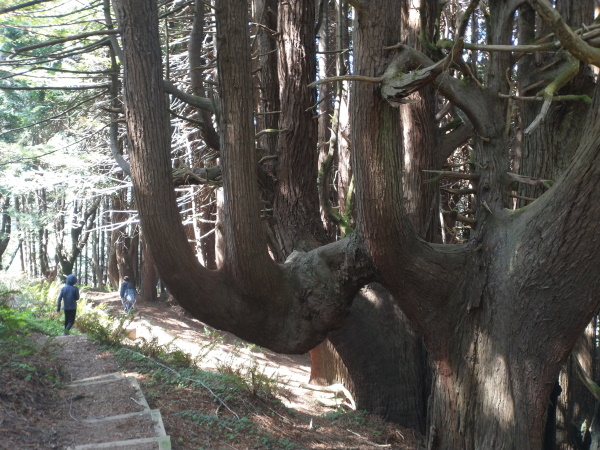 Candelabra redwoods near Usal Beach, California
The road in, Usal Road, was a rough, narrow and windy road in many parts. In fact the reason we stopped at the first trail sign was to reduce the amount of time we would have to drive on the winding bumpy one lane road. I get nervous when I can't see oncoming traffic on narrow roads with big drop offs. I am glad we stopped where we did though, we got to enjoy the ocean views on our terms. I should mention that the road is said to be impassable when wet. When dry, a 4x4 is recommended. We managed alright in our AWD Subaru Outback. There was a slightly wider section near our trailhead that would probably fit for a couple of cars. (We usually don't park on narrow roads such as this if the wide area fits only one car so that opposite-direction cars that need to pass each other will be able to do so.) If a car is already parked at the first "Peter Douglas Trail" sign, go on a short way to the next curve to find more room for parking.
Usal Beach is at the southern end of the southern portion of the Lost Coast Trail. You may walk up to these trees from the beach to extend your 52 mile journey on the Lost Coast Trail if you are so inclined.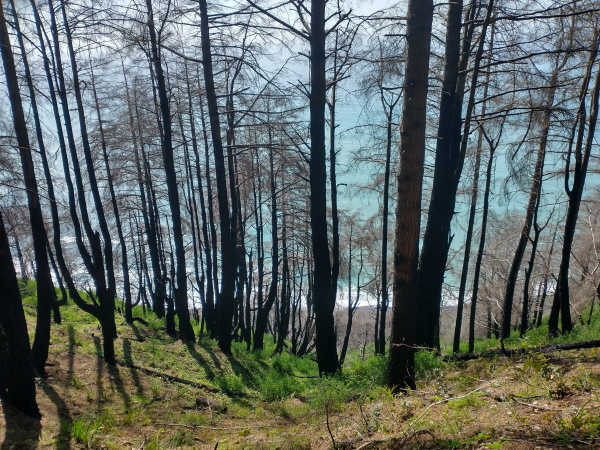 Ocean views through the trees near Usal Beach, California
Beyond these trees, if you head further downhill, you will come upon Usal Beach Campground, then Usal Beach. We had protesters in our group so we made it only as far as the Campground. The campground was empty on the Monday in early April that we visited during Spring Break.
Practical Information (as of April 2021):

| | |
| --- | --- |
| Features: | Walk amongst 500 year old red woods whose branches reach upwards for the sky like giant candelabra. Enjoy panoramic ocean views on the walk down to the candelabra trees |
| Our Hike: | 5 to 6 miles return on sometimes shady, sometimes shadeless trail (about 50% of each) with panoramic views of the ocean below. Road in was narrow (one lane in many places where there is a big dropoff), bumpy and winding |
| Fee: | Limited parking is free for dayhikes |
| Don't Forget: | Hats, sunscreen, water |
Chinquapin Loop from Hidden Valley Trailhead
Near the middle section of the Lost Coast Trail where the north section meets the south section, lies Hidden Valley Trailhead. We walked about 5 miles each way going south from Hidden Valley Trail. Our hike was mostly under trees on the cliffs above the ocean with one or two peekaboo views of the ocean. Our turn around point was Chinquapin Loop. We enjoyed lunch about midway through Chinquapin Loop. If we were to do it over again, I would probably skip this hike. But having done it, it gave us a small taste of another part of the Lost Coast Trail.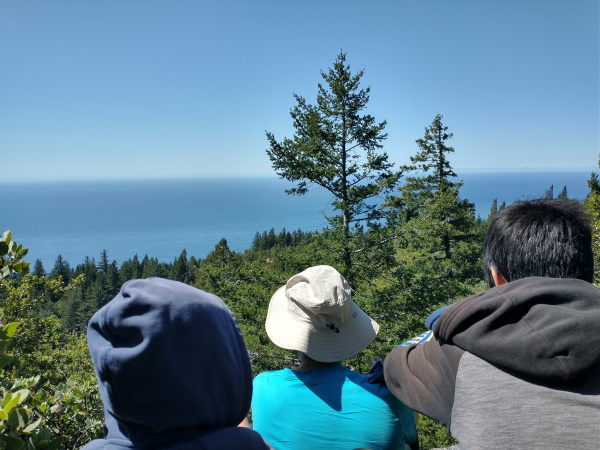 Our peek-a-boo view of the ocean during lunch at Chinquapin Loop, Lost Coast Trail, CA
After our walkabout from Hidden Valley Trail, we took a quick drive to Black Sand Beach and gave our tired muscles and feet a natural hot stone massage while enjoying a quick nap to the sounds of crashing waves - from a safe distance of course. Black Sand Beach is the exit point of the northern section of the Lost Coast Trail.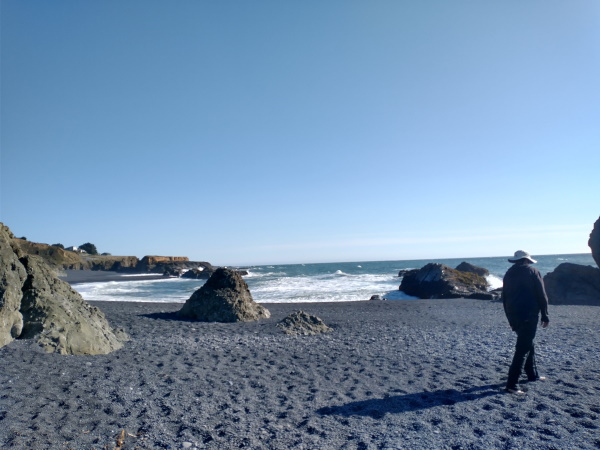 Enjoying the hot massaging of the rocks at Black Sands Beach, California
We had planned to have dinner at the Lighthouse at Shelter Cove while enjoying the sunset. However Shelter Cove did not provide sufficient shelter from the strong winds which consistently managed to extinguish our camp stove. We did have a chance to check out a few tide pools while enjoying the pre-sunset sky.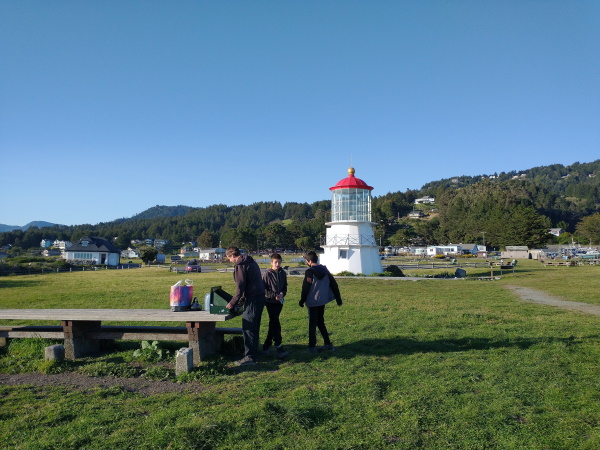 Our attempt to have dinner while enjoying the sunset at Shelter Cove, California
Practical Information (as of April 2021):

| | |
| --- | --- |
| Features: | Explore the northern end of the southern part of the Lost Coast and Black Sand Beach |
| Our Hike: | About 10 miles rt, 2600 ft gain, mostly under the shade with minimal views of the ocean starting at Hidden Valley Trailhead and looping back to the trailhead at Chinquapin Loop. |
| Fee: | Free for dayhikes |
More California Travel Ideas More U.S.A. Travel Ideas More Worldwide Travel Ideas