Lava Beds National Monument
Lava Beds National Monument lies on the northeast flank of Medicine Lake Shield Volcano Complex and covers about 10% of the volcano's surface area. It consists of many volcanic features resulting from eruptions from the Medicine Lake Shield Volcano including almost 700 lava tube caves. Mammoth Crater is one of the vents on the flanks of Medicine Lake Shield Volcano, and is responsible for about 70% of the lava tube caves in Lava Beds National Monument.
Lava tubes here were formed from flows 10,500 to 65,000 years ago. As lava flows, it begins to cool and solidify on the top and sides. Once the eruption stops, the tube empties and drains, and a new lava tube cave is born. As the rock cools, the inner surface of the tube cracks and collapses, producing openings to the surface, which we see as cave entrances/roofs.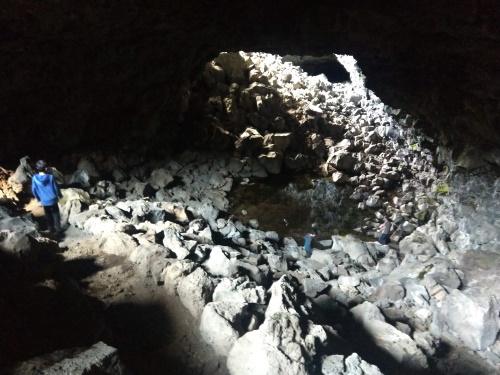 Entering Hepp Ice Cave, but the ice was very subtle
We visited several collapsed lava tubes during our one-day visit to Lava Beds. Note that most caves are cold in temperature, narrow, dark, rough in terrain and enclosed enough to imitate an indoor environment. We used jackets, flashlights, masks and gloves for handrails (since we were visiting during the COVID pandemic. Explore at your own risk). Some caves had low ceilings, some had high floors and low ceilings, providing only for crawlspace. Pick up a Cave Guide at the Visitor Center when you drop by to get your Cave Permit. We mostly visited the easy and moderate caves. The ones that required agility tended to be on the moderate or difficult side, and proved to require more agility than we were willing to give.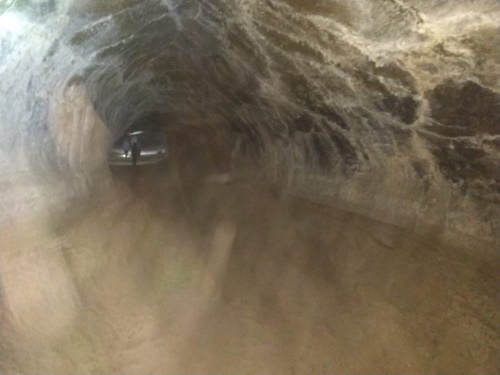 Valentine Cave - the Cave with massive cracks on its roof, we didn't spend too much time in there after noticing the cracks.
Some of the caves we visited: Sunshine Cave: Cave with a few collapsed sections in the roof, providing for sunshine to come through. Sentinel Cave: Cave with an exit, Start at Lower and go to Upper, or vice versa. Valentine Cave: Wide cave with high ceilings that sported many large cracks. Golden Dome: Cave walls/roofs are golden due to yellowish moss growth Mushpot Cave: Closest to Visitor Center, busiest one, only lit cave, though dimly Heppe Ice Cave: Finding the ice required a lot of looking and some imagination Boulevard Cave: Cave with very low ceiling, we walked a little ways with our necks bent until the cave required more bending than we were willing to give.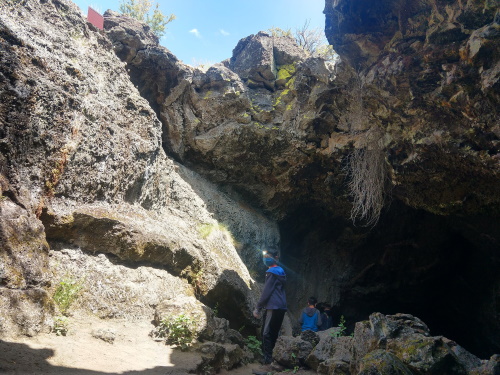 Under one of a few collapsed sections of Sunshine Cave
At the northern edge of Lava Beds, the flowing lava encountered the southern edge of ancient TuleLake, forming pillow lava seen at Captain Jack's stronghold, an area where about 50 Modoc tribesmans held ground against the British Army for almost a year. The Modocs used the pillow lava to their advantage to defeat the British in many battles, but ultimately lost the war.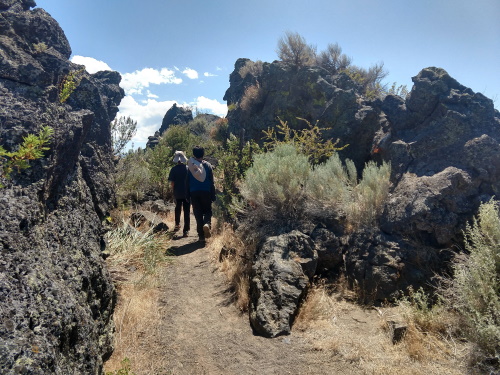 Walking through the maze of pillow lava at Captain Jack's Stronghold
Practical Information (as of July 2020):

| | |
| --- | --- |
| Features: | Explore many collapsed lava tubes on fairly rough rocky terrain |
| Directions: | Check Lava Beds NM website for details. |
| Website: | For most updated information, please visit Lava Beds NM |
| | *** Check website for details on COVID, fire and seasonal closures.*** |
More California Travel Ideas More U.S.A. Travel Ideas More Worldwide Travel Ideas