Lake Tahoe
Chimney Beach to Secret Cove
Ever since I saw a picture of Secret Cove in Eastern Lake Tahoe, I knew I had to visit. The clear blue water interspersed with light granite boulders just spoke to me. We started our trip at 5:20 am for an almost 4-hour trip to east Lake Tahoe. We parked at a US Forest Service parking lot across the street from Chimney Beach and started our ½ mile gentle downhill walk to the first beach, Chimney Beach. Chimney Beach has its namesake from a chimney standing on its shore, the remains of an old cabin. We arrived at Chimney Beach at 9:30 am, found the company of perhaps 10 other people there. It was much too cold for us to take a dip then at 50F, so we decided to push on further down shore.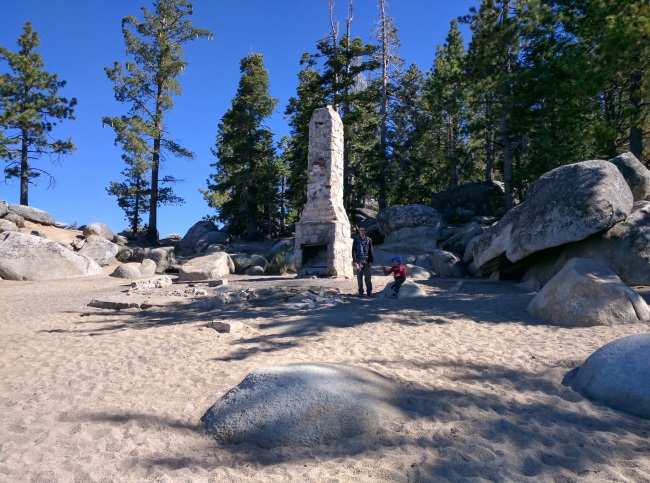 Chimney at Chimney Beach, Lake Tahoe, Nevada
Our goal was to find a trail from Chimney Beach to Skunk Harbor, preferably along Lake Tahoe's shoreline so we can take in the beautiful views of the clear blue water crashing onto the rocky shore. I knew that there was a Fire Road running from Chimney Beach to Secret Cove, but wasn't sure about the views. We found a footpath coming out of Chimney Beach heading south and decided to follow it. Happily, that little footpath led us over and between boulders to the next beach, Secret Cove, all the time passing by amazing views of rocky outcrops surrounded by water so clear you could see the very bottom. As we closed in on Secret Cove, a "Clothing Optional" sign reminded us of what was ahead. Here, unlike at Chimney Beach, most sunbathers took advantage of this option.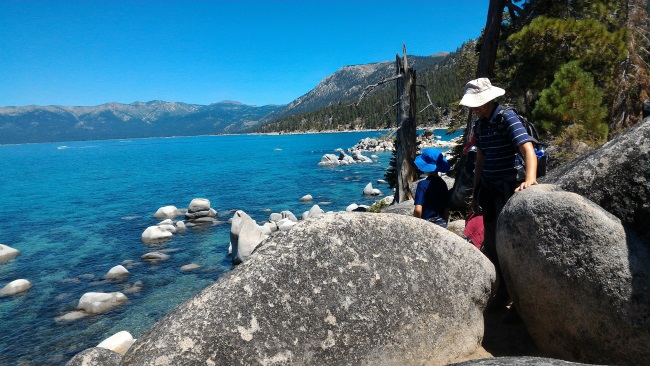 Squeezing between boulders to find our footpath along the Eastern shores of Lake Tahoe
It was here that we decided to head back towards the coves that we spotted earlier on. Happily the occupants had moved on and we made our way down between some boulders to a quiet blue cove. The large boulders that decorated our cove were a lot sharper than it looked from afar. We were glad we brought flip flops to walk on the rocks and the granite sand. Two of my sons rubbed their legs on the rock and had blood flowing down their leg within a few minutes of our arrival there. The cold water was a nice change from our warm sunny 4 mile walk. We spent 2 hours at that cove by ourselves, having lunch, wading, building sand castles, having water fights and finding our own rocks to soak up the sun on.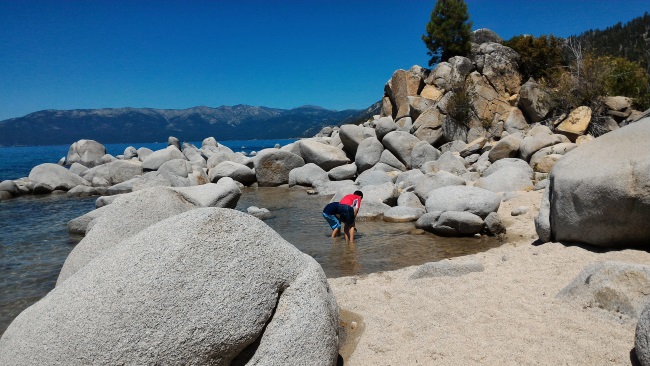 Enjoying our very own secret cove
A couple hours later, we headed out from our cove going towards the Fire Road, but quickly realized that the Fire Road was not as scenic as our foot trail along the shore, nor was it very quiet being within sight of the highway. We soon found out that cars go on this Fire Road as well and had to jump off the road to allow a couple of cars to go pass. We spent an hour enjoying our pre-dinner snack back at Chimney Beach afterwards, then tried to walk north to Sand Harbor Beach along the shore. We were quickly stopped by a cliff of fallen boulders that went on for a distance. By now, it was getting late, and we decided to call it a day.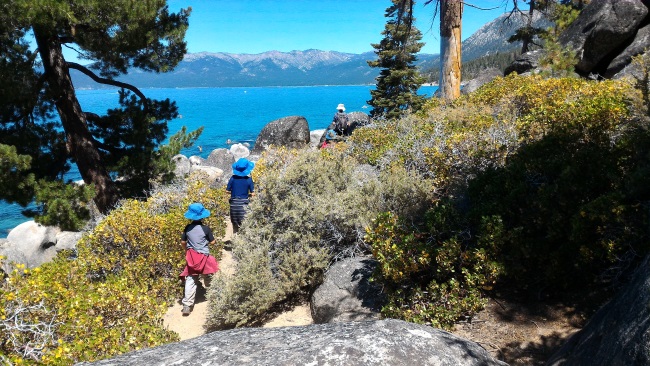 Views from our footpath along the Eastern shores of Lake Tahoe
Even though this hike is technically in Nevada, I have included it in my list of "California Hikes" since it is just across the border from California. ***For alternative shorter hikes, you can park close to Chimney Beach for about 1/2 mile hike down to Chimney Beach. You can walk south as far (or as close) as you'd like, then return the way you came. Your hike can be much shorter than our 7 miler if you so wish. The distance along the Fire Road is also shorter but you would not get the beautiful scenery that you would along the shore. The Fire Road is also in close proximity of Hwy 28 where you could see and hear traffic as it goes by. Our hike to Secret Cove from Chimney Beach and back was around 3 miles along the shoreline footpath. The views were just as amazing heading back.*** If you're looking for a clothing-required beach, I believe the State Parks require clothing. 8)
Practical Information (as of August 2016): Chimney Beach to Secret Cove

| | |
| --- | --- |
| Features: | Discover 5 beaches and coves (clothing-optional) on Lake Tahoe's eastern shores, amazing views of clear blue water with granite boulders interspersed in the water and along the foot trail for some fun bouldering along the way, water play and sunning on boulders afterwards, Beaches are clothing-optional |
| Our Hike: | 7 mile shoreline footpath, mostly unshaded, minimal elevation change, some climbing over, under and between boulders, for shorter alternatives, see above *** |
| Parking Fee: | USFS Parking Free slightly north and across street from Chimney Beach area. Chimney Beach Parking $6, Limited parking in both, Arrive early |
| Directions: | About 2.5 miles south of Sand Harbor Beach along Hwy 28 in Nevada. (Approximate GPS 39.165372, -119.932085) |
| Amenities: | Minimal, vault toilet at Chimney Beach parking, no toilets at the beach, porta-potty on fire road trail |
Maggie's Peak, Desolation Wilderness
This was the first trip out to Lake Tahoe. We wanted our first trip there to be an overview of the entire area, to see everything from above. I had seen pictures of views from Maggie's Peak and decided that would be our hike of the day.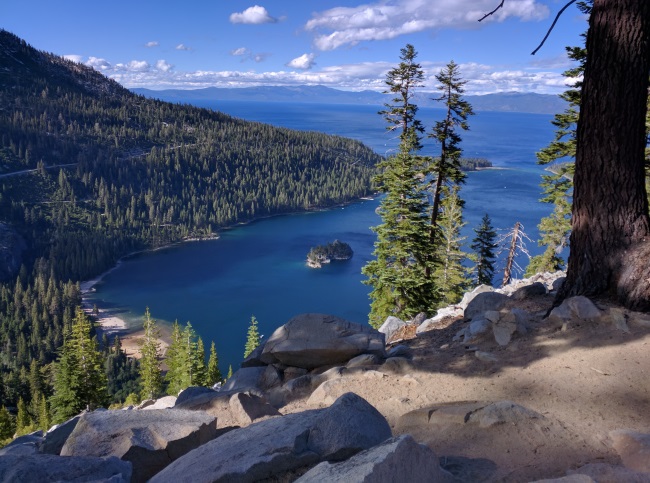 Fannette Island In Emerald Bay of Lake Tahoe, California
Our hike started just outside the Eagle Falls Picnic area. We took a picture of the trail map of the area, filled out a day permit for Desolation Wilderness and were on our way. Not long after we started our hike, we arrived at Eagle Falls. We were in good company of other hikers until Eagle Lake. We stopped at Eagle Lake for a quick lunch, then pressed on. Just beyond Eagle Lake, the crowds thinned out substantially.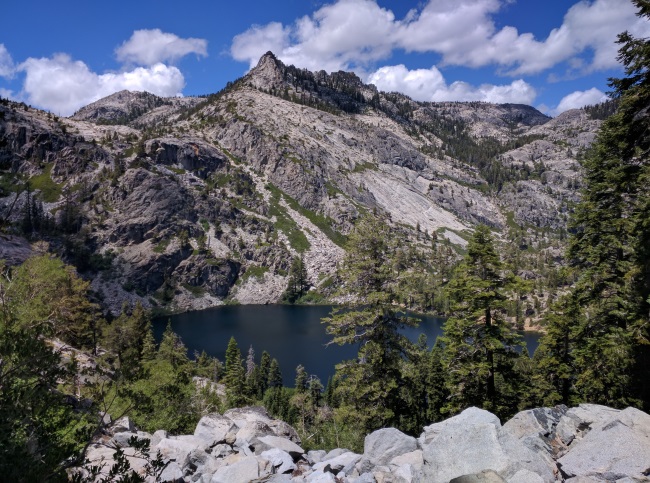 Eagle Lake, South Lake Tahoe, California
The trail brought us just below tall Granite peaks with views of more Granite peaks cradling Eagle Lake below us. Soon we were surrounded by Granite - Granite below our feet, in the horizon and all around. It was a good incline here, my youngest requiring many breaks here. We passed through a section that was lush with green shrubs, then found the reason for it, a small Creek flowing through.
Soon, we got to the trail junction with a sign indicating the direction of our intended trail, Bayview Trail. A hiker we passed suggested a good viewpoint just ahead, so we thought we would try to find it by going towards the Velma Lakes. After about ½ mile, we decided to bail on it, not wanting to make the hike longer than it needed to be, as our little one was already close to his maximum hike distance with our intended hike. It was here that my husband wished he had brought his jacket. The wind made it quite a bit cooler here than down below.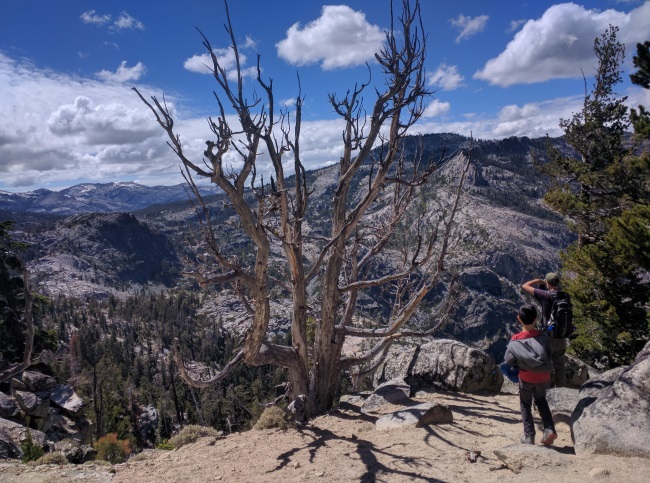 View of more granite, just below Maggie's Peak, Desolation Wilderness, California
Granite boulders marked the end of the summit. We did not stay long, just long enough for some pictures while the boys sat still. The boys got some new found energy, so we quickly had to descend. The boys were delighted to find some snow near the peak, and a snowball fight ensued. As we made our way down, we passed a sea of green low plants with boulders jutting out which led us towards Granite Lake. The rest of our way down we passed some rock outcrops with amazing views of Fannette Island in Emerald Bay, Lake Tahoe's only island and more views of Lake Tahoe. Some rock outcrops, some trees and we got to the beginning of Bayview Campground, then crossed the roadway to see the viewpoint at Inspiration Point. We were also looking for a trail heading towards Eagle Falls Picnic area where our car was parked, but to no avail. At that point, my husband volunteered to jog over to the car so our young kids would not have to walk on the curvy narrow roadway. He indicated that that portion felt like it was probably a mile long.

View from South Maggie's Peak - Fallen Leaf Lake (far right), Lake Tahoe, Cascade Lake (foreground), Emerald Bay (connected to Lake Tahoe). Left foreground (behind tree) is Granite Lake
We arrived in the trailhead area at around 10 am. There was a small parking lot at the end of the campground which was full and spilling over onto the roadway. I was not deterred as I knew the views of this hike was going to be worth the trouble. We spent the next hour or so looking for parking between Eagles Falls Picnic Trailhead and back to Bayview Campground, finally settling on stopping to stalk for a parking spot. The entire hike took just under 6 hours. *As for mileage, we had 2 apps running, Fit and Strava. Fit indicated a distance of 9.2 miles before the last mile long portion that my husband did, Strava clocked in 8.4 miles. The next day though Fit changed its measurement and stated a distance of 6 miles. So with my sources of information giving me different information, I will clock in this hike at somewhere between 7 miles and 10 miles to include the last mile portion on the roadway to make this hike a complete loop. Sorry I can't be more accurate or precise.* You can also park at the Bayview Campground and do the loop backwards. Inspiration Point viewpoint is across the street from the Bayview Trailhead and was worth a stop after this hike, even if only to compare the views from there and up above.
The drive up Emerald Bay Road (Hwy 89) was also an interesting one, with the roadway going over a narrow ridge between Emerald Bay and Cascade Lake, overlooking both water bodies from above. Before the ridge, the road goes between Lake Tahoe and Cascade Lake with peek-a-boo views of Lake Tahoe.
If you're looking for a shorter hike than the one we took, you can hike to either Granite Lake (from Bayview Campground) or Eagle Lake (from Eagle Falls Picnic Area) for a 2 mile round trip trail, though both have an incline (~1000 ft). If you are going to Eagle Lake, try to go just beyond Eagle Lake shore area, slightly into Desolation Wilderness (fill out a permit at start of trail) to get an overview of the lake as pictured above. The views are pretty cool, both of the lake and of the granite peaks that surround the lake and trail. Another way to shorten the hike is to do an out-and-back hike to South Maggie's Peak from Bayview Trailhead for an approximately 4 mile hike, though still with an almost 2000 ft elevation gain. The top of this hike at South Maggie's Peak will give you amazing views of the 4 blue lakes and 1 bay below.
Practical Information (as of July 2016): Maggie's Peak, Desolation Wilderness

| | |
| --- | --- |
| Features: | Amazing aerial views of 5-6 lakes and bay all formed by glaciers, visit 2 of these glacial lakes, view of 1 waterfall, amazing Granite landscape |
| Our Hike: | 7-10 miles*(see above for explanation), about 2000 ft elevation change, high elevation (trail goes from about 6500 ft to 8500 ft), partially shaded, if you're going beyond Eagle Lake for the day, you'll need a Wilderness day permit which you can obtain at the trailhead (free), fill one out for your group and be on your way. |
| Fee: | $5 in official parking spots, Fill out self permit (free) at trailhead |
| Directions: | From South Lake Tahoe, drive about 8 miles north on Hwy 89 (Emerald Bay Rd) to Bayview Campground trailhead or Eagle Falls Picnic Area. Eagle Falls Picnic area is almost across the street from Vikingsholm parking area. Trailheads are at the end of picnic area and campground. Parking lots at these trailheads were very crowded. Arrive early. |
| Things to Include: | Jacket, wear sunscreen, hats, snacks, water, flashlights (in case the hike takes longer than anticipated), picture of trail maps found at trailhead |
Mount Rose
Our hike to the top of the second highest peak in Lake Tahoe was one alongside many blooming wildflowers. The first 2.5 miles was fairly flat. The trail was mostly clear with short sections over icy snow that had not yet melted. A waterfall greeted us at the end of the first 2.5 miles.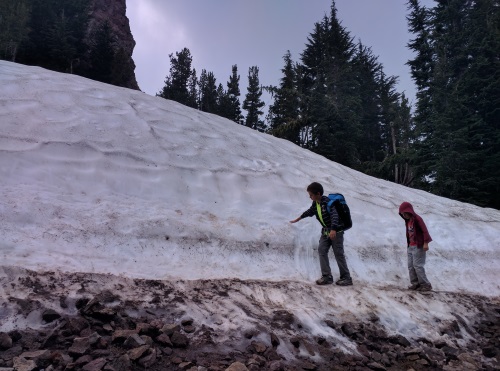 Snow Crossing along trail to Mt Rose summit
The last 2.5 miles was where all the elevation gain occurred. About 2500 feet elevation gain in the next 2.5 miles forced us to take many breaks to enjoy the colorful wildflowers along the way. That and my loudly protesting son. He does not like elevation gains and he made it known.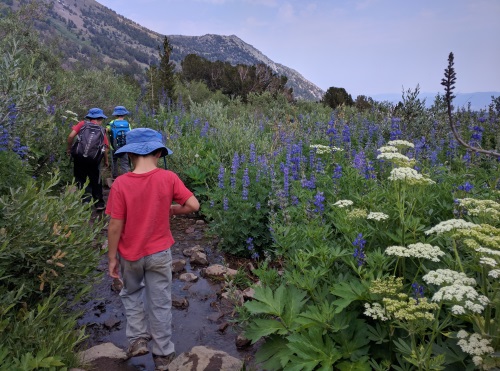 Wildflowers along the way
There were a few more stream and snow crossings, but eventually the trees and flowers gave way to small shrubs, then moss and lichens. When we finally made it to the top, the view of Lake Tahoe in the distance was not as beautiful and crisp as I had hoped. It was a hazy day (due to a wildfire burning further south).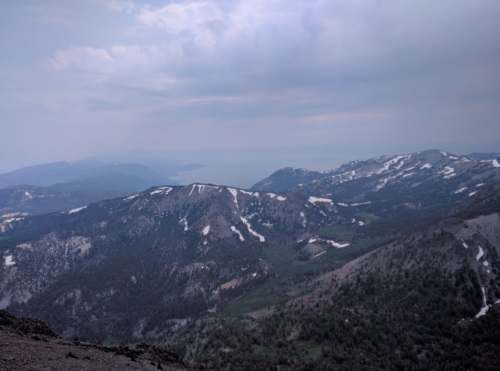 The view from atop Mt. Rose on a hazy day, Lake Tahoe in the horizon
Our entire hike was about 11 miles roundtrip. We started our hike at around 11am. There was a large parking lot, though was completely full as were the decent parking lots along the road. We had to park on the slanted side of the packed gravel shoulder, which worried me during our hike. Our low clearance 2WD sedan is not known for great maneuvering. Luckily, my husband was right, and we made it out of the spot safely and without the need for a tow truck.
Practical Information (as of August 2017): Mount Rose

| | |
| --- | --- |
| Features: | Walk among wildflowers (seasonal) to a changing hillside landscape, past a waterfall and onto the summit of Lake Tahoe's second tallest mountain |
| Our Hike: | 11 miles rt, about 2500 ft elevation gain, most elevation gain in the second half of the hike there. So 2500 ft elevation gain in 2.5 miles |
| Fee: | Free |
| Amenities: | At trailhead, large parking lot, though it does get full |
More California Travel Ideas More U.S.A. Travel Ideas More Worldwide Travel Ideas