Julia Pfeiffer Burns State Park
McWay Falls Trail
South of Point Lobos State Reserve, about an hour's drive down Highway 1's winding road, you'll find a view that might be familiar. I had seen the classic picture of Big Sur many times - waterfalls dropping onto a white sand beach just feet from blue-green waters of the ocean. A short hike (less than a mile) led me down to this beautiful view.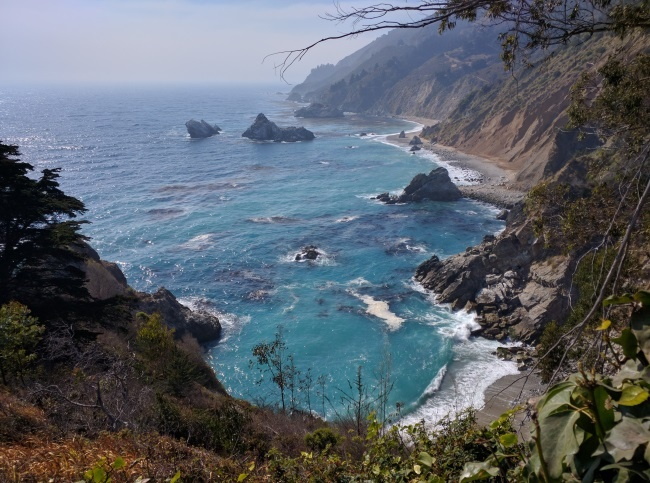 Approaching the View, Julia Pfeiffer Burns State Park, California
We arrived at Julia Pfeiffer Burns Park close to 4 pm. After having a late lunch, we drove past the a "Parking lot is full" sign. We found parking at a pullout probably about ¼ mile down the road. Luckily there was a trail behind a locked gate that walked us safely to the McWay Falls Overlook Trail. This trail is a busy one, and unfolds the view of this classic Big Sur picture slowly. Keep walking over the bridge to the end of the trail and you will see what I mean. I could have spent a few hours staring at this view. I was surprised to see my excited balls of energy (aka my kids) stop a few times to stare at this amazing view. There is no access to that beautiful beach below, so don't be disappointed.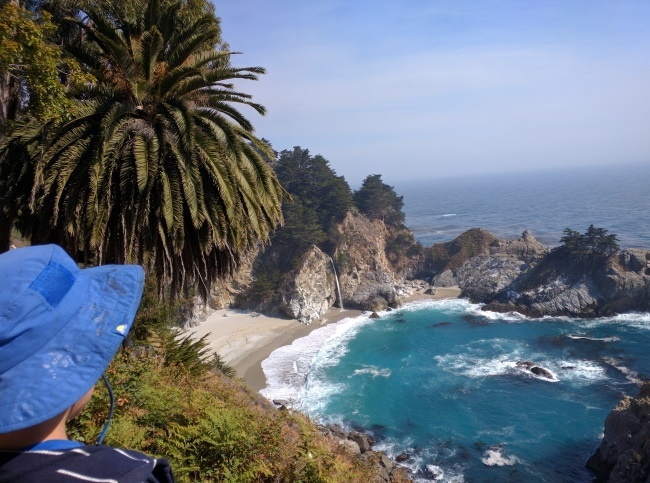 The classic view, McWay Falls falling directly onto an ocean beach, Julia Pfeiffer Burns State Park, California
After seeing this view we wanted to explore this park some more, so we walked under the highway (in a pedestrian-only tunnel) to a water wheel that generated electricity a century ago. This wheel sat over a creek that looked like the creek the famous waterfalls (McWay Falls) flows from. The kids wanted to call it a day after that, so we made our way back to the car.
I had originally wanted to hike into the redwoods into Ewoldsen Trail (about 5 miles) for the amazing ocean views it affords but it was late in the day and there was a wildfire that had already burned 3000 acres about 30 minutes north of us. So we called it a day. There are two State Parks with Pfeiffer in its name along the same stretch of highway about a 20 minute drive from one another. This one has "Julia" in it.
Practical Information (as of July 2016):

| | |
| --- | --- |
| Features: | See a classic picture of Big Sur - waterfalls falling onto white sand beach just feet from beautiful blue-green ocean waters |
| Our Hike: | Less than 1 mile to waterfall overlook, ~2 miles including our short side excursions and walk to parking. |
| Fee: | $10 for parking inside the park, you may park at other CA state Parks until sundown with this $10 parking pass, subject to parking availability, some highway shoulder parking |
| Address: | 52801 California State Route 1, Big Sur, CA 93920 |
| Website: | Julia Pfeiffer Burns State Park - check park website before leaving home for any closures. |
More California Travel Ideas More U.S.A. Travel Ideas More Worldwide Travel Ideas