Devil's Punchbowl
We arrived for our hike at Devil's Punchbowl just before 5pm. It was a short 1 mile loop hike so we were comfortable with starting the hike later in the day. The trailhead started just past the Visitor Center. To the right of the trailhead, there is an amphitheater view of the Punchbowl area below. The rocks below were almost scalloped in shape and pushed up on its side at almost 90 degree angles. These rocks were tilted to their present angles by activity along nearby faults. The view from the top was amazing.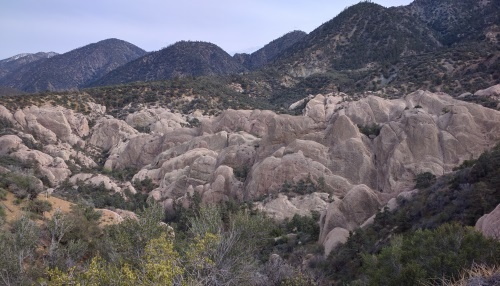 View from above the Devil's Punchbowl rocks
The 1 mile loop slowly descended to the valley floor. The floor where the rocks lay looked very much like a crater in the ground where these magnificent rocks sat. Along the way we saw many different types of cacti and beetles, as my kids pointed out. When we eventually made it to the floor, we realized just how massive these rocks were.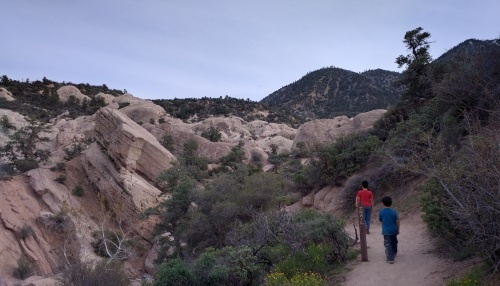 Along the 1-mile Devil's Punchbowl Trail
There was a creek running through the valley floor. It was a good place for a water break where the kids also enjoyed stepping into the small creek. After hanging out in the creek for a few minutes we made our way back up. The views going up were just as beautiful as on our way down. We left the park about an hour and a half after we arrived. I had hoped to stay for the sunset 30 minutes later, but we had some time constraints.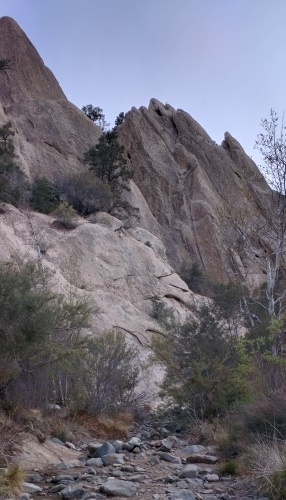 Along the Creek at the bottom of the 'Bowl'
Just before we left the park, we spotted a couple of owls in captivity. One of them had fallen off a tree as a baby, and was rescued by humans. Unfortunately, it had imprinted on its human rescuers, so it is not able to go back into the wild. That owl came up close to us as we arrived. It was an amazing experience to get such an upclose look at an owl.
If you're looking for a longer hike, I believe there is a longer hike called Devil's Chair (about 8 miles). The map at the trailhead indicated other hikes as well. We enjoyed our hike at another of Southern California's geological wonderland, just 1.5 hours out of Los Angeles.
Practical Information (as of April 2016):

| | |
| --- | --- |
| Features: | Huge Scalloped Shaped Slanting Rocks |
| Address: | 28000 Devil's Punchbowl Rd, Pearblossom, CA |
| Our Hike: | Devil's Punchbowl - 1 mile loop |
| Fees: | Free |
| Hours: | Sunrise to sunset |
| Website: | For most updated information, please visit Devil's Punchbowl Natural Area |
| | --Probably Not a warm weather hike-- |
More California Travel Ideas More U.S.A. Travel Ideas More Worldwide Travel Ideas