Death Valley NP
Badlands Loop from Zabriskie Point
We started our hike in Death Valley on a cold December morning. Death Valley is the lowest and driest place in the United States. In the summer months, it is also the hottest place in United States. Sitting below sea level, Death Valley is most popular in the winter months.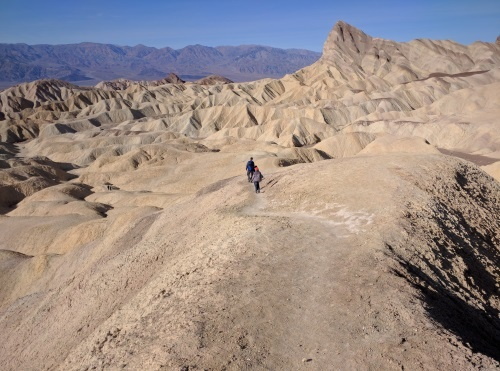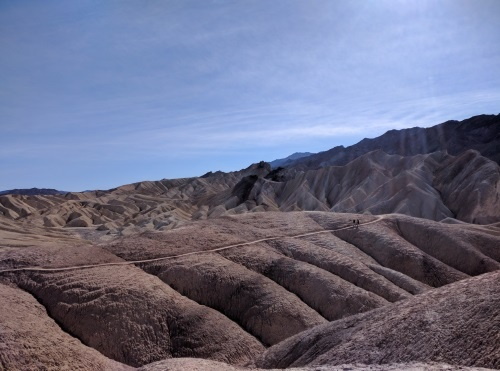 Views from Badlands Loop, Death Valley National Park, California
We drove to Zabriskie Point to explore the Badlands Loop. The trailhead was to the right of the parking lot, it took us over a rocky hill into a narrow gully made of mudstone on both sides. Soon, the narrow gully opened up and intersected what looked like a very wide wash, called Gower's Gulch. At this point, we had the option of taking Gower's Gulch or Golden Canyon routes. We learned the hard way that the correct decision was Golden Canyon. A steady climb up the Golden Canyon route was rewarded with views of multi-hued mudstone for miles. Dark and light bands decorated the mudstone set in front of us, with many many carved mountain sides. These "ribs" of the mountain were carved by rainwater that came down heavily (though sporadically). These ribs provided a quick way for water to flow off the mountain. Pictures don't do justice to the beauty of what stood before us.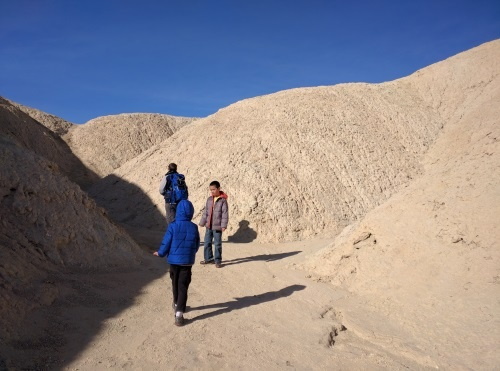 View from inside a canyon at Badlands Loop, Death Valley NP
Our hike, Badlands Loop, was 2.5 miles long and took about 2 hours to complete. It connected to Golden Canyon Trailhead which I've read was about 6 miles long. I would have liked to continue on to Golden Canyon Trailhead but we had a time constraint. We hiked this trail in the winter - December. The sky was blue with not a cloud in the sky. I would avoid this trail if there is any rain in the forecast as I can imagine dangerous flash flood situations arising. Hats, gloves, layers were all in order as the air was chilly. Snacks and water were our companions as well, not so much due to the distance but more to keep safe if we got lost. I imagine in the spring or fall, this hike would be warmer requiring a lot more water and other warm weather hiking precautions. Summertime I imagine would be unbearable at high temperatures. If you prefer not to walk, there is a lookout that will give you a quick view of the Badlands.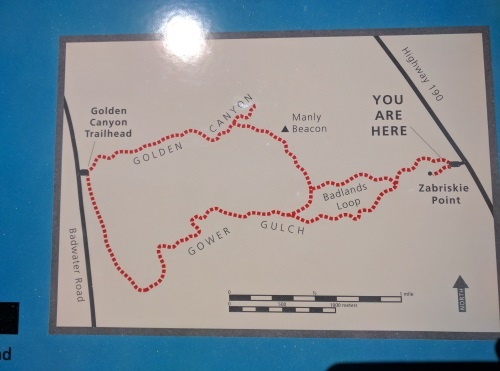 Trailmap of Hikes from Zabriskie Point, Death Valley National Park, CA
Practical Information (as of December 2016):

| | |
| --- | --- |
| Features: | Walk on ridges for views of multi-colored mudstone mountains, walk in gulleys to feel the mountains surround you |
| Directions: | This hike is off Zabrieski Point on CA-190 in Death Valley National Park, California. |
| Our Hike: | Badlands Loop: 2.5 miles, NOT a warm weather hike due to extreme temperatures |
| Fees: | $30 at self serve kiosk (bring exact change) or Free with Intra-Agency Annual Parks Pass (which provides free entry into Federal lands across the country for $80 per year |
| Amenities: | Vault toilet, Parking |
| Website: | For most updated information, please visit Death Valley National Park |
| Other: | When hiking in deserts and canyons, pay attention to the weather forecast, as rain in any surrounding area may cause dangerous flashfloods. Check with Rangers if in doubt.--Not a warm weather hike-- |
Golden Canyon - Gower Gulch Loop
Golden Canyon - Gower Gulch Loop is a fairly easy hike. The hike goes through what looks like white petrified sand dunes eroded into interesting structures by the forces of wind and water. There were lots of washes that criss-cross the loop, so it wasn't always clear where the trail went. Arrows on posts help guide the way. Golden Canyon connects to Badlands Loop if you're looking to extend your hike. Check out the shorter Badlands Loop hike above. We had hiked the Badlands Loop separately in a previous year. This time we approached Manly Beacon from the other side.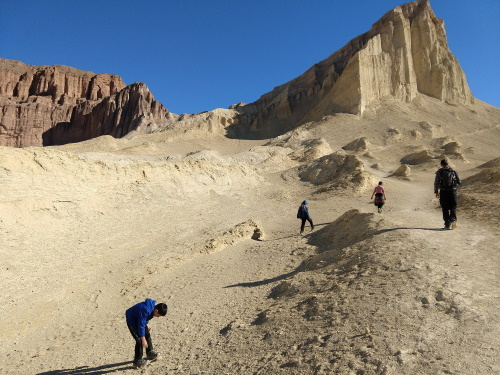 Walking towards Manly Beacon from Golden Canyon-Gower Gulch Loop, Death Valley National Park, CA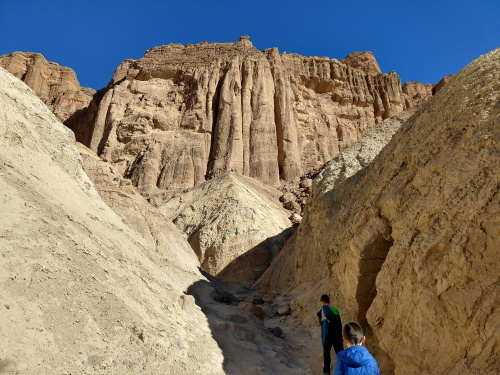 Walking through Golden Canyon-Gower Gulch Loop, Death Valley NP, CA
This is NOT a warm weather hike. There is No water and No shade. It can be dangerous when temperatures are high. Check weather forecast before going. We explore the dessert usually in the winter. Watch out for flash floods if rain is in the forecast in nearby areas.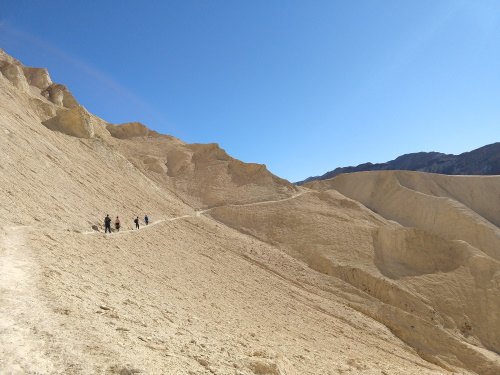 Appreciating the vastness of the dunes at Golden Canyon-Gower Gulch Loop, Death Valley NP, CA
Practical Information (as of December 2018):

| | |
| --- | --- |
| Features: | A stroll through white dunes eroded into canyons and ridges |
| Directions: | Parking is at Golden Canyon parking lot on Badwater Road. |
| Our Hike: | Golden Canyon to Gower Gulch Loop: 5 mile rt hike (includes Red Cathedral), 1000 ft elevation gain |
| Fees: | $30 at self serve kiosk (bring exact change) or Free with Intra-Agency Annual Parks Pass (which provides free entry into Federal lands across the country for $80 per year |
| Website: | For most updated information, please visit Death Valley National Park |
| Other: | When hiking in deserts and canyons, pay attention to the weather forecast, as rain in any surrounding area may cause dangerous flashfloods. Check with Rangers if in doubt. This is Not a warm weather hike. |
More California Travel Ideas More U.S.A. Travel Ideas More Worldwide Travel Ideas