Berkeley Area Hikes
Sibley Volcanic Regional Park
Not too far from the University of California, Berkeley is Sibley Volcanic Preserve. This Preserve in the Oakland Hills features Round Top, a peak consisting of lava and volcanic debris left over from an ancient 10 million year old volcano.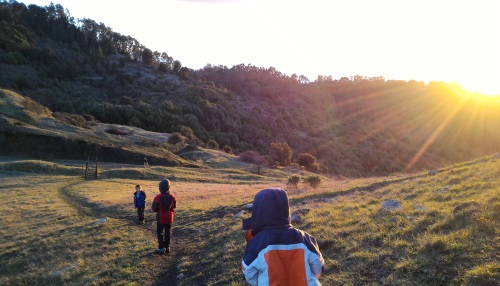 Roaming freely in Sibley's open space at sunset
There are many trails in Sibley, some are part of the Skyline National Recreational Trail and Bay Area Ridge Trail which connects to Wild Cat Canyon and Chabot Parks. A Backpackers' Camp is located near the Overlook Trail. A 2 mile loop trail starting at Overlook Trail led us to the labyrinths, where my kids enjoyed circling the rock puzzles. There are a few labyrinths, the ones we found are located in or near the quarry pits.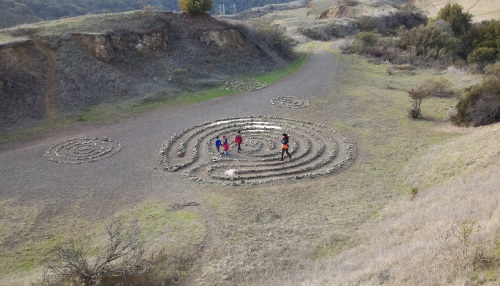 Labyrinths at Sibley Volcanic Regional Preserve, Oakland, California
About 3 mile loop trail takes you from the start of the Overlook Trail to the end of the Volcanic Trail and back via the Overlook Trail. If planned correctly, you could enjoy the labyrinths on your way to the Volcanic Trail. Our challenge was always peeling our kids off the labyrinths to continue on. There is a self-guided trail brochure at the start of the trail that explains the sights along the Volcanic Trail. Wide open spaces and cow grazing areas greeted us for most of our hike.
Geocaching took us to a hill where we saw Golden Gate Bridge from one side and Mount Diablo from the other. Unfortunately we did not find the cache we were looking for. As of January 2016, there was no parking or dog fee at Sibley. Look out for pullouts when driving down from Sibley for views of the Bay Bridge and Golden Gate Bridge. It was quite a sight to see on our way down around sunset.
Practical Information (as of January 2016): Sibley Volcanic RP

| | |
| --- | --- |
| Features: | Remnants of 10 million year old Volcano, several Rock Labyrinths, wide open spaces, if enjoyed in the spring or summer, green hills shared with grazing cows. |
| Our Hike: | About 3 miles rt, fairly easy trail. |
| Park/Entrance Fees: | Free |
| Dogs: | Allowed |
| Directions: | On Skyline Blvd., just east of Grizzly Peak Blvd./Diablo Dr., Oakland, CA |
| Website: | Sibley Volcanic Regional Park |
Claremont Canyon Regional Preserve
Not far from University of California, Berkeley lies a trailhead at the end of an unassuming residential street. A quick walk, about a half mile up the Stonewall-Panoramic trail, you'll find a spot that overlooks the entire central part of the San Francisco Bay. Views of the Bay Bridge going through Treasure Island, the Golden Gate Bridge and Alcatraz in the distance and the McCarthy Bridge made this spot a popular hike on the sunny Saturday April afternoon we enjoyed our 3 mile hike. There were many that stopped along this trail to enjoy the view.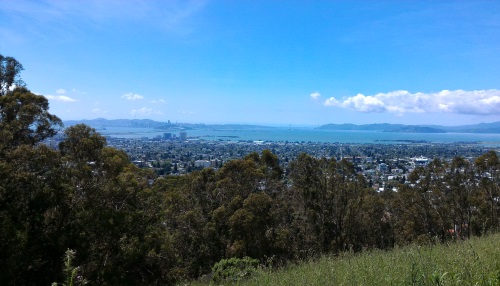 San Francisco Bay Area View from Claremont Preserve, Views of Bay Bridge, Golden Gate Bridge and Alcatraz Island in the distance, from Claremont Canyon Regional Preserve, Berkeley, CA
To get to the view, it was an uphill walk through a eucalyptus grove, and that incline continues past the first view point on the trail. The incline probably continues for about 0.8 miles before it levels out under the shade of evergreens. All the way up the incline, that panoramic view of the Bay stood before us. Along the way, we were greeted by a beautiful cacti garden, courtesy of one of the neighbors of the preserve.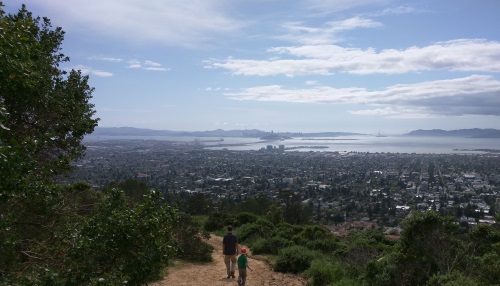 Walking the trail downhill, with views of the Bay unfolding before us
Claremont Canyon was an important site for transportation and communication in the past. It was the site of a transcontinental telegraph line linking the East and West coasts in the 1850s. Claremont Canyon was also a main roadway for horse and wagon traffic between Oakland and Contra Costa County in the 1860s. Prior to that, Claremont Canyon was used as a thoroughfare that connected the Huchiun Ohlone tribe to the eastern valleys.
We enjoyed a beautiful afternoon in the Oakland Hills that Saturday afternoon, after enjoying the shops and restaurants on Telegraph Ave in Berkeley. I imagine Claremont Canyon Preserve's viewpoint is a popular place around sunset.
Practical Information (as of April 2016): Claremont Preserve

| | |
| --- | --- |
| Features: | Views of the Bay including Golden Gate Bridge, Alcatraz Island, Bay Bridge |
| Our hike: | Uphill, then downhill. Wear shoes with good grip. Walking stick might help. Stonewall-Panoramic Trail ~3miles round trip |
| GPS: | 37°51'45.8"N 122°14'38.9"W (Trailhead is about 1/3 way up Stonewall Rd, Berkeley) |
| Park Fees: | Free |
| Parking: | no parking lot available, some street parking available on Stonewall Rd |
| Dogs: | We saw many dogs along the trail, website indicates no dog fee |
| Website: | Claremont Canyon Regional Preserve |
Berkeley Rocks Urban Hike
Rocks are fascinating! They tell stories of our earth's history in a way not many other things can. I read about this hike in Bay Nature regarding these ancient volcanic rocks from 11.5 million years ago from an area just south of San Jose. These rocks were carried north about 50 miles to its current Iocation in Berkeley as the continental plates moved past each other. There are several city parks that contain these volcanic rocks in the Berkeley area. We hiked a loop starting at Remillard Park, to Cragmont Rock Park, to Mortar Rock to John Hinkel Park then to Grotto Rock. Our total distance including accidental detours was 3.7 miles.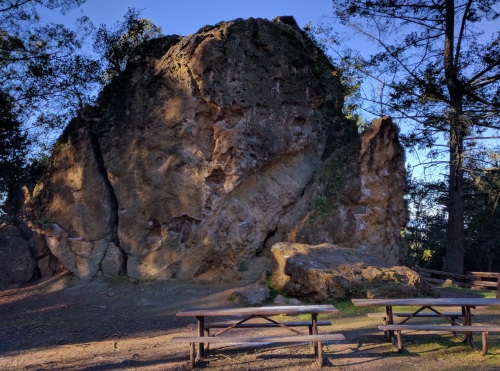 140 million year old Pinnacle Rock at Remillard Park, Berkeley, California
Our first park and parking spot was at Remillard Park, with very limited street parking. Parking wasn't a problem since we were the only ones at the park. This park had a playground which was a welcome surprise for my boys. Just before the playground stood the giant volcanic rock and some picnic tables in front of it. These rocks, unlike the other parks are not volcanic, they come from deep in the Earth's mantlle, forming about 140 million years ago. We spent about 15-20 minutes letting the boys have a go at the slides while I admired the rocks. Then we walked along the sidewalk towards Cragmont Park.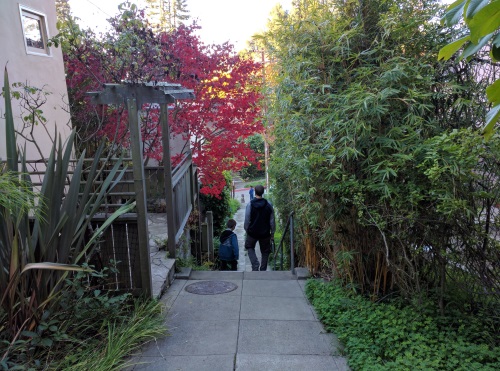 Pinnacle Lane, just off Remillard Park, Berkeley, California
Happily we found a small pathway (called Pinnacle Lane) that took us down the hill between houses by a tile wall mural. At the bottom of Pinnacle Lane, we should have turned right to get to Cragmont Park, but we accidentally detoured left. This mistake brought us to another Lane, called Easter Lane, starting at Euclid Road. Easter Lane took us to the doorstep of Cragmont Rock Park. We walked up towards the shaded picnic area, and found a beautiful view of the bay beside it. Directly adjacent to the shaded picnic area, we found a foot trail that went down the hill. The boys found some easy rock scrambling down the hill to a green area. We continued down the path, which encircled Cragmont Park, finding a few large rocks to our left where climbers found joy. The boys enjoyed the unplanned excursion - it was a mini adventure for them and a chance for a self-led hike.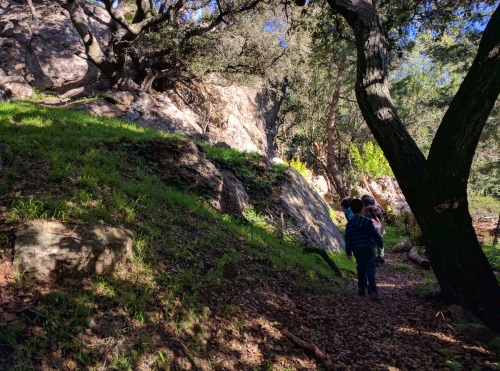 Rocks at Cragmont Rock Park, Berkeley, California
Afterwards, we made our way back down Easter Lane and down Marin Road (it had a sidewalk on a fairly busy neighbourhood street). My husband is not a fan of neighbourhood hiking, I found out. Luckily, just around the bend, Mortar Rock showed up. We found some stairs cut into the rocks to get to the top of the rock. We were hoping for a view, but a few trees blocked our view. There are some steep dropoffs here, so we quickly made our way down to find climbers preparing to climb the other side of the rock. A small trail led us into a green moss-covered huge rock. My husband, who again voiced his dislike for urban hiking, led us towards Hinkel Park. It wasn't until I got home that I realized that we did not make it to Indian Rock. I had thought Mortar Rock was Indian Rock. There will always be next time.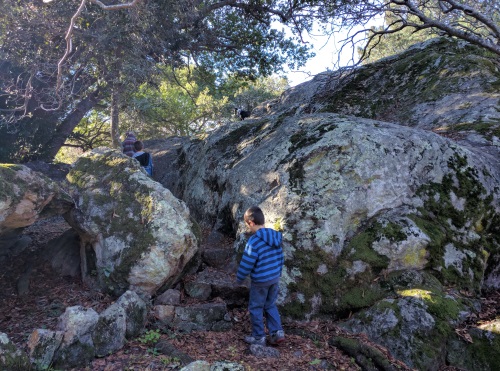 Steps sculpted into the rock at Mortar Rock, Berkeley, California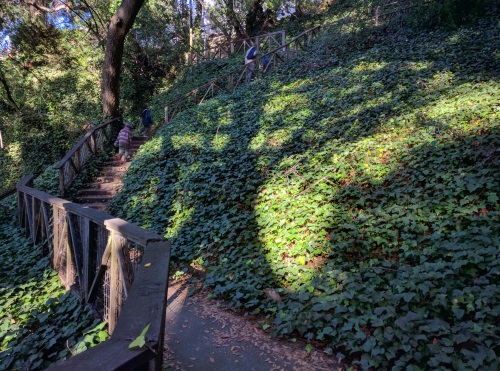 One of many walkways in Hinkel Park, Berkeley California
Hinkel Park is a nice walk-through park with many walkways of different levels. The walkways meander under tall shading oak trees. We got to the other side of the park, after getting our fill on the meandering walkways. Lucky for us, there was another cozy lane, Upton Lane, that provided a nice bamboo-tree-lined short-cut to the street uphill.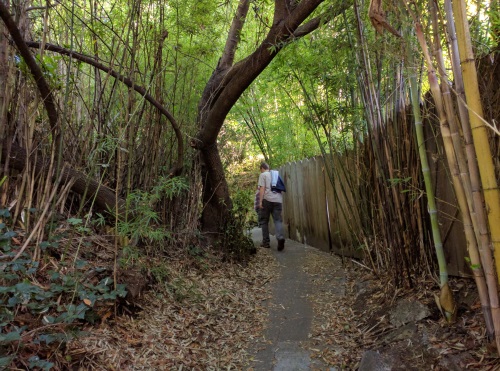 Bamboo-lined Upton Lane, Berkeley California
From that street uphill, we continued ahead to Grotto Rock. Once again, this is a small park with a huge jutting rock amongst houses. The walkway to the right took us up some stairs sculpted into the rock to a small rock bench. From this bench, we looked over rooftops towards an amazing view of the entire Bay. We looked on as the Bay Bridge made it's way to Treasure Island, and beyond into the city, while Golden Gate Bridge gated off the bay from the ocean. Grotto Rock was also the quietest of all the parks we visited on this hike-we were the only ones there. There are some steep dropoffs here, so our visit here was short as well, as the boys channelled their energy to their legs.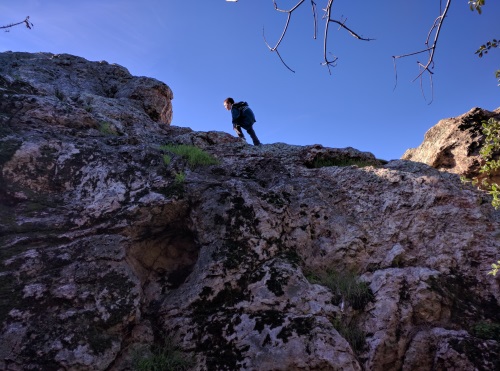 Grotto Rock, Berkeley, California
After Grotto Rock we made our way back to the car at Remillard Park. If I were to do it over,, I would go the extra half mile to Indian Rock. I hear there are shops close to Indian Rock Park near Solano Ave and The Alameda. Nevertheless, we (excluding my urban hike protester) had a good time enjoying the rocks, the views and the cozy lanes. More rocky parks in the area: Contra Costa Rock and Great Stone Face Rock. Bay Nature also has a hike similar to the one we did, but encompassing more parks. We made some changes to accommodate our protesting urban hiker.
Practical Information (as of December 2016): Berkeley Rocks

| | |
| --- | --- |
| Features: | Ancient volcanic rock fragments, views of the San Francisco Bay, and cozy lanes that make great short-cuts between neighbourhood streets |
| Our Hike: | 3.7 miles, slight uphill, 600-700 feet elevation change. |
| Park Fees: | Free |
| Directions: | We started and ended our loop at Remillard Park address: 80 Poppy Ln, Berkeley, CA 94708. |
Huckleberry Botanical Regional Preserve
Not too far from Berkeley, you'll find Huckleberry Botanic Regional Preserve. It is a short, fairly quiet trail, just under 2 miles in distance. Trees here were covered in a layer of green moss in the spring after a wet winter, making the hike very much surrounded by a green fluorescence. It is a mostly shaded hike, so very much a good choice for a warm day. Through the trees, there are peek-a-boo views of the surrounding hills and valley. You can easily make this a longer hike by connecting to neighbouring Sibley Volcanic Regional Preserve.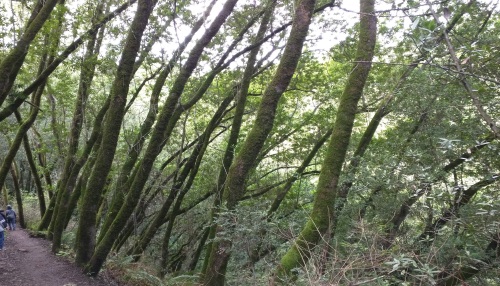 Mossy Trees at Huckleberry Preserve, near Oakland, CA
Part of Huckleberry Trail runs along the Juan Bautista de Anza National Historic Trail. The Anza Trail is part of a 1200-mile trail that Spanish Lt-Colonel Juan Bautista de Anza traveled on, leading the first Spanish colonists to San Francisco from present-day Arizona in the 1700s. It is a neat experience for those of us who enjoy walking in the footsteps of history.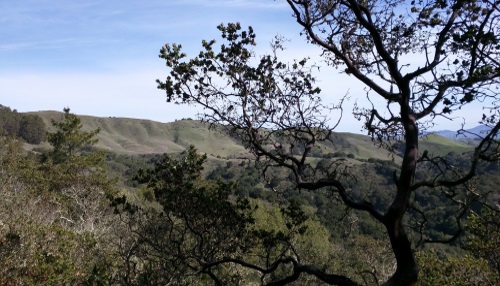 Peek-a-boo Views of surrounding Hills and Valleys, Huckleberry Preserve, CA
Practical Information (as of February 2016): Huckleberry Botanical Preserve

| | |
| --- | --- |
| Features: | National Historic Trail (Trail used by the 1st colonists of San Francisco), bright green mossy trees, shaded |
| Hours: | 5am to 10pm (unless otherwise posted) |
| Directions: | On Skyline Blvd., just south of Elverton Drive. Oakland, CA, GPS: 37.842907, -122.195234 (from Google Map) |
| Park Fees: | Free as of February 2016, Limited Parking |
| Dogs: | Not allowed |
| Website: | Huckleberry Botanical Regional Preserve |
Tilden Regional Park
Tilden Park is known for its Merry-Go-Round, steam trains, petting zoo and Lake Anza. We enjoyed the steam trains on a weekend before Christmas. It was a chilly day when we arrived around noon on a Sunday. We purchased our tickets at the booth and got in line. We were the second group in line for the train. After about 10 minutes of waiting, our train arrived. We chose our own car, two behind the train driver. We noted that our position was a good one, as the steam produced in the front of the train helped warm us on a cool afternoon. Our timing was perfect just before Christmas as our train ride went past many decorative holiday ornaments and even a Santa locomotive. Dress warmly, as it does get chilly in this open-air steam train.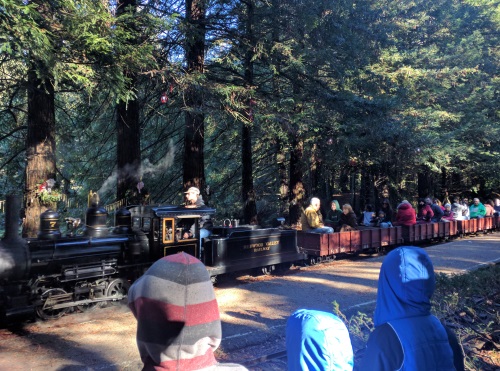 Steam Trains arriving, Tilden Regional Park, Orinda, CA
After our steam train ride, we followed a small path down to the mini steam trains. Here tickets were not needed, rides are by donation. A narrow "bench" served as seats, as we had one leg over each side of the bench on our short ride. I imagine kids who cannot sit upright would be too young to ride this train.The kids had a lot of fun, and have asked for it to be a yearly holiday tradition. As we were leaving the steam trains at 2 pm, we noticed the line for the ticketed steam train growing in size.
After the steam trains, we headed up to Seaview Trail. The first part of the trail is paved and was a somewhat steep uphill. At the top, we were rewarded by views of Mount Diablo and a couple blue reservoirs. We ducked out of Seaview Trail at Vollmer Peak Trail, as we were in a hurry. Vollmer Peak Trail headed back to our parking lot, but not without views of the Bay Bridge as it made it's way through Treasure Island and into the city. Vollmer Peak Trail, unlike Seaview Trail, is a narrow, muddy and icy trail (at least when we were there). Part of Vollmer Peak and Seaview Trails are part of the Anza National Historic Trail, the route that the first San Francisco colonists used to travel to San Francisco.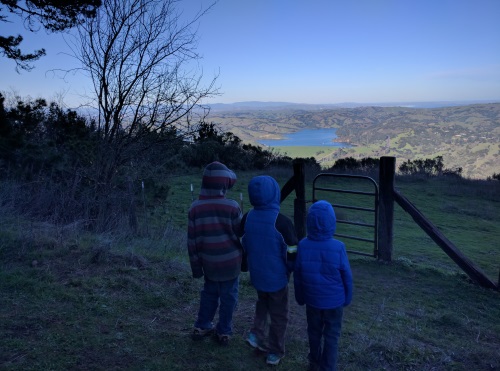 Seaview Trail, Tilden Regional Park, Orinda, CA
Practical Information (as of December 2016): Tilden Park

| | |
| --- | --- |
| Features: | Two steam train lines, hikes with a view of Mount Diablo and the Bay |
| Our Hike: | a short 1 mile, lots of ups and downs, many opportunities to extend the hike further |
| Park Fees: | Free |
| Train Ticket Prices: | Steam Train - $3/person, $12/ five tickets, Mini train by donation |
| Dogs: | No Fee |
| Train Hours: | Sat-Sun 11am-5pm (or dusk, whichever first, weather permitting) |
| Directions: | Tilden Park is located in the Berkeley hills just north of Highway 24--take the Fish Ranch Road exit east of the Caldecott Tunnel, drive uphill, and turn right at Grizzly Peak Blvd. From Grizzly Peak, take the Lomas Cantadas entrance for steam trains and Seaview Trail, (South Park Dr. closed from Oct. 31, 2016 through March 31, 2017) |
| Website: | Tilden Regional Park |
More California Travel Ideas More U.S.A. Travel Ideas More Worldwide Travel Ideas