Anza-Borrego SP
Palm Canyon Trail
Known as California's largest State Park, Anza -Borrego is located about 3 hours southeast of Los Angeles (or 2 hours northeast of San Diego). Our first stop was at the Visitor Center which displayed fossils found in the area. Replicas of 6 foot long mammoth tusks and giant tortoise shells are displayed. There is a short interpretive trail directly in front of the Visitor Center that features the different types of cacti found in the desert.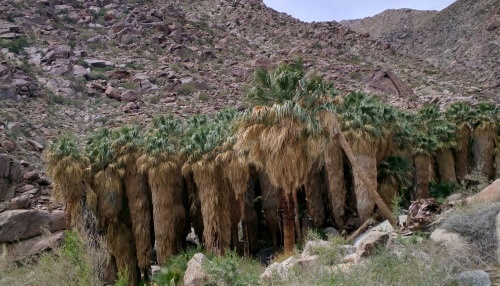 Palm Tree Oasis at the end of Palm Canyon Trail, Anza-Borrego Desert State Park, CA"
We started our hike at the Visitor Center, taking the trail to the Palm Canyon trail, adding about a mile each way to our hike. The Palm Canyon Trail is about 3 miles long, ending at a palm tree oasis. The trail to the Palm tree oasis took us across the desert, which was lined with beautiful flowering cacti. Some of the types of cacti that we saw were ocotillo, yucca, prickly pear, cholla and barrel cacti. This area is also big horn sheep habitat, though we did not spot any on our hike. The trail in this portion was a sandy trail lined by rocks. I thought it looked like a beautiful rock garden with the flowering cacti and bushes nearby. The flowering plants distracted us from the desert heat and the slight incline as we headed into the Palm tree oasis. Due to the incline going in, our hike into the Canyon took twice a long compared to our hike out of the Canyon. Our youngest son is quite sensitive to inclines.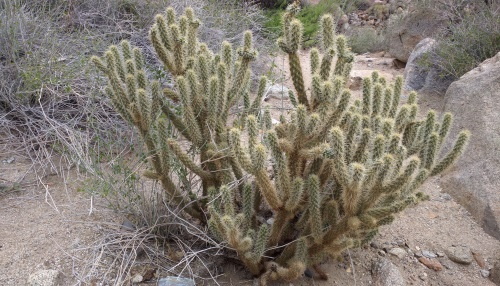 Cholla Cactus along the trail to Palm Tree oasis
Ocotillo Cacti along the Palm Canyon Trail
As we entered the Canyon, we noticed water flowing in the creek, then were greeted by lush green bushes, then smaller palms. We crossed the creek several times, hopping rocks over inches deep waters, to make our way over to the other side of the trail. We crawled over and under boulders and fallen palms here, being careful with where we placed our hands and feet due to the presence of snakes. The boulders and rocks had a thin layer of sand over top, making it slightly slippery to the step.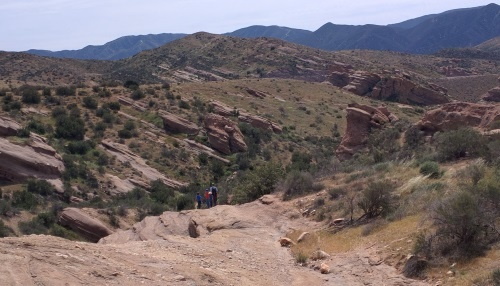 Panaroma of Slanted Rocks in the distance, Vasquez Rocks, CA
Peeking through fans of palms blocking our view of what lay ahead, each corner was a surprise. Then finally we arrived… in a small opening under 20-foot tall palm trees. These palms, I read in Anza-Borrego's free publication, is United States' only native palm trees. The palm trees usually grow around fault zones. We enjoyed the view of the shading tall palms, admiring it's lightly browned fallen leaves covering it's trunk and it's beautiful green leaves fanning out above. It was a good place for a snack and water break.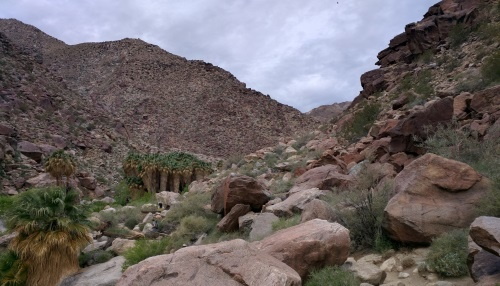 Approaching the Palm Tree Oasis, View from a distance
Our hike from the Visitor Center to the Palm tree oasis was about 6 miles long, according to Strava. Bring lots of water, snacks, hats and use sunscreen. Sunglasses may prove useful too to protect fromblowibg sand as you make your way across the desert sands. There is a parking lot at the trailhead of Palm Canyon Trail which costs $8. Palm Canyon Trail was not a quiet trail, though not a terribly busy one on the Thursday in April of our visit.
The View from under the Palms
There is an auto tour that you can take to see the badlands of Borrego, with a 2-wheel drive vehicle, and a different one with a 4-wheel drive. Ask at the Visitor Center for a brochure of stop locations to look for and road conditions. We started on the 2-wheel drive tour, but got stuck in the sand when turning around, so decided to abandon the auto tour.
In this State Park park, the Pacific Crest Trail and Anza National Historic Trail cut their way through. If you prefer to camp at Anza-Borrego, there are campsites available. There are also many other hikes available. In the middle of Anza-Borrego State Park sits the town of Borrego Springs - a sleepy town filled with hotels, restaurants, a grocery store and a couple of gas stations. Be sure to stop by the Visitor Center to get more information and pick up a copy of the free Anza-Borrego publication.
Practical Information (as of April 2016):

| | |
| --- | --- |
| Features: | Desert, Cactus, Palm Tree Oasis, Stream, BigHorn Sheep Habitat |
| Address: | Visitor Center: 200 Palm Canyon Drive, Borrego Springs, CA |
| Our Hike: | Palm Canyon Trail: 3 miles (from trailhead parking), rocky terrain |
| Fees: | Free at Visitor Center, $8 at Palm Canyon trailhead parking/td> |
| Dogs: | Not allowed on trails |
| Website: | For most updated information, please visit Anza-Borrego Desert State Park |
| | Not a warm weather hike. When hiking in deserts and canyons, pay attention to the weather forecast, as rain in any surrounding area may cause dangerous flashfloods. Check with Rangers if in doubt. |
More California Travel Ideas More U.S.A. Travel Ideas More Worldwide Travel Ideas