Venice (Venezia), Veneto
Venice - the thousand year old city built on stilts in the Adriatic Sea traces its name back to the Veneti people who lived in the area in 10 BC. Venice lies in a group of 118 islands in an bay off the northeastern coast of Italy. It is connected by over 400 bridges across almost 180 canals. The original inhabitants of Venice are believed to be refugees from the nearby Roman Empire fleeing attacks from rival tribes. Today, Venice is consisted of the part of the coastal mainland and the islands off the coast where 60,000 people call home. The buildings of Venice are not built on the island itself, but on stilts and are considered endangered, believed to be sinking into the Adriatic Sea at a rate of 1 to 2 mm per year. The biggest canal in Venice, the Grand Canal, is lined by 170 buildings and crossed by 4 bridges, the oldest of bridge being Rialto Bridge. A lot of Venice can be accessed by foot (via bridges) but public water taxis and gondolas are fun alternatives.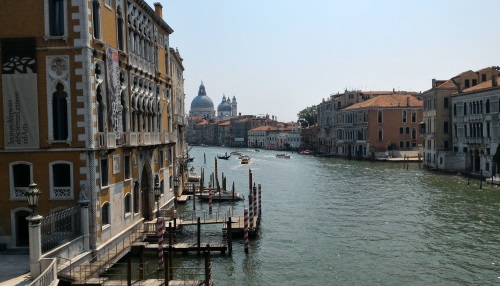 Grand Canal, Venice
The Rialto Bridge, arguably the most famous bridge in Venice, was packed with people. There are shops on and surrounding Rialto Bridge, called Rialto Mercato. Souvenir prices seemed reasonable, though more expensive than other places we visited in Venice.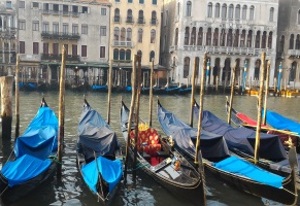 Gondolas in a canal, Venice
We enjoyed exploring the Canneregio Canal, the 2nd largest canal in Venice. It used to be the main canal before the Grand Canal was built. With small alleys, romantic waterways and bridges, it was a nice piece of Venice's history to explore. Souvenirs, we found, cost less than at Rialto Mercato or other parts of Venice that we explored.
Some of the specialty foods that we tried were deep fried seafood in a cone, spaghetti in squid ink, and cannoli (cream stuffed pastry). The kids were big fans of the cannoli. My seafood-loving son and I enjoyed the deep fried seafood in a cone.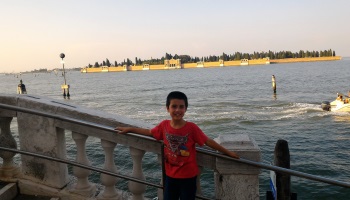 Fondamenta Nove with Isola di San Michele (Cemetery Island) in the background
One fun thing we did while in Venice was to get lost. There are so many twists and turns in the numerous alleys and bridges, so it is not hard to get lost. It wasn't that hard to find ourselves back in a familiar spot again though it wasn't always easy to find the way back. Many alleys in Venice often ended at a house or a canal, making it difficult to follow a parallel route back. So needless to say, we appreciated having our handheld GPS to find your way back. Some walks we enjoyed were along Fondamenta Nove to get a look at some of the surrounding islands and the open sea. San Michele Island, where Venice buries their dead, is one of the unique views you will see standing from Fondamenta Nove.
Another walk we enjoyed was along the water from San Mark's square to Sant'Elena. Sant'Elena, we were told by our lodging owner, was where the locals live and also boasted one of the few playgrounds in Venice. As she explained, and I would tend to agree, it is not like the playgrounds you have back at home. But it was a nice place for the kids to let loose. Our apartment owner also told us it is a good spot to catch the Redentore Fireworks (see below).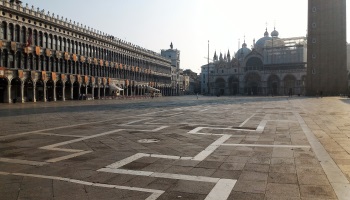 St. Mark's Square before the crowds arrive, Venice
St. Mark's Basilica - If you're Christian, there is a prayer entrance for mass. We started early, were there for the 8am mass. There were no lines and no tickets required in the summer 2015. There are also no pictures allowed. The mass was short and sweet about ½ hour in length, a perfect length for our kids. If only the churches back home followed suit. You will find the Prayer Entrance on the left side of Basilica if you are facing the Basilica.
In Venice, as is in most of Italy, bare shoulders are to be covered when visiting churches. Ladies, it's a good idea to bring along a scarf. Shorts, though officially frowned upon (bare knees), seemed to be tolerated in most churches. It's a good idea to carry along a cover though, just in case. Be sure to carry water bottles when exploring Venice. We filled up our water bottles at the fountains along the way to keep cool.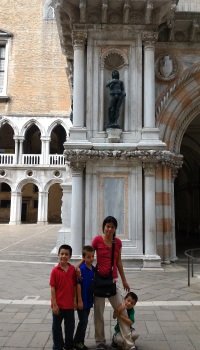 Inside Duccal Palace Grounds, Venice
Ducal Palace (Palazzo Ducale) was 11EU per person if you are part of family with at least one child. It includes 4 museums in St. Mark's Square. We (the adults in my family) enjoyed the self-guided Palace tour as it provided a nice history of Venice and Venetians. The kids enjoyed the self-guided tour of the prison connecting to the Ducal. If possible, hold off on purchasing souvenirs at St. Mark's Square, as they were the most expensive compared to other parts of Venice.
We were in Venice in mid-July, on a weekend that brought huge celebrations of the annual Redentore. Redentore is a festival of thanksgiving for those escaping the Plague in the 16th century. A church, called Chiesa del Santissimo Redentore, was built in thanksgiving. It is a weekend long celebration, with fireworks display. Every year, a pontoon bridge is built, 300m long over Guidecca Canal to connect the main island of Venice from Fondamenta Zattere to Redentore Church. We made the crossing the day after the big celebrations. Church admission was free and it was a good place to cool down from the summer's heat.
Punta della Dogana di Mare, Venice's old Customs Point, sits at the very tip of Dorsudoro Island. It now houses a museum of contemporary art. We walked here for a cool view of Grand Canal and the Island of San Giorgio Maggiore. The walking path allowed us to walk around the tip of the museum, providing for wide open views of the surrounding waterways. Santa Maria della Salute, the church near the tip of the Grand Canal, built in the 17th century, is a major Venetian landmark. Its white dome visibly looms as you enter the Grand Canal by sea. There was no admission fee in summer 2015, was a great place to cool down from the summer's heat and houses art by some of Venice's great artists Titian and Tintoretto.
One thing about Venice - it is always busy. There are people everywhere you go, pretty much at any time of the day. Near midnight, there is a little less people. My best suggestion is to try to stay in Venice, so you can see it before the hoard of tourists flow in and after sunset when most of the hoards have left. We had good experience going with booking.com for a private apartment that slept a family of 5 comfortably for a nightly rate of 150EU. As a bonus, we got to stay in a 16th century (beautifully renovated of course) apartment and walking distance to most attractions. The apartment also came with a furnished kitchen where we prepared a hearty breakfast before we started our day. We started the day around 8 in the morning, and was able to beat most of the crowds in St. Marc's Square and Basilica. Being in Venice itself also gave us a chance to come back to the apartment in the afternoon for a quick shower and siesta to rest the kids. Staying overnight locally also allowed us to see day-to-day living issues, like "How do Venetians handle their garbage?".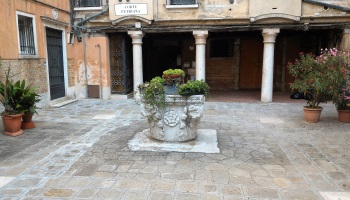 The Courtyard in Front of our 16th century Venetian Apartment, Venice
If we had more time, I would have loved to enjoy a gondola ride into Venice's quiet waterways or the more economical Night Vaporetto #1 on the Grand Canal from Dorsoduro's tip upstream towards the Canneregio Canal for beautiful views of Venice with lights. Another thing we would have done was to visit Murano Island to see some of Venice's historic glass blowing. It may have been nice to watch some gondola building near the Gondola repair shop at Squero di San Trovaso. Marco Polo's house would have been a nice addition as well.
**** Above information based on information accurate during summer 2015 ****