Pompeii and Mount Vesuvius, Campania
Pompeii, the Ruins
Our travel through Pompeii took us to see the ruins of rich villas and casts of human beings (both slaves and their owners) preserved forever by the 79 A.D. Mount Vesuvius eruption. Places of daily life such as baths, taverns, temples and brothels were also preserved along with chariot-scarred cobblestone streets. It was interesting to see the culture at the time, what signs were considered good luck, which today would carry a different meaning. Give yourself at least a half day to visit, a full day would be better. Pick up a map near the entrance and circle the attractions you want to visit. Pompeii is a huge area that can get overwhelming. So be sure to pace yourself, especially if you are traveling with kids.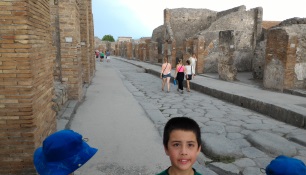 A stroll down the ancient cobblestone streets of Pompeii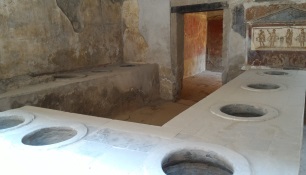 A Tavern in Pompeii- the large holes in the counter to hold food containers
Go early, bring water bottles (for refilling inside the Ruins), bring hats, snacks, and sunscreen. There are no in-and-out privileges here. We purchased the 5 site pass for 22EU/adult (as of summer 2015) that gave us access to all the ruins in the area (Pompeii, Herculaneum, Torre Annunziata, Bosco and Castella di Stabia). We were planning to visit 3 of the sites. We entered Pompeii through the Anfiteatro entrance, since it was closer to our apartment and we heard had shorter lines. We picked up an early quick lunch just outside the entrance from local vendor.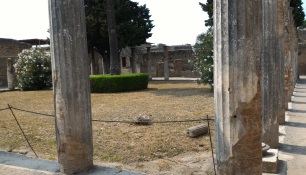 Some of the many columns that still stand in a villa, Pompeii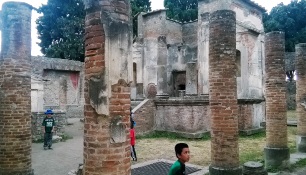 Pompeii Temple Ruins
Pompei, the Modern Town
We chose to stay in Pompei (the modern town, note the spelling difference) for easy access to the ruins and the Amalfi coast. We stayed in a little detached one-bedroom apartment we found on Homeaway.com, complete with a well furnished kitchen and a patio overlooking a garden. The owner was a kind-hearted young woman who was very helpful with our plans. The apartment was a 10 minute walk to Pompeii, the Ruins.
Oplontis
Our next stop was Oplontis, the once-villa of Nero's Empress, buried under Mount Vesuvius' thick layer of ash. Oplontis' train stop is at Torre Annunziata, just a stop away from Pompeii Scavi station. Be sure to validate before you get on. I learned to buy tickets for both ways, in case the ticket office is closed on the way back. At Oplontis, there are many frescoes and mosaics to see and many rooms and open spaces to explore. It was a lot quieter than the Pompeii Ruins. We spent about an hour here.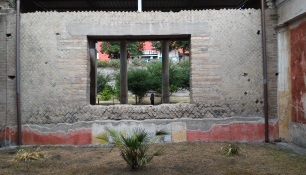 In the Living Area of the Empress' Villa looking towards the front garden, Oplontis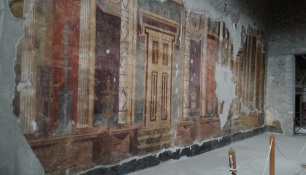 One of Oplontis' many well-preserved Frescoes
Herculaneum
Herculaneum, is another town that lay under the ashes of Mount Vesuvius. It sits underneath the modern town of Ercolano. Much of Herculaneum still lays buried underneath the modern town, though there is still plenty to see that has been excavated.
In Herculaneum, the Boathouse is what caught my attention. This is the boathouse where people took refuge from the volcano, awaiting rescue from sea, only to succumb completely as the hot ashes from the volcano swept over them. We saw human skeletal remains that lay where they were when Mount Vesuvius unleashed its fury in 79 A.D. The volcanic ash pushed out the shoreline by 1km. Now the area around the boathouse is land. I would suggest entering the ruins by way of the boathouse, as it is called, which brings you under some tunnels and face-to-face with these ancient victims. It is a sober reminder at how powerless we are to the strength of mother nature.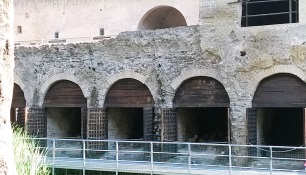 The boathouse where people awaited rescue, Herculaneum
In Herculaneum, there are many taverns, baths and villas, but it is most famous for the Villa of the Papyri. Once thought to be owned by Julius Caesar's father-in-law, it is well-known for housing ancient scrolls. Unfortunately while we were there, that villa was closed for research.
To get to Herculaneum Ruins, stop at Ercolano train station, walk towards first roundabout from train station, then keep walking straight ahead. There should be signs after the 1st roundabout assuring you that you are on the right track to Herculaneum. We enjoyed a quick pastry breakfast along the way from an Italian grandma's stand in front of her shop.
Mount Vesuvius (Vesuvio)
Mount Vesuvius is the volcano that erupted in 79 A.D. and buried the Roman towns of Pompeii and Herculaneum, killing many area residents, some of whom are still somberly present today. Mount Vesuvius itself, looked very much like other volcanoes we had seen, with a few steaming vents inside the inner crater. Its amazing tranquility very much disguises its true power.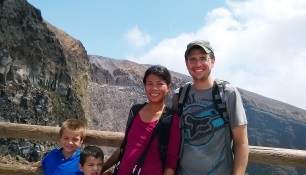 Mount Vesuvius - steaming vents in inner crater behind us
From Ercolano, just outside the train station, we boarded a bus to go up to Mount Vesuvius. It costs 20EU/adult and 10EU/child (as of summer 2015). These tickets included admission to Mount Vesuvius itself. The first bus made its trip up at 9:45am. We took the bus in the afternoon, in hopes of being able to catch a view of the Bay of Naples. Unfortunately, the fog did not clear in the afternoon as we were hoping. The bus ride up was about one hour up a winding stretch of road. Once the road ended, it was a short hike up to the crater. The trail was covered in loose rock, so ' wear good walking shoes. The temperature was a lot cooler on the mountain compared to Ercolano, which helped keep us cool for the walk up. The walk down felt a little chilly, so it might be a good idea to bring a jacket. Be sure to look for the steaming vents in the crater, a reminder that Mount Vesuvius is very much an active volcano. On a side note, there are supposed to be buses leaving for Mount Vesuvius from Pompei, but each day of the 4 days we were there, we saw a sign at the Circumvesuviana station in Pompei that said that "Buses to Mount Vesuvius - not running today".
** Above information based on information accurate during summer 2015. **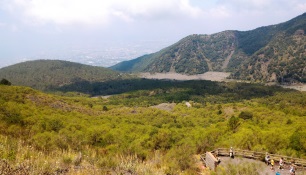 Mount Vesuvius - a view of the outer crater from the hike to the inner crater
UPDATE - I learned after our visit that the modern city of Pompei, where we spent four peaceful nights sleeping in, is actually sitting on top of a shallow magma chamber. The populated city of Naples also sits on top of a sleeping volcano called Campi Flegre, the area's second active volcano (the other being Mount Vesuvius). Naples and its suburbs sit inside the crater of an 8-mile wide shallow crater of Campi Flegre. This crater is thought to have formed some 15,000 years ago during a powerful eruption of Campi Flegre. Campi Flegre is thought to be an even bigger threat today than Vesuvius is to the people of Naples. (Ref: PBS NOVA "Clues from a Giant Volcanic Eruption Exist Beneath Naples", April 2019 )