Matera, Basilicata
Sassi's of Matera
To walk through Matera is to walk through a history of some 9000 years. Some consider it the second oldest town in the world, after Jerusalem. The oldest part is known as the Sassi. There are 2 sassi – Sassi Barisano and Sassi Caveoso. The sassi consists of homes and churches carved into tufa rock and alleyways connecting them. Look for the alleys and roads that sometimes went over top of the cave homes and cave homes built right on top of one another. The Sassi dwellers also had a method of collecting rainwater through a system of pipes and cisterns, all dug into rock. Under Piazza Vittorio Veneto, the main piazza of modern Matera, there is a large cistern that collected rainwater for the townspeople up until the 19th century.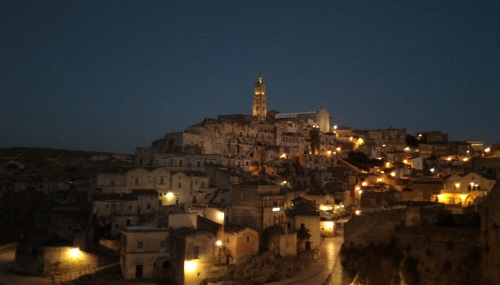 Matera at Dusk
Located in the Southeast of Italy, Matera is not an easy destination to get to without a car. The best way I found to get to there is by a bus operated by Autolinee Marino. The bus departed from the bus station adjacent to Napoli(Naples) Centrale train station and took 4.5 hour to get to Matera, with many stops, but no connection required. The bus stop in Matera was about about 1.5 hour walk from the Sassi, but luckily our apartment owner gave us a ride when we arrived. I believe there are city public buses as well. We stayed in a dwelling built out of tufa rock near the top edge of Sassi Barisano, with amazing views of the Sassi, both during the day and at night. We enjoyed wandering the alleyways to get lost. Be forewarned, the long siesta is alive and well here.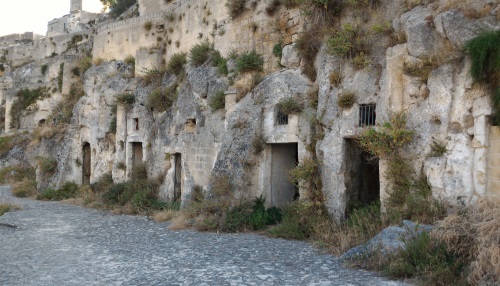 In front of Unoccupied Cave Homes in Matera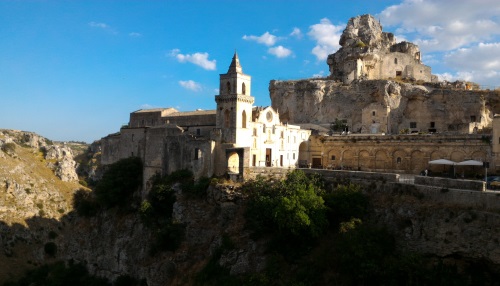 Church built into Rock, Matera
Gravina
We explored the ravine below, called Gravina, on a half day hike. There was only one entrance to the ravine we could find, which was located on Via Madonna delle Virtu near the outcrop of land overlooking the ravine. We walked across the ravine, hopping rocks to cross the river, visited church ruins and old cave dwellings. There are, of course, guides for hire, but as you may have guessed, we are somewhat independent travelers. Many of the churches were locked, so if you want to explore the interior of the well-maintained churches, drop by the visitor center for a tour guide. There are so many layers of history to this town. This is one place I wish now that we did get a guide. Next time! Here is a map of Matera that we got when we were there, which highlights many themed hikes. Sorry for the suboptimal quality of picture.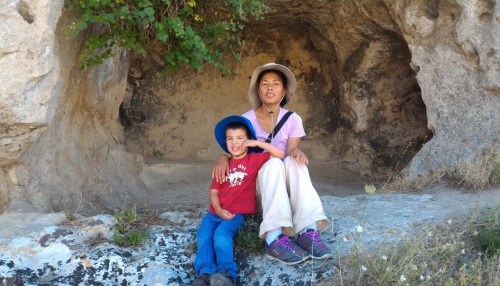 In front of Cave Home in the Gravina, Matera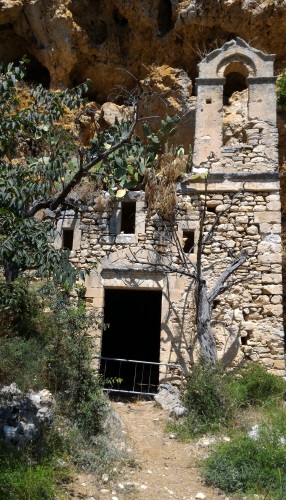 Matera - Church in Gravina
One local specialty we tried was the Il Pane di Matera. Crusty on the outside, we enjoyed the bread pan-toasted with a thin spread of homemade marmalade, generously provided by our apartment owner. For a souvenir, we got a tufa rock carving of Matera homes from a local vendor.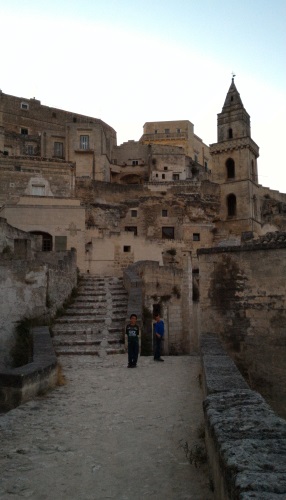 Strolling in the Streets of Matera at Dusk
If we had more time, and the kids more patience .... I would have loved to do a themed hike of the cisterns. I would have also loved to catch a sunset view of the Sassi from the Gravina below. Matera is so full of surprises and hidden secrets, I feel that I just don't know what we might have missed… It was our favorite stop of all of Italy.
** Above information based on information accurate during summer 2015