Lessons Learned in Italy
Boats in a Quiet Canal, Venice
We learned a few lessons along the way, usually the hard way, on our travels in the summer 2015. Hopefully it will help you have a better travel experience.
Train Lines – In Italy, there are 2 train lines. Trenitalia is the government-run line, Italotreno is the private one. If you're booking ahead, you can get the Italotreno tickets for almost the same price if not less than Trenitalia. Why bother? Italotreno trains are punctual, cleaner, newer, air-conditioned, has free wifi and has windows that you can look out of. Trenitalia seemed to have a habit of being late. If I remember correctly, every time we took Trenitalia, the train was late, ranging from 45 minutes to 2 hours late. Book ahead, as the price of train tickets seem to increase in Italy as you close in on the travel date.
Be sure to give yourself plenty of time for train connections, especially when traveling on government-operated lines. Both the private transportation lines we used, Autolinee Marino (bus line) and Italotreno did not have any delays. Almost every public train we took was delayed. If possible, try to reduce the number of connections you need to make, do non-stop if possible.
Try to use your sleep time as travel time, especially if you have a long trip to make. We took a 6 hour train ride as an overnight train ride in a couchette cabin. The cost was reasonable - $150 for the entire 4-bed cabin. It was a unique experience for the kids to sleep in a bumpy sleep car. Of course, the disadvantage was we did not see very much scenery on that train ride. But now, we can spend the 6 daylight hours we would have spent riding in a train with 3 noisy kids, sightseeing instead.
Bring a handheld walking GPS system. Roads tend to crisscross at inopportune times, sometimes intersecting with a canal with no bridge in sight. We used an app that came with our phone, called HERE, and that seemed to do the trick. We downloaded the maps of cities in Italy that we were interested in when we had strong wifi connection, and had no trouble with finding our way, when the phone was sufficiently charged. Make sure that the handheld GPS system is easily rechargeable. Bring a backup GPS. Nothing worse that circling around in dark Roman alleyways with tired kids, not knowing which way is home. If you're using a phone, try to find a way to reduce battery use on the GPS phone so it doesn't run out of battery when you're in a dark cobblestone alley beside a canal. Don't forget your adapters for your chargers.
If possible, try to get a functioning cell phone. Some cell phone providers provide roaming coverages for high per minute rates (i.e. Lycamobile – 50cents/min when roaming in Italy to a phone in Italy) However, in case of need, it is really nice to be able to make a phone call to your booked lodging to inform them that your train is 2 hours delayed. So they don't give away your lodging for the night.
To keep costs low, try to find a way to communicate with friends and family back home with free texting. Free wifi is not very common in Italy, but they can happen from time to time. Hotels may offer it, Italotreno trains offer free wifi as well. We used a free app called Whatsapp that allowed us to send pictures and texts to other Whatsapp users. You can type in your text at your convenience, and the next time Whatsapp finds an open wifi connection, it sends out your message. Textme is another app that we had installed, but it doesn't do very well with pictures or emoticons. It also needs a wifi connection when you're typing out your message or else all will be lost. But recipients of Textme do not have to be a Textme user.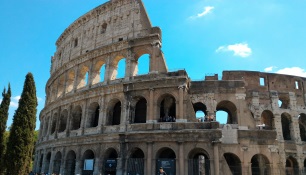 Approaching the 2000-year-old Colosseum, Rome
Cash is king. Not many businesses accept cards, not even for accommodations. So make sure you have cash on hand, or a way to get it out. Try to carry a bank card that doesn't charge for withdrawing money at foreign machines. We opened a CharlesSchwab bank account before we left, got an RFID debit card that reimbursed ATM fees worldwide and useable anywhere there is VISA symbol.
I heard many stories of pickpocketing while researching Rome and Pompei. I purchased a travel bag (Travelon), reinforced with metal inside the straps to make it hard to cut through, magnets and locks to tightly close zippers and RFID blocking pockets for any RFID-chipped cards. Luckily, we did not have to put the bag to the test, but just having it made me feel more secure, and made the trip more enjoyable. We also carried money pouches that slipped underneath clothing to store the bulk of our cash and passports in. I have heard from many sources that is one of the few effective ways to not lose valuables when pickpocketed. Of course, always be aware of your surroundings and keep purses and wallets close and closed.
Though tempting, try to plan for only as many attractions as you think your family can handle in a day. Try to plan for breaks or naps to help recharge everyone. Be ready to let go of some of the plans made if need be. Prioritize what you see; do things that are most important to you first, before everyone gets tired and in case the day's plans has to be cancelled.
Bring a First Aid Kit. Include pain killers, fever reducers, anti-nausea medications, bandaid, antihistamines, compression bandages, sunburn cooling gels, moisturizing lotions, chapsticks and anything else your family might need. For airport security purposes, be careful where you place these if you have gels or liquids.
Sunscreen, hats and water bottles come in very handy when traveling in the summer. Bring along swimsuits and trunks. You never know when you'll get an opportunity to dip your toes in warm and clear Mediterranean Sea. Bring good walking shoes, once a blister develops, it sticks around for a little while, possibly affecting your future plans.
HAVE FUN! You're in Italy! Enjoy the history that will unfold before your eyes. Don't let the benign complaints of your children bring you down.