Cinque Terre, Liguria
During our visit to Cinque Terre, the famous coastal hike, Sentiero Azure, was closed due to landslides. So we made the best of it with a hike from the town of Levanto to Monterosso, one of the five towns of Cinque Terre. This hike was the highlight of our Cinque Terre stop. We are somewhat averted by big crowds, so the quiet nature of this hike made it an easy highlight for us. Start early. We started at the train station, walked through town towards the beach, with our cell GPS as our guide. For lunch, we stopped at a pizza shop along the way to pick up some focacia, a specialty item of the Lingurian coast. After, we walked along the beach, both to get to our trailhead and to find a picnic spot to eat lunch. Much to our dismay, most spots on the smallish beaches were taken up by private beach chairs put out by restaurants/busineses on the beach and required a fee to occupy. Since we were just passing through for our hike, we kept walking until we were well above the beach where we found a free bench, with a not-so-bad view of the ocean.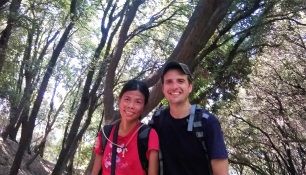 North of Cinque Terre - Along Levanto to Monterosso Trail
We arrived at the start of our approximately 4 mile hike around 11:30am. Not as early as we had originally planned. We made it to Monterosso 3.5 hours later, in the approximately 50% shaded trail that boasted beautiful coastal views that ran alongside vineyards and backyards. The start of the uncrowded trail in Levanto sent us up some stairs, then passed an old castle before leading into an area with beautiful views of Levanto. About 3/4 ways into the hike, don't miss the beautiful view of Monterosso and the other colorful Cinque Terre villages from the Punta Mesco overlook. The trail itself, I would rate as moderate in difficulty, with some parts a little rougher than others (think loose rocks). Bring lots of water, as we did not find any potable water on the trail itself. It may be a good idea to bring snacks too, in case the stairs and the heat get the best of you.All in all, the trail was in sufficiently decent shape for this family with 3 young kids to have a fun challenge on a hot and humid summer day of 37C (98F).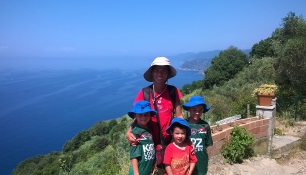 Along coastal trail of Levanto to Monterosso, near Cinque Terre
We stayed at an Affittacamere (Room for Rent) in La Spezia, a quick walk from La Spezia Centrale train station. The owner was very helpful, providing us with maps and local information. There are a couple streets in La Spezia that leads to the marina, lined with cute shops. It's a nice place to walk at the time of the evening stroll, with many dining and gelato options to choose from.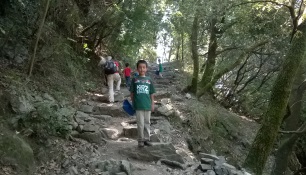 Shaded stairs along Levanto Trail
If only we had more time and patience… As I mentioned before, we have a strong aversion to big crowds. So the beach scene in Monterosso and the very crowded train ride from Monterosso, reduced our desire to explore further, much to our loss, I imagine. If we were more inclined, it would have been nice to explore the other villages. I hear a pasta called trofie was a local specialty, as is limoncello, a lemon-based alcoholic beverage. Limoncello, I will attest, is a very flavorful beverage. Unfortunately while we were visiting, most of the Sentiero Azure (Blue Trail along the coast linking the 5 villages) was closed. Catching a sunset along this trail would definitely have been a memory to cherish.